1. SEO Works
SEO Works is not just about search engine optimisation. It has a dedicated team providing complete PPC management services. The team has been around for 10 years and has offices in London, Sheffield, Leeds, Manchester, and Birmingham.
SEO Works prides itself on doing extensive pre-campaign research to find the most effective channels that can be used to meet your brand's needs. It has a diverse portfolio of clients in healthcare, law, financial services, manufacturing, automotive, and other industries.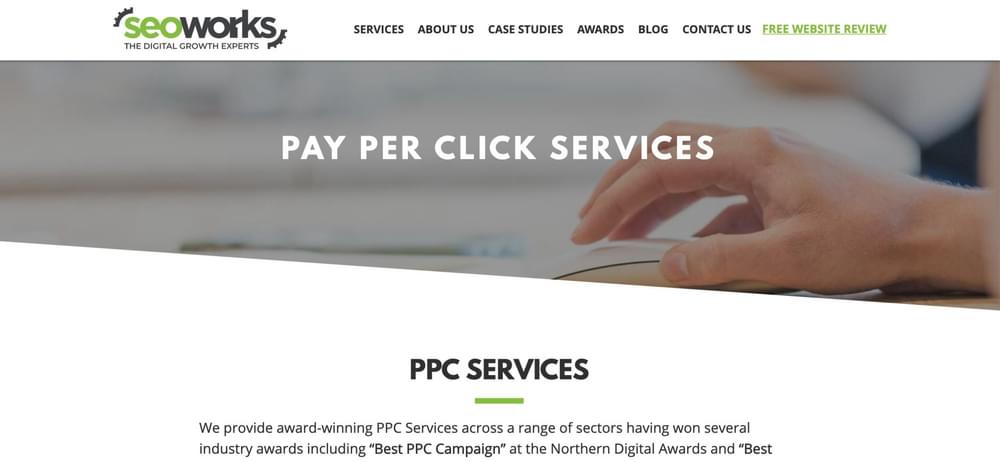 2. 93x Agency
If you're looking for a B2B digital marketing agency that provides PPC services for tech and software companies, you can get in touch with 93x.

The London-based agency has worked with brands such as Telefonica, Bankable, Autovista Group, OZuken, and more.
93x combines effective paid search and paid social campaigns that can help you get more leads for your business.
3. Bind Media
Bind Media promises to buy the right traffic for you at the right price.
This PPC agency based in Bath has worked with UpGuard, Gousto, Devbridge Group, and PostBeyond, among others.
We also personally know the Bind Media team and know what co-founders Elion Shiner and Elliot Sheen can bring to the table. Their multi-media approach, coupled with good landing page design and detailed reporting, can help push your brand to the next level.
4. Digital Uncut
Digital Uncut is another B2B PPC agency with headquarters in London, San Francisco, and Madrid.
They focus on helping startups and scale-ups, helping them get qualified leads from PPC. They work with brands in the technology, eCommerce, logistics, retail, services, and travel and hospitality sectors.
Their team works on everything from:
Strategy: Channel planning & testing, competitor research
Automation: Custom Adwords scripts, Supermetrics, Zapier and Slack.
Creativity: Copywriting, ad design, landing page development.
International & Multi-Lingual: translating your copy & scaling worldwide.