1. The Social Shepherd
Yes, that's us, and we're proud to say that we're considered as one of the best performance marketing agencies in the UK, won not one but two Paid Media Awards UK in 2022 for Best Integrated Paid Media Campaign & Best Use of Facebook/Instagram Ads with our client Passenger Clothing, as well as been highly commended at the Performance Marketing Awards!
It might look biased, but we've proven that we can deliver what we promise to our clients with several case studies in a record time. Also, as we mentioned before, we know the importance of having a multi-platform to diversify your customer acquisition source, to increase your ability to scale & dampen performance volatility.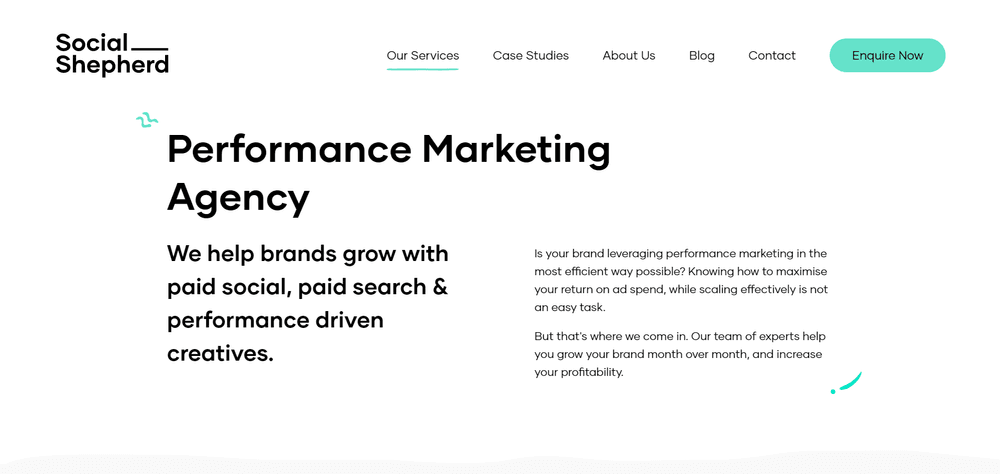 What can we do at The Social Shepherd?
Paid Social - Our team not only increases your return on ad spend but helps you scale across multiple platforms such as Facebook, Instagram, Pinterest, TikTok, Snapchat & YouTube. Allowing you to diversify your customer acquisition, dampen volatility and build omnipresence for your brand.
Paid Search - We build and manage Paid Search campaigns designed to scale businesses in the most cost-effective way. Using industry best practice standards and utilising the power of Google's algorithm, accounts are optimised to make sure that ads are appearing for the right user at the right time when they are ready to convert.
Creative Production - We create performance-driven photo and video content for ROI-focused brands in our studio.
Influencer Marketing - Amplify your brand by connecting with influencers and creators in a highly trackable way.
We're proud to say we're both Google and Meta Partners, which allows us to have better insights and access to advice and best practices.

But, if what you want to see is some data and proven results, here you have a few:
Scaled Passenger Clothing by 3.5x ROAS in 4 months using Paid Media and Paid Search.
Acquired 146,000+ customers using Facebook Ads and increased ROAS by 87% for Beebombs.
30% increase in ROAS for Nu-In, whilst drastically scaling budgets.
8.2x ROAS for Love Leggings while more than doubling their budget.
We've helped clients from several different markets and industries, but our area of expertise is in e-commerce. And, if you want to read all our case studies, you can check them out here.
So, if you would like to know how to book a free strategy, call and see what The Social Shepherd could do for you: