9. Transcend
Transcend understands that merely posting on social media, sending emails, or running ads isn't enough without the right strategy. We've experienced the frustration of success without clarity on what's driving business and how to scale profitably. That's why we provide a holistic strategy built on measurable and scalable tactics.
Our digital marketing services for startups encompass Paid Media strategy and management, SEO & Content marketing, Email Marketing, Branding & Positioning, and more. In essence, we create and execute growth acceleration roadmaps. Transcend Digital, headquartered in Irvine, CA, is a full-service startup marketing agency trusted by clients like Allergan, Fyxt, and Raccord.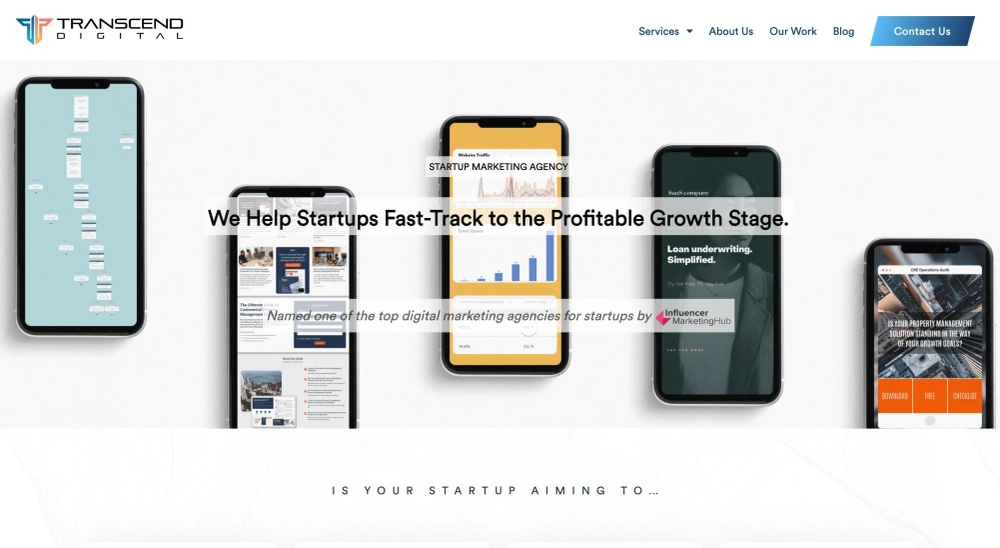 10. Tuff Growth
Tuff Growth is a growth marketing agency that specializes in helping startups achieve revenue-focused results. With a keen emphasis on optimizing resources, Tuff Growth understands the challenges of startups with limited budgets and ambitious objectives. Their team adopts an always-on approach to growth marketing, prioritizing adaptability and delivering measurable outcomes. With a highly skilled team proficient in various marketing channels and tactics, Tuff Growth offers multiple avenues to achieve clients' goals. They aim to make an immediate impact while laying the groundwork for sustained long-term growth from the outset.
Tuff Growth provides a range of services, including Pay per click, social advertising, search engine optimization, content marketing, email marketing, conversion rate optimization, and creative development. Headquartered in Eagle, CO, Tuff Growth has team members in multiple locations, including West Palm Beach, Miami, Portland, Nashville, Knoxville, Murrieta, Huntsville, Denver, Hood River, Chicago, Steamboat, Albuquerque, Atlanta, Boise, Madison, Worcester, Blowing Rock, Charlotte, Philadelphia, Nyack, Salem, Long Beach, Bentonville, Arlington, and Maine.
Their client portfolio includes companies like Multiverse, Nova Credit, and THNKS.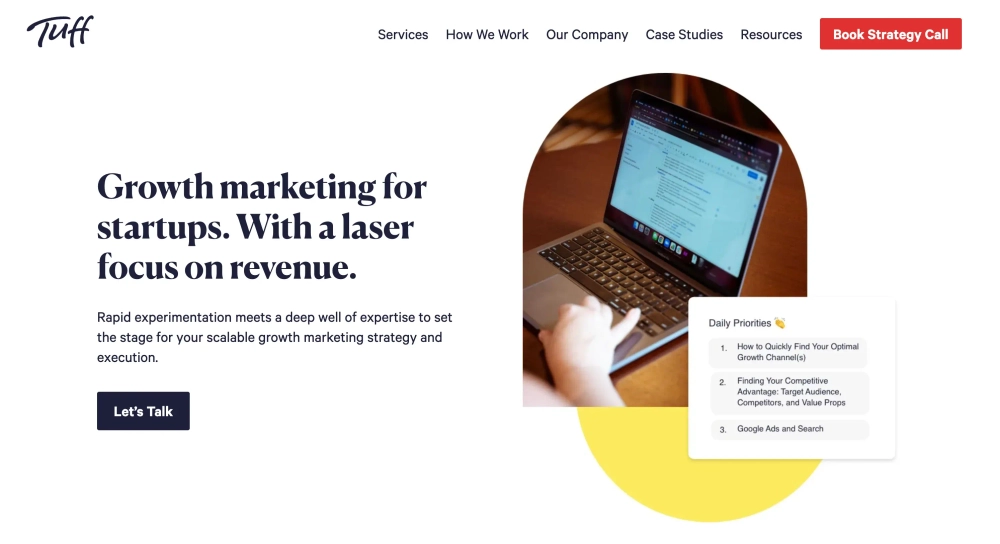 11. Bamboo
Bamboo is a specialized growth marketing agency catering to startups and VC-backed businesses. Their impressive client roster includes industry giants like Uber, Peloton, Doordash, and Prose. Known as "Pandas," Bamboo's team has successfully scaled over 100 top brands in mobile apps and digital commerce.
They prioritize skill development and empowerment within their team. With a global presence and a fully-remote work environment, Bamboo remains committed to fostering strong relationships and delivering sustainable growth through their paid search, paid social, and creative expertise.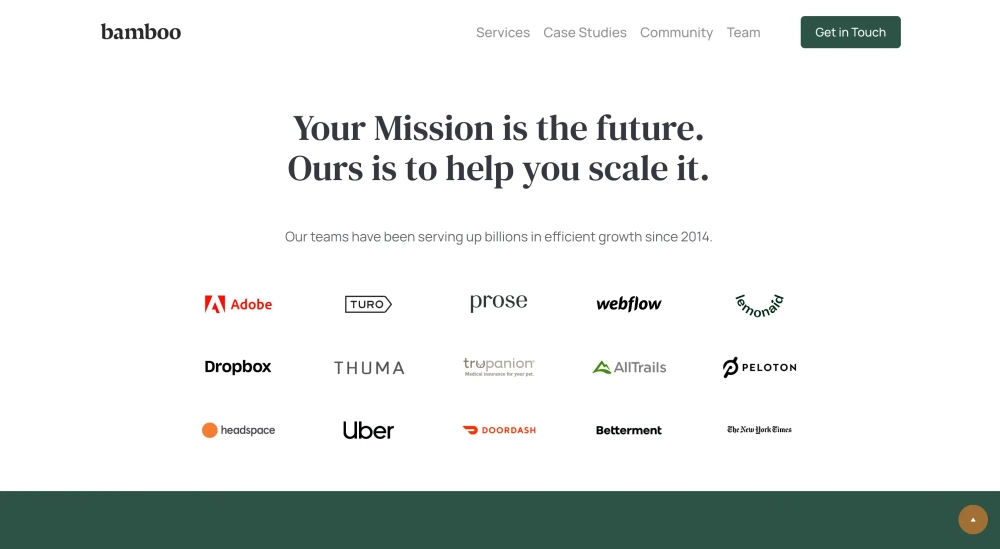 12. Frootful Marketing
Frootful Marketing is a full-service digital marketing agency specializing in lean startup growth. Whether you're bootstrapping your MVP, scaling to an exit, or aiming to elevate your brand, Frootful has the solution. Their services encompass paid advertising, SEO, web design, sales process and training, creative ad ideas, and marketing strategy.
Frootful stands out by combining digital expertise with an understanding of consumer psychology, ensuring effective and impactful campaigns. Headquartered in Boca Raton, FL, they prioritize profit-focused marketing strategies that drive sustainable growth and ROI optimization.