2. Marcel Digital
Marcel Digital, a leader in paid media strategy, utilizes cutting-edge technology, optimization tactics, and rigorous testing to maximize ROI. Their integrated approach spans paid search, programmatic, display, and paid social, ensuring targeted ad delivery, landing page optimization, and creative development.
Specialists at Marcel Digital reduce costs and boost revenue through research, precise targeting, continuous testing, competitor analysis, and ongoing optimizations. As a Google Premier Partner, they hold top certifications in various platforms, delivering holistic strategies and visible results.
Trusted clients include LightMark, Medius, and Printable Promotions, with headquarters in Chicago, IL.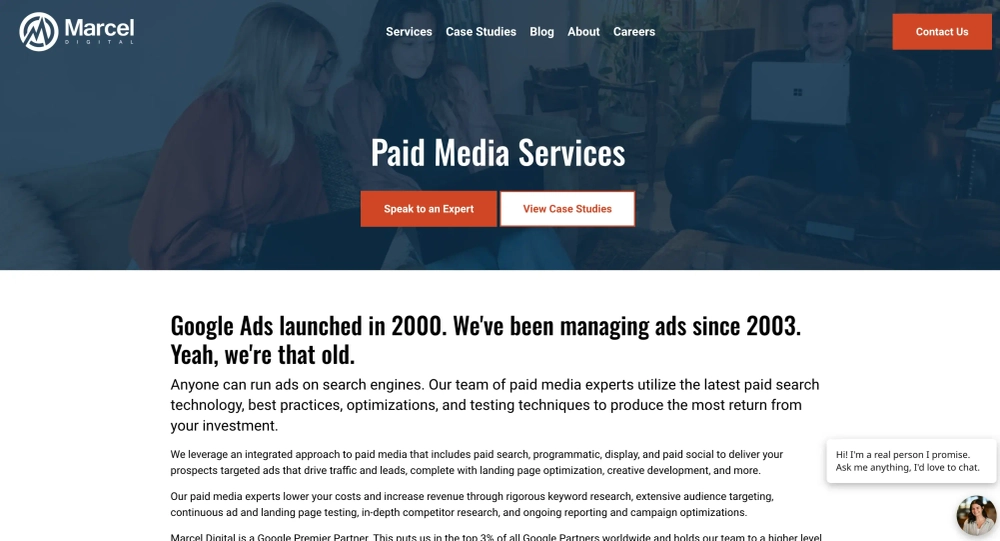 3. Uncommon Logic
Uncommon Logic, with clients like IBM, Blue Apron, and Milliken, specializes in meticulous display, remarketing, and platform-driven advertising. Their daily account monitoring and hands-on paid media management ensure efficient spending and risk control while achieving extensive reach.
Their services encompass:

Uncommon Logic is headquartered in Austin, TX, providing top-tier expertise in the field.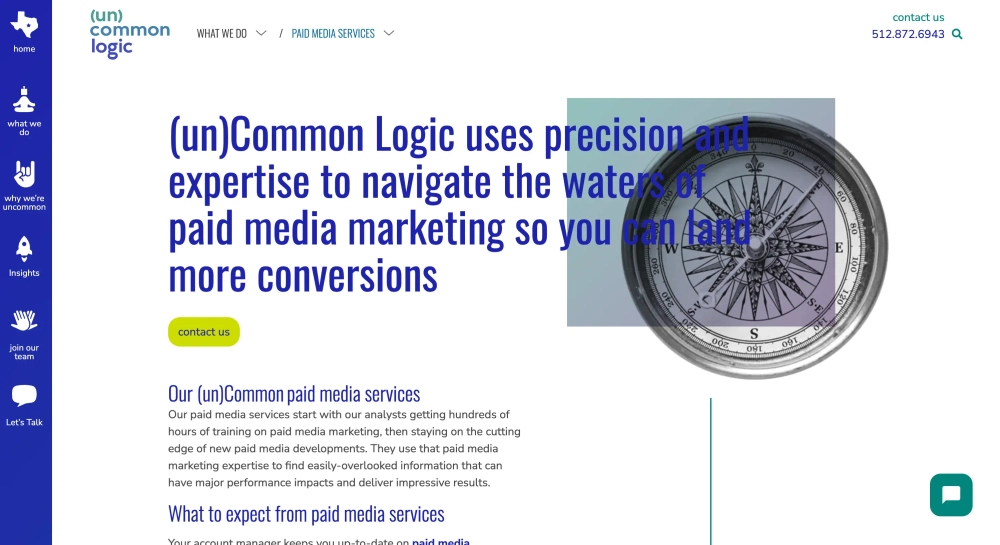 4. Powered by Search
Powered by Search, with a client roster featuring renowned SaaS giants like VMWare, Fortra, and Basecamp, is a powerhouse in B2B SaaS marketing. With a track record spanning over 70 B2B SaaS companies, ranging from $1M to $100M ARR, they've perfected the art of testing and scaling paid media campaigns.
Impressive B2B Results:

Increased MRR by 15%: Their strategies have consistently boosted Monthly Recurring Revenue for clients.

34% MoM Cost Reduction: They slashed the cost per trial activation from PPC campaigns by 34% month-over-month.

22% Growth in Google Ads Sign-ups: Despite spending reductions of 7%, Google Ads sign-ups saw a remarkable 22% increase.
Powered by Search boasts a global team, distributed across 8+ countries in North America, Europe, and Asia Pacific. Specializing in both organic and paid traffic acquisition, they excel in crafting compelling copy and offers, as well as creating and promoting content that resonates with your ideal prospects and customers. Their headquarters are located in Toronto.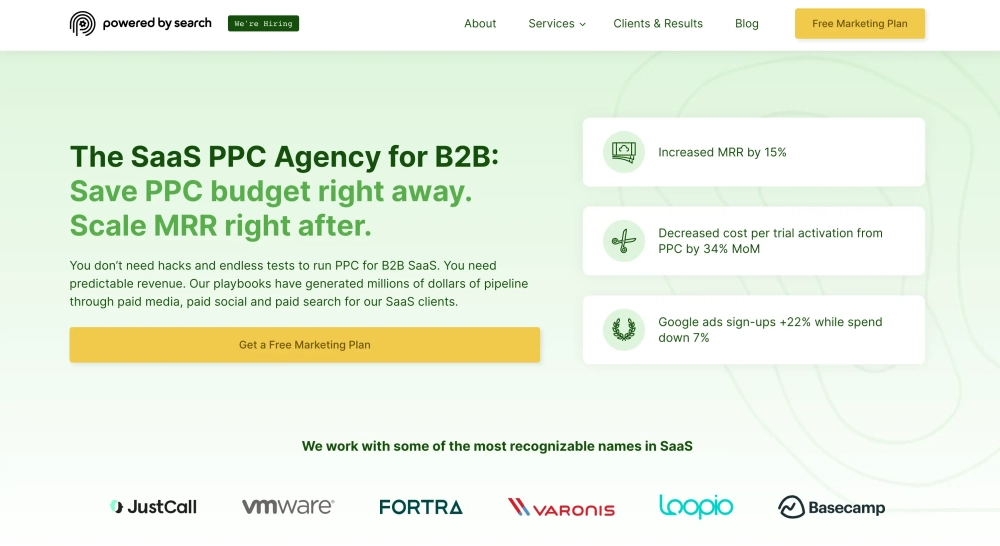 5. Kanbar Digital
Kanbar Digital, a reputable digital marketing agency headquartered in San Diego, specializes in crafting targeted digital ad strategies. By harnessing your company's data and their cutting-edge technology, they excel at tailoring ad campaigns to engage your specific audience.
Their approach is rooted in extensive research and industry best practices. Through meticulous analysis of trends, consumer behaviors, and proprietary data, Kanbar Digital ensures that your digital ads effectively reach the intended audience.
They meticulously consider elements such as frequency caps, content types, tone, needs, wants, and assistance to deliver a strategic ad experience. This guarantees that your brand's products and services gain visibility among interested parties and those in need of your solutions. Noteworthy clients in their portfolio include Adobe, Doordash, and Experian.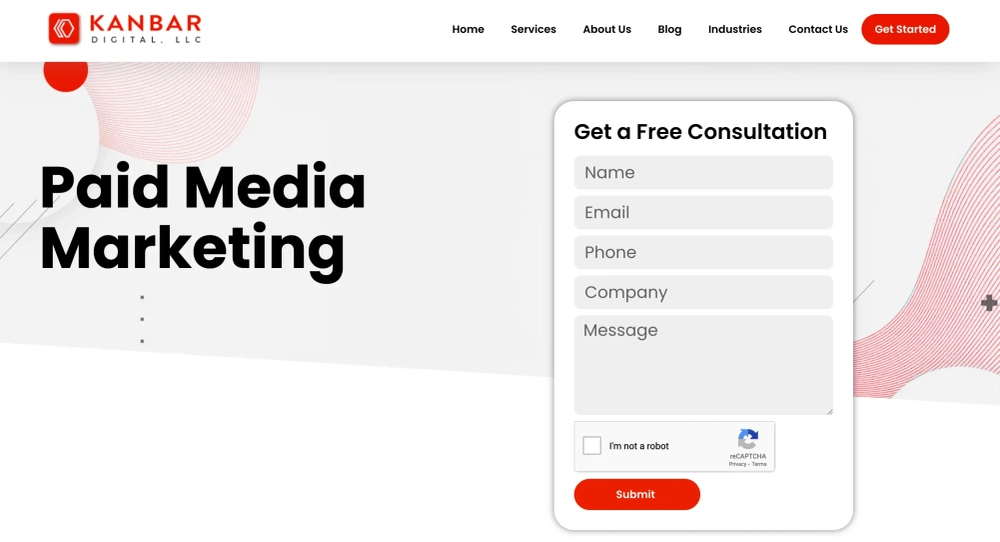 6. Goodway Group
Goodway Group is the trusted partner for major national brands spanning industries like automotive, healthcare, and QSR (quick-service restaurants). Notable clients include Dr. Pepper, Subaru, and Bagel Brands. With roots dating back to 1929 as a printing company, Goodway Group has continually adapted to lead the marketing industry.
Today, they offer comprehensive digital media strategy and execution, complemented by a data-driven approach and customized consulting services. Their forward-thinking approach includes pioneering virtual work in 2008, with headquarters in New York, ensuring they are prepared to meet your business needs regardless of what the future holds.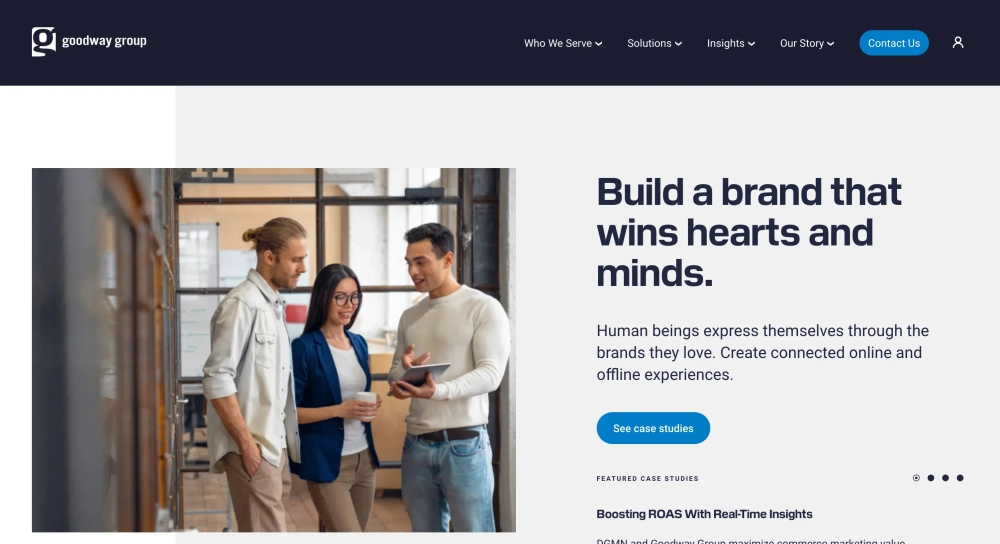 7. Northern
Northern boasts premier-level agency partnerships with major ad platforms like TikTok, Pinterest, Snapchat, and is recognized as both a Meta Business Partner and Google Partner. As Canada's top eCommerce agency, they provide comprehensive solutions to businesses across London, Toronto, and the U.S. Impressive clients include Milwaukee, Canadian Tire, and Chatters.
Their expert team specializes in crafting and executing data-informed media strategies, aligning past performance with desired outcomes to optimize channel and media selection. Their services encompass account audits, KPI benchmarking, goal setting, budget planning, and the development of an ideal media mix.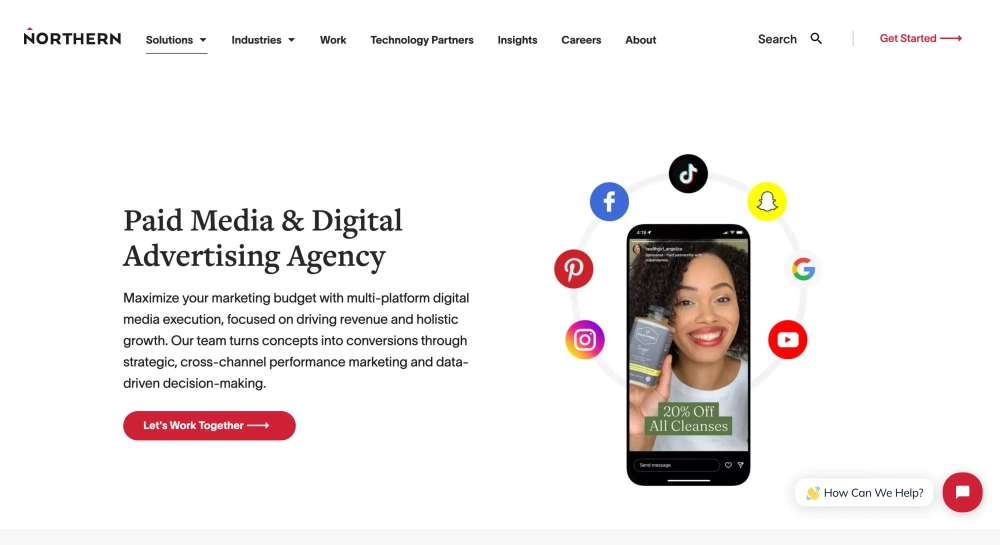 8. JPL
JPL excels in Paid Media Planning, Buying & Analytics, prioritizing results over clicks. With dedicated in-house teams, they focus on extracting meaningful insights and delivering outcomes. Proactive media management and optimization ensure your message reaches the right audience at the right moment.
Clients include renowned names like Hershey, Trex, and AAA. Offices are strategically located in Harrisburg, PA, New York City, and Glenside, PA.
Key Capabilities:

Media Strategy, Planning & Forecasting

Audience Hyper-Targeting

Anti-Fraud Tech Stack

Campaign Development and Execution

Data, Analytics & Optimization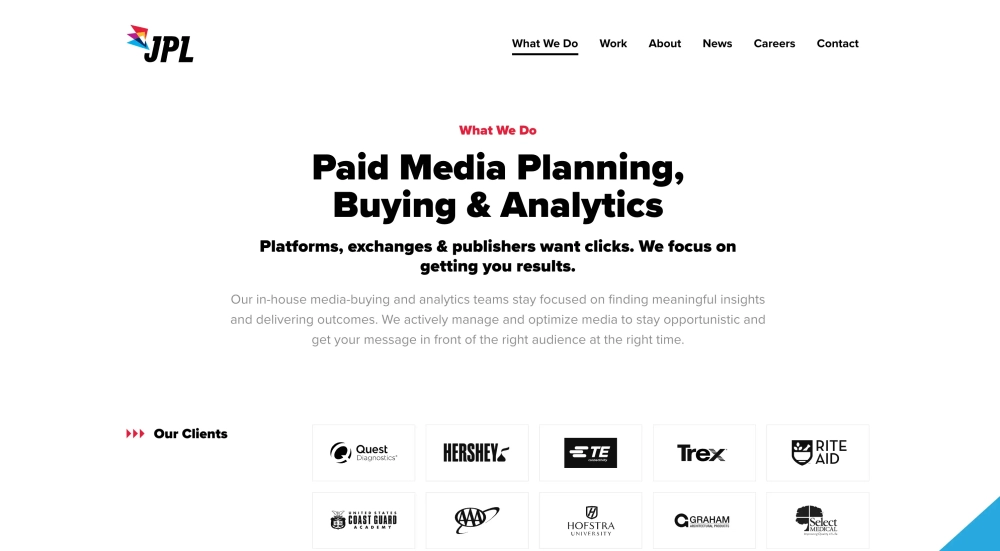 9. Augurian
Augurian is a staunch advocate for the power of paid digital advertising in swiftly elevating brand recognition and scaling outbound initiatives. They recognize it as one of the most measurable digital marketing strategies, particularly regarding ROI.
Augurian's core mission revolves around eliminating wasteful advertising expenditure. Their expertise lies in orchestrating persuasive digital dialogues with prospects, ensuring that the right message reaches them at the precise moments in their customer journey.
Augurian specializes in crafting strategic paid media marketing campaigns tailored to your needs, encompassing:

Display Advertising

Paid Search (Bing, Google Ads, Yahoo, etc.)

Paid Social (Facebook, LinkedIn, X (Twitter), etc.)

Programmatic Advertising
With their headquarters in Minneapolis, MN, Augurian has proudly served clients like Digi International, Unity College, and Vanco, positioning themselves as trusted guides to success in paid search and paid social.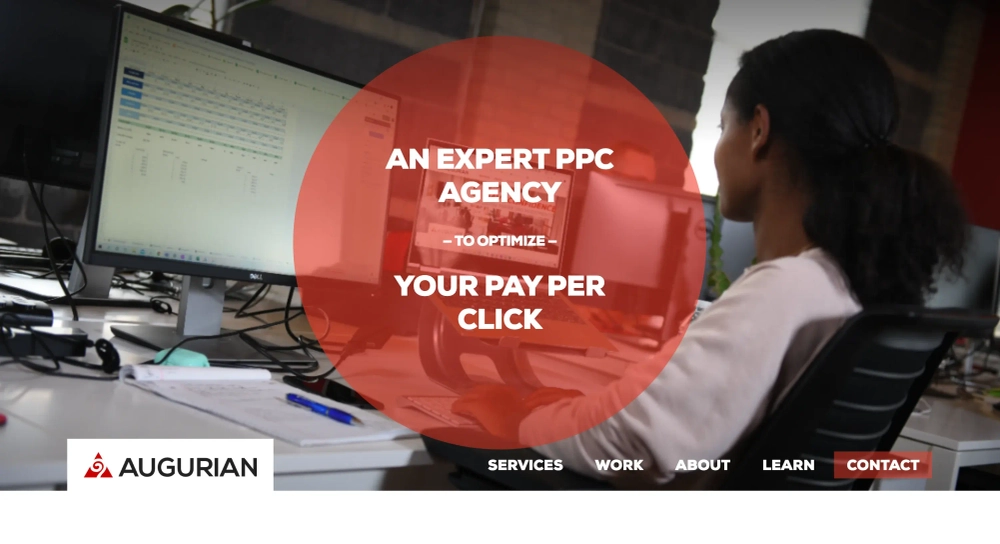 10. Disruptive
Disruptive is a prominent digital marketing agency with an impressive client roster including Davinci, Guitar Center, and Horse&Rider. With over 150 full-time employees, they manage an annual spend exceeding $450 million.
Their operations encompass optimizing thousands of web pages, delivering tens of thousands of emails, texts, and chats, and analyzing hundreds of thousands of data points annually.
Their expertise in paid media extends across various components, including paid search, Shopping & Feed Management, paid social, performance display, Amazon advertising, and Remarketing. Disruptive is headquartered in Pleasant Grove, UT, and they are known for their impactful digital strategies.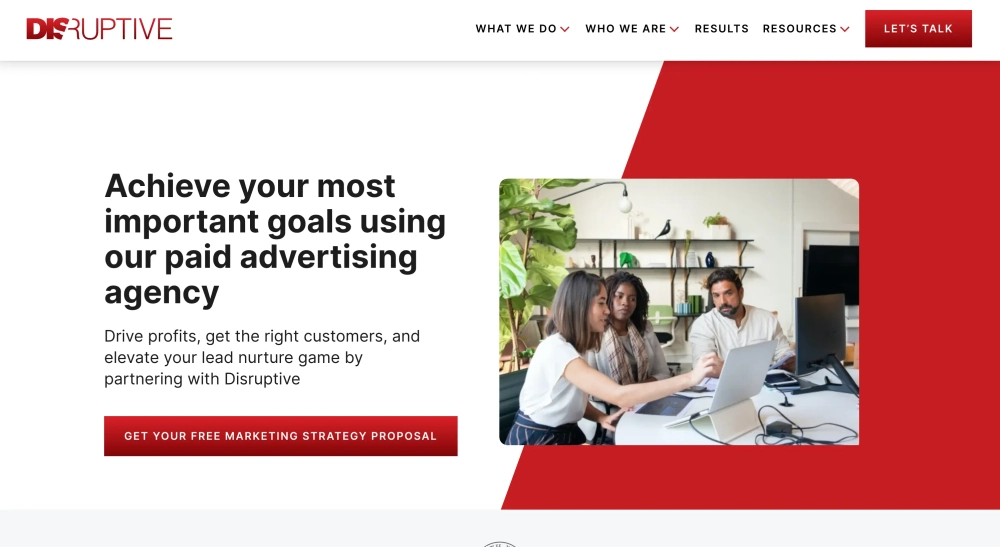 11. Socium
Socium, headquartered in New York City, is a performance-driven digital marketing agency with an impressive client portfolio featuring World Market, Modern Age, and Tushy. They specialize in ensuring that your brand seamlessly integrates into customers' lives in the digital space.
In 2022 alone, they planned, launched, and expertly managed over $150 million in ad spend across 15+ platforms, solidifying their reputation as the ideal partner for finding and acquiring the right customers in a competitive digital landscape.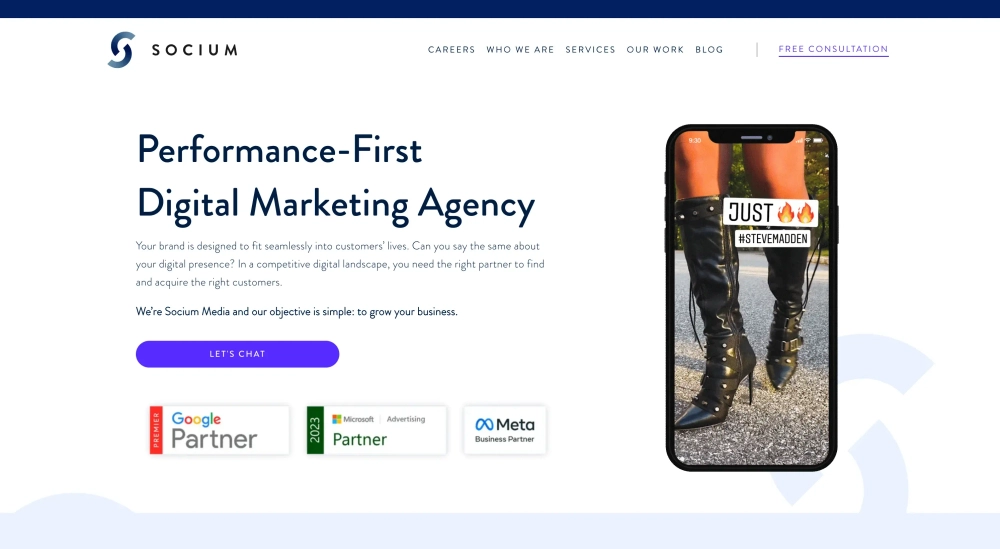 12. Megethos
Megethos, headquartered in Scottsdale, AZ, is an award-winning paid media management agency, serving esteemed clients like TripSpark, BATCADDY, and AirCARE1. They excel in creating, managing, and optimizing multi-channel PPC campaigns that drive results.
Megethos is dedicated to helping businesses of all sizes and types elevate their campaigns. Whether it's lead generation or e-commerce, they specialize in PPC campaigns tailored to meet your business objectives.
Their integrated, cross-channel approach, data-driven focus, and scalable campaigns ensure they deliver results, both domestically and internationally. As a Google and Microsoft Advertising Partner, they offer reasonable management fees for their expert services.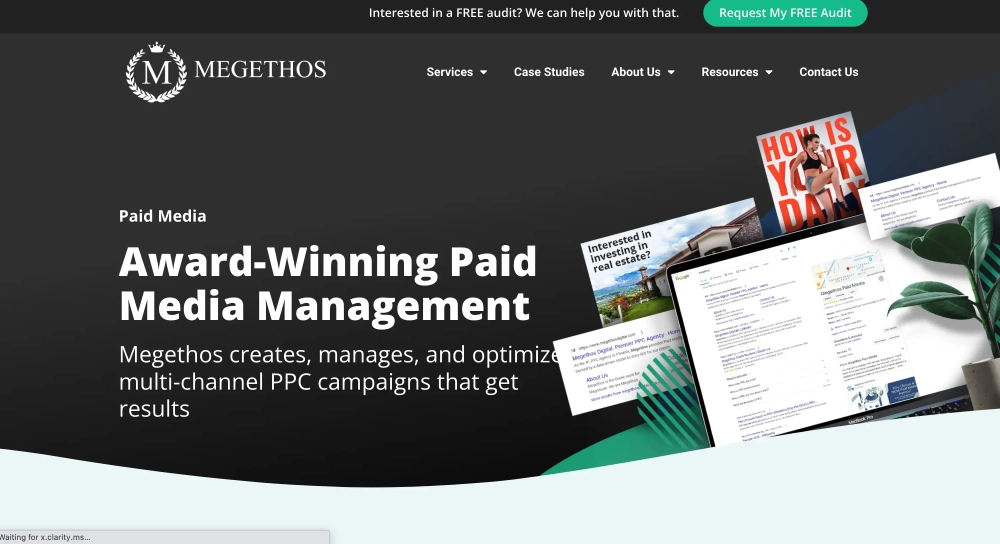 13. SmartBug Media
SmartBug Media, located in Newport Beach, CA, proudly serves clients like Wyvern, Ltd., HD Stor, and Saxton Woods. They understand the importance of making your content easily discoverable to your buyer personas.
SmartBug Media takes on the heavy lifting, identifying the best keywords and phrases to create and execute effective paid search and social campaigns. Whether your buyer personas search on Google or trust their business and social networks, SmartBug ensures you're the answer to their problems. Their paid search services will, boost your rankings for solution-based keywords, and paid social will ensure your presence in the social feeds and timelines of your personas.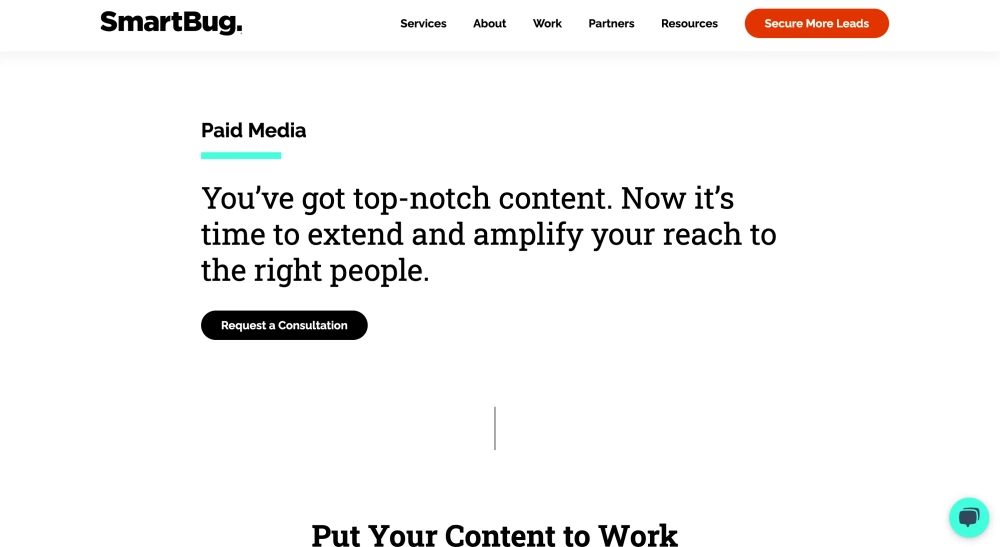 14. Digilant
Based in Boston, MA, Digilant is a part of ispDigital, boasting a team of 100+ data-driven media experts and advertising technologists. Their client services extend beyond Boston to New York, Chicago, Denver, Los Angeles, San Francisco, Kansas City, Washington D.C., Dallas, and Atlanta.
Their paid search team collaborates with leading platforms like Google, Microsoft, Amazon, and Yahoo!, ensuring trustworthy management of your investments.
They recognize the unique nuances of each social platform and maintain a dedicated team of campaign management and strategy experts for social media. These hands-on-keyboard specialists offer actionable insights on topical social subjects.
Digilant's Facebook agency partnership grants them access to advanced support services, exclusive training, and industry-leading campaign management approaches. Their entire social team is Blueprint-trained, solidifying their expertise in the field.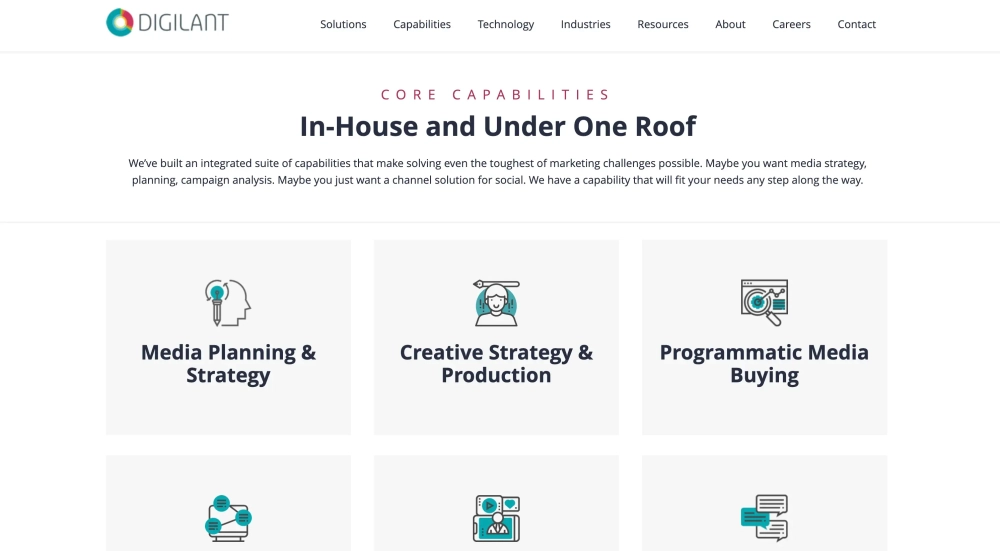 15. Rayneta
Rayneta, headquartered in Los Angeles, is a growth-focused partner for clients like Disney, Fujitsu, and Lyft. They offer data-driven paid media solutions designed to help you acquire customers and boost revenue.
Their small, yet expert team delivers results through a boutique agency approach that seamlessly integrates with your team. Rayneta customizes strategies for each brand, providing expert media planning and buying across various channels:

Paid Social

Paid Search

Programmatic

Out-of-Home (OOH)

Audio Advertising

Connected TV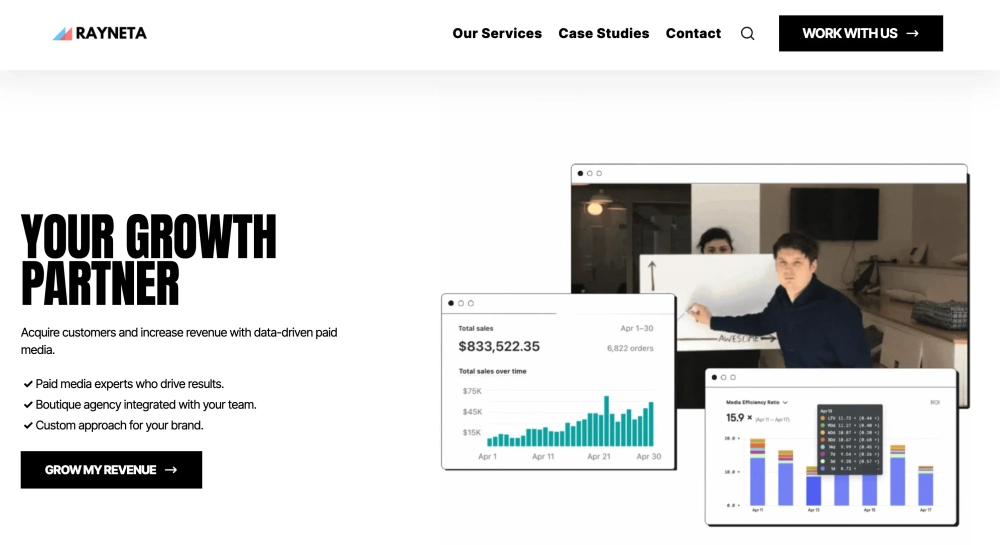 16. Whiteshark Media
Whiteshark Media, headquartered in Miami, FL, is your premier Facebook, LinkedIn, and Instagram ad agency. Their team of digital marketing experts is committed to driving success for businesses across diverse industries.
They tackle online market challenges with a wealth of experience, a deep understanding of the field, and a dedication to continuous learning, all aimed at helping you achieve your business goals effectively.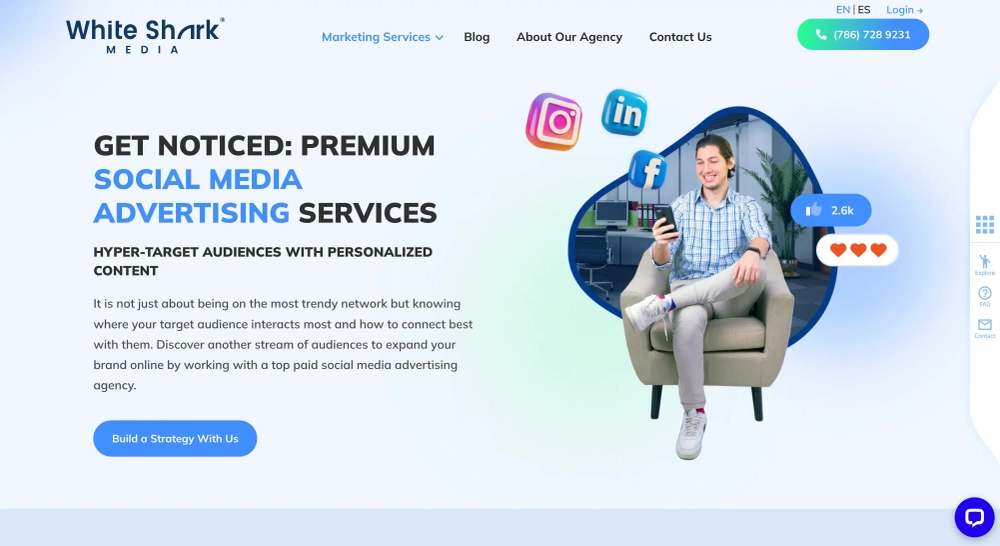 17. Mynt
Mynt, headquartered in Saint Charles, IL, specializes in paid social media campaigns tailored for growth and sales. They elevate social conversations, enhance brand awareness, and drive product and service sales through robust paid social media strategies. Noteworthy clients include Orly, Andro400, and LaserAway.
Mynt Agency comprises an action-oriented team of marketing and advertising experts, consistently exceeding goals. With a track record of guiding numerous companies to success, they bring expertise, energy, and resources to help you conquer your competitive landscape.
Their curated arsenal of tools and tactics ensures explosive growth for your company, delivering increased reach, customers, and brand lift through a commitment to accountability, transparency, and partnership.