2. Mgroup
Mgroup is a dedicated and expert Shopify development agency, committed to guiding businesses to success in the online marketplace. They provide comprehensive full-cycle development services tailored to your unique needs and objectives. With a team of Shopify Experts, they offer specialized support, covering everything from setup and customization to ongoing maintenance and optimization.
Their extensive experience in Shopify Development keeps you ahead of the competition, offering services such as Shopify store development, eCommerce website design, theme customization, and more. Mgroup's client roster includes Analisys, Concept, and Invision, and they operate from Zhytomyr, Ukraine, serving U.S. clients.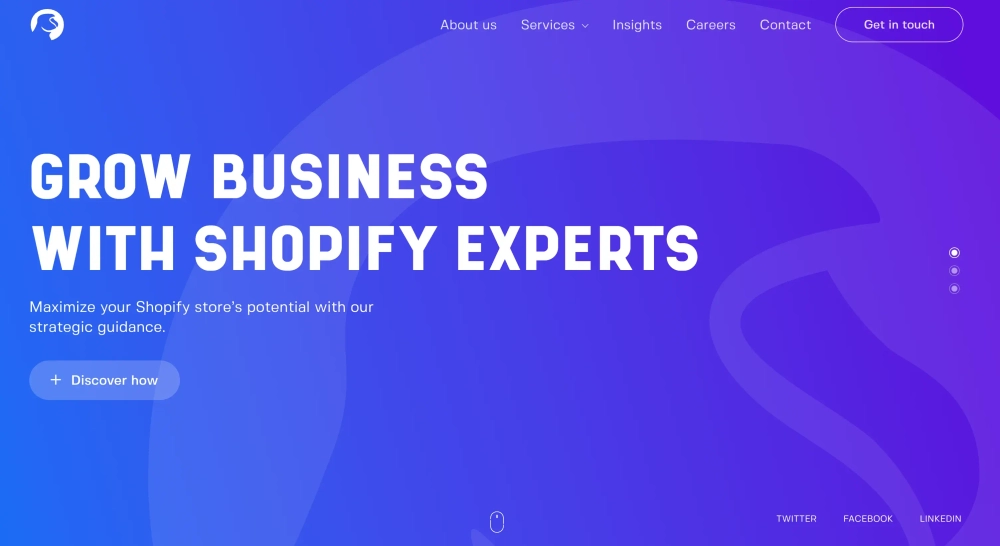 3. Soda Web Media
Soda Web Media is a renowned Shopify agency in Atlanta, is dedicated to addressing diverse eCommerce needs with a suite of services:

Shopify Design

Shopify Development

Shopify Migration

Shopify Marketing

Shopify SEO

Shopify CRO

Shopify Audit
Their track record includes successful collaborations with Warehouse Toys, Yoyo, and 2Wears, underscoring their reputation as a trusted source for eCommerce solutions in businesses of varying sizes.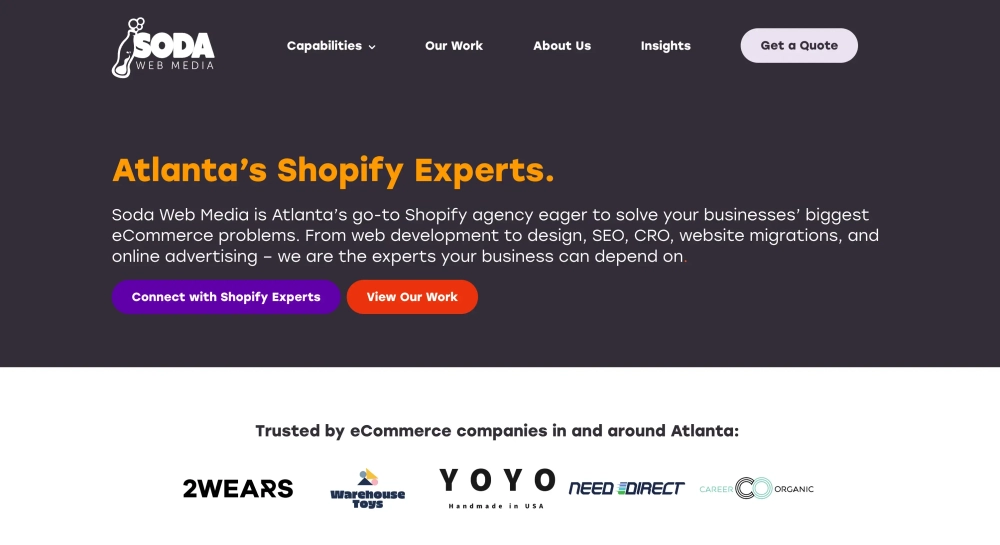 4. Mobikasa
Mobikasa, a trusted Shopify and Shopify Plus Partner since 2012, boasts a global reputation as one of the top-rated Shopify experts. Their comprehensive process covers Discovery, Graphic Design, Communication, Development, and QA/UAT.
Some key features they offer include Shopping Cart, Multi Language, Shopify Hosting, and SEO/SEM. Clients such as Mount Sinai, LG, and Versace attest to their prowess. Based in New York City, Mobikasa ranks among the finest web and mobile development companies in the U.S.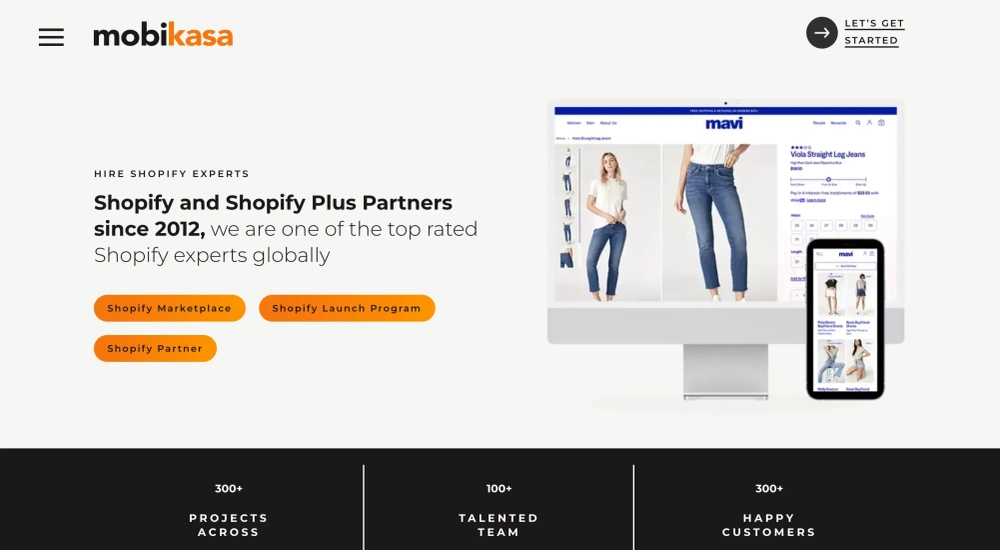 5. Realm
Realm is your one-stop-shop for all things Shopify. Their comprehensive services span from creative design, custom themes, and apps to marketing, SEO, content writing, and dedicated support. Collaborating with Realm can significantly accelerate your journey to Shopify success.
Clients like Good Earth, Kumu Baby, and GTFO can attest to the results they deliver. With locations in various cities, including Chicago, Los Angeles, New York, and more, Realm is well-equipped to help businesses achieve higher conversion rates and stand out in the competitive Shopify landscape.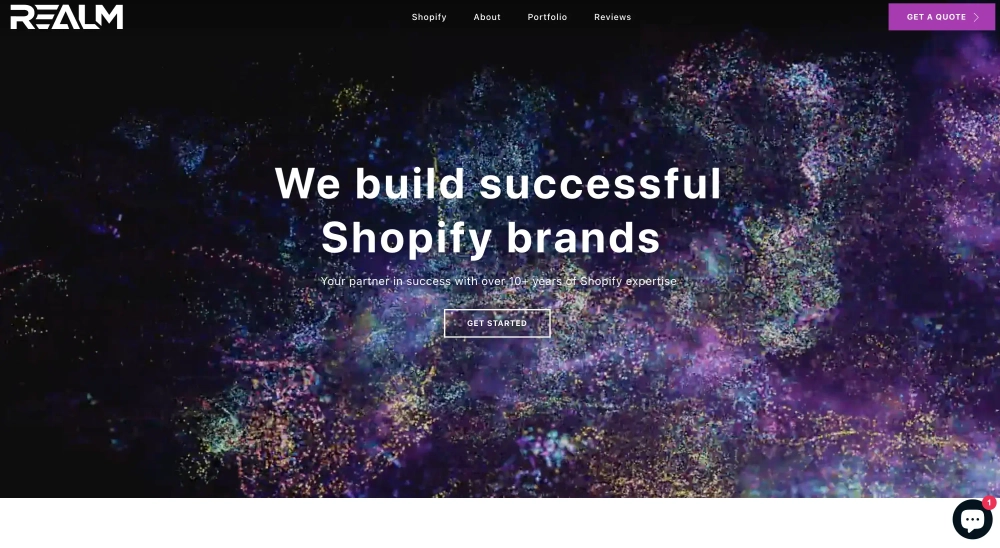 6. Sleepless Media
Located in California, Sleepless Media is a distinguished Shopify Plus Solutions Partner. They specialize in crafting customized websites that outshine the competition. With an unrelenting commitment, they excel in collaborating with lifestyle, outdoor adventure, and national food brands to establish a dominant digital presence.
Clients such as Breeo, August, and Zpacks.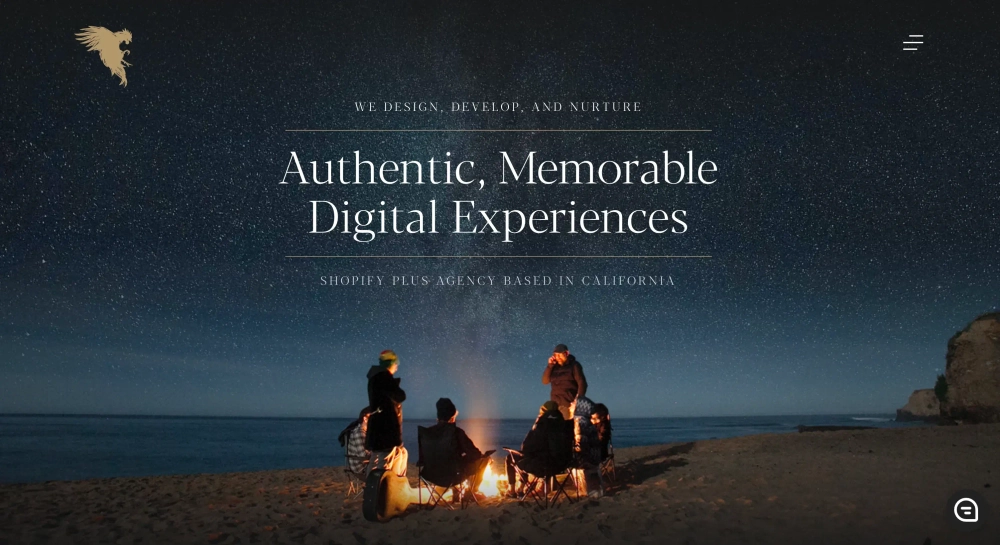 7. Nine15
Nine15, a Shopify design and development agency, operates from San Diego, CA, and Austin, TX. Their mission revolves around crafting thriving online stores and exceptional shopping experiences.
Despite their modest size, they hold client success in high regard. A remarkable 99% of their leads stem from referrals, a testament to their client-focused approach. Noteworthy clients in their portfolio include Poopourri, Supernatural, and Peacock.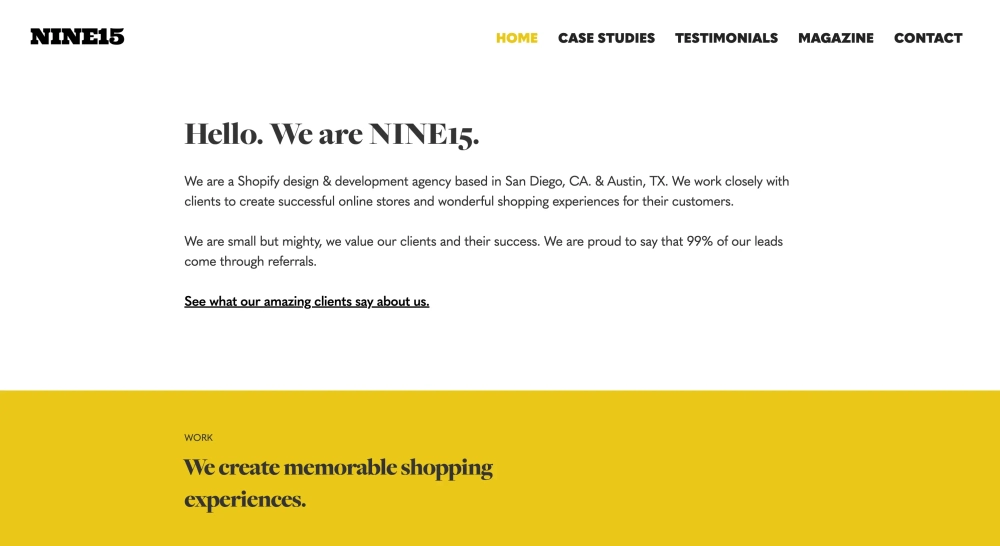 8. Chicago Web Co.
Chicago Web Co. is a dynamic, solutions-focused agency with a team of eCommerce enthusiasts dedicated to propelling your business forward. Their mission centers on delivering cutting-edge, expertly designed, and developed websites to their Client Partners at competitive rates.
Clients include Oui the People, Dollop Gourmet, and Holtz Leather, Co. As a full-service digital creative agency, they specialize in eCommerce website development and offer a comprehensive suite of services, including web design, email marketing, social media, consulting, and graphic design and logos.
They are Shopify experts in:

Shopify Theme Setup

Shopify Theme Redesign

Shopify Replatform

Shopify Plus

Shopify Business Setup

Product Sourcing