2. AMP Agency
When it comes to paid social, AMP Agency stands out. Their impressive client roster includes Mission, American National, Naked, and Honda, spanning various industries such as beauty and skincare, consumer electronics, CPG, entertainment and media, fashion and footwear, franchises and retailers, gaming, sports equipment and apparel, and travel.
Based in Boston, MA, AMP Agency goes the extra mile. They don't just deliver ads; they optimize campaigns in real time. Their extensive testing agenda assesses how key messages resonate across platforms, and they track crucial performance indicators tied directly to a brand's business goals, ensuring tangible results like optimizing store finder visits on a brand's site. AMP Agency is all about delivering outcomes that matter.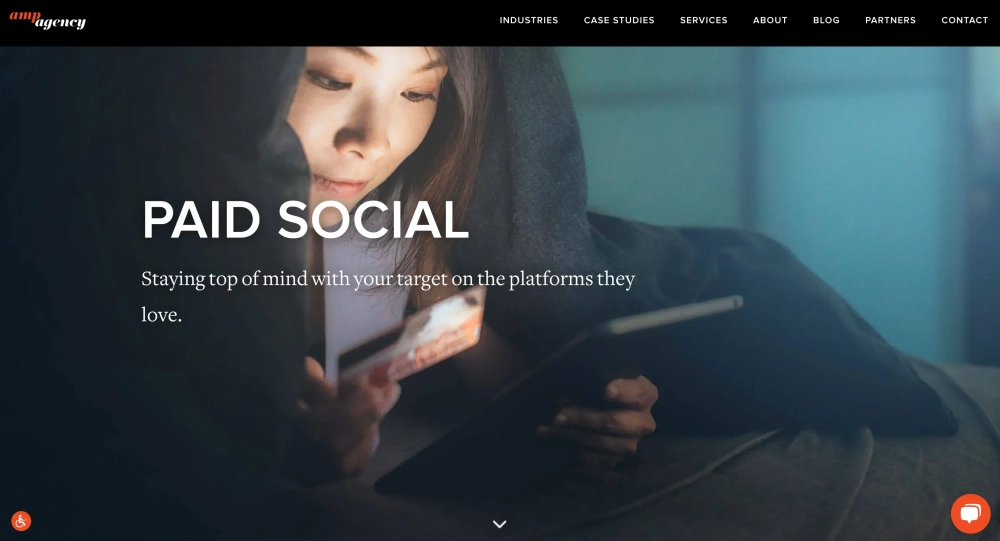 3. Marcel Digital
Marcel Digital is your go-to integrated web development and digital marketing agency based in Chicago, IL. They excel in cost-effective advertising strategies that swiftly boost brand awareness and drive traffic and conversions to your website. Social media advertising, with an average cost of $3 per thousand impressions, proves far more budget-friendly than traditional methods, offering precise audience targeting.
Their services include:

Marcel Digital has successfully served clients like Medius, LightMart, and United Ad Label.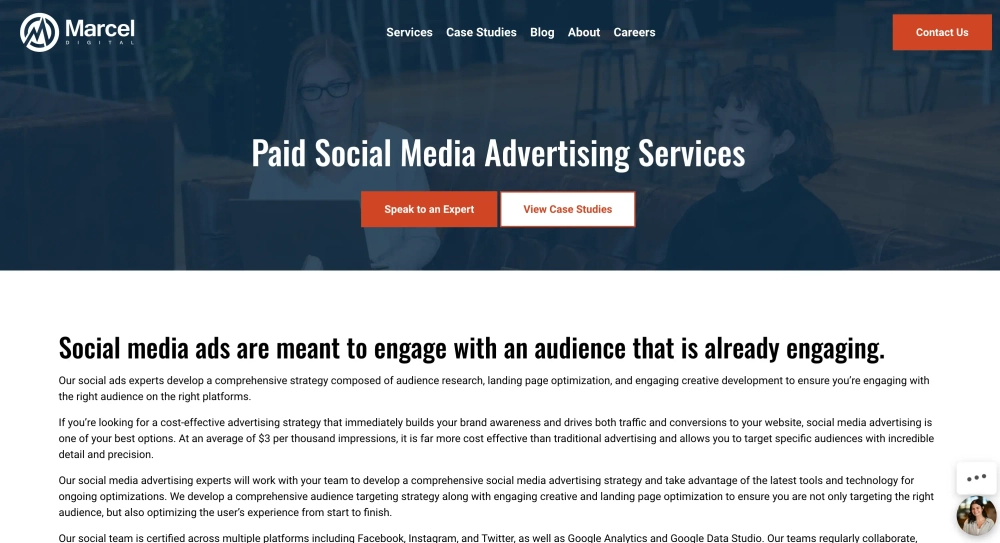 4. Disruptive
Disruptive, headquartered in Pleasant Grove, UT, offers a comprehensive suite of advertising services. They cover it all from Facebook & Instagram Ads to TikTok Ads, Snapchat Ads, LinkedIn Ads, and X Ads (formerly known as Twitter). Notable clients, including KPMG Spark and Honey Bee Stamps, trust Disruptive for their marketing needs.
With a full-funnel approach, Disruptive's strategies extend across social media and various platforms, including your website and Google ads. These integrated strategies are designed to generate and nurture leads throughout the entire customer journey, ensuring impactful results.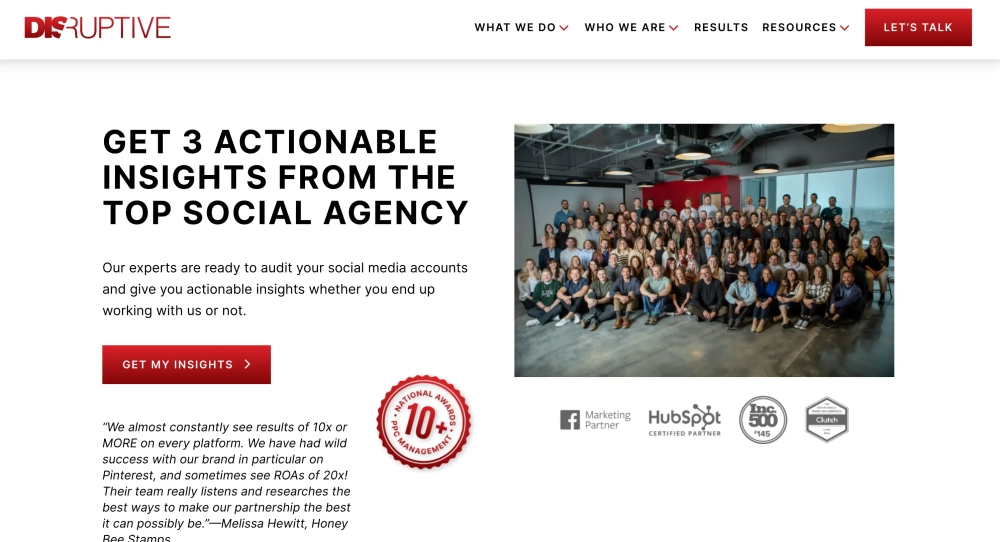 5. Jellyfish
Jellyfish is a trusted partner for businesses in developing and executing their paid social strategies while continually monitoring results against their business objectives. Their diverse clientele includes Yanolja, Greenpeace, Netflix, and H Beauty.
With a global team spanning 22 countries and headquartered in Greater London, United Kingdom, Jellyfish offers comprehensive support:
Strategic Onboarding

Conducting discovery audits to benchmark clients' Social performance.

Implementing an integrated tech stack for effective media campaign delivery.

Establishing a measurement framework for performance reporting and insights.

Seamlessly aligning paid media strategy with clients' business goals.
Ongoing Management

Driving innovation through new product perspectives and implementation.

Creating a test roadmap to address performance fluctuations.

Leveraging their Social ad technology partner (Scope) to identify marginal gains.
Clients can rely on Jellyfish to optimize their paid social efforts for success.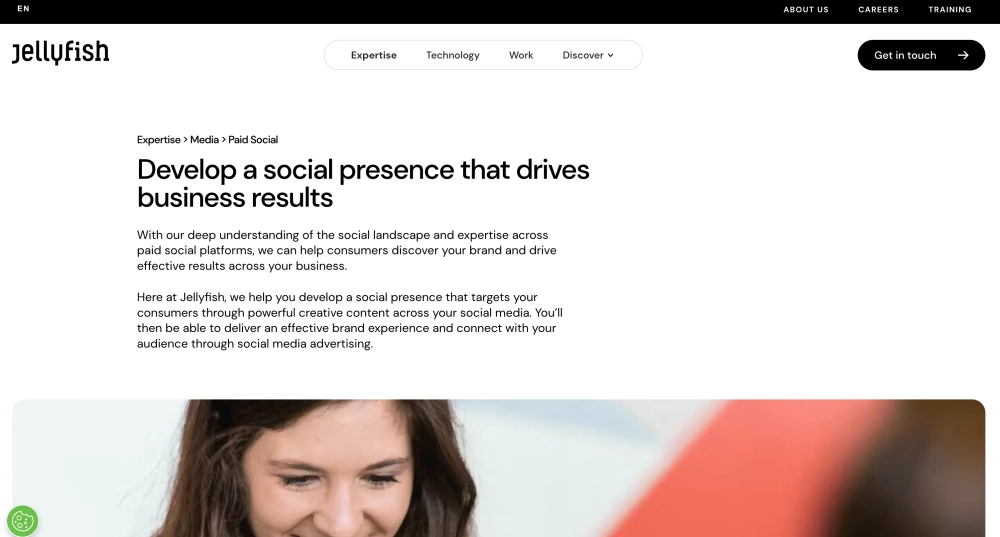 6. Eyeful
Eyeful takes a comprehensive approach to paid social management, addressing technical, creative, custom audience targeting, and financial aspects. While primarily focusing on Facebook, Instagram, LinkedIn, and Pinterest, they adapt to other platforms when beneficial for clients. Although headquartered in Dallas, TX, Eyeful operates with a fully remote team across the USA, spanning 16 states and 23 cities.
Clients like Peacock Alley and Azuga benefit from Eyeful's expertise in using providers such as Liveramp and Dun & Bradstreet to target even the most elusive audiences. Their services encompass paid social strategy, account management, campaign setup, influencer marketing, social media analytics, and remarketing campaigns.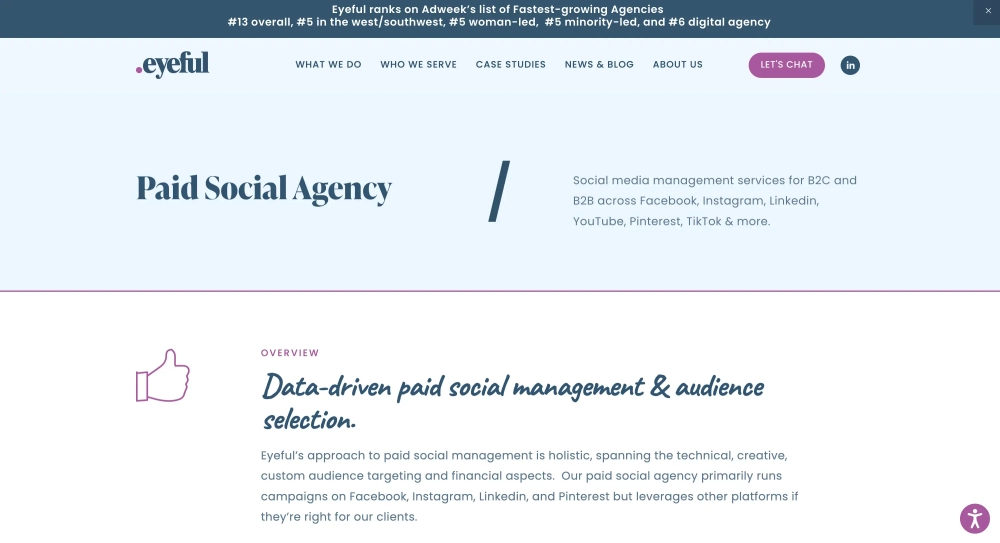 7. Ember Tribe
Ember Tribe, headquartered in Greensboro, NC, has an impressive client portfolio, including Xylem Woodworks, Fusion Belts, and Qeepsake. Their approach to achieving better results is centered on relentless testing:

Meticulous audience research.

Extensive experimentation with ad creative.

Data-driven campaign optimizations.

Building diverse growth channels.

Daily measurement and monitoring of results.
Ember Tribe constantly explores innovative ways to enhance engagement and scale paid social strategies, employing a range of tools from canvas ads and carousels to filters, links, photos, stories, and videos.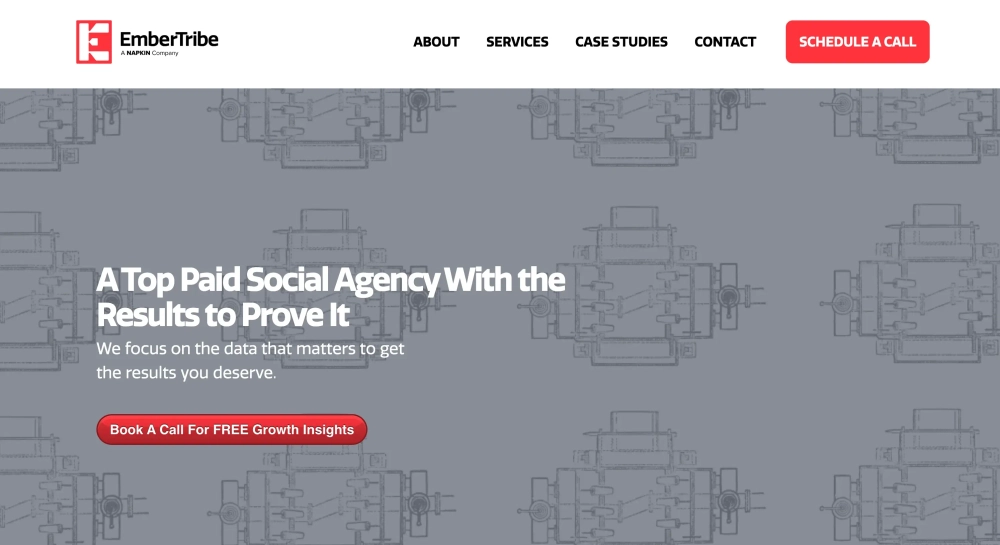 8. Tinuiti
Tinuiti believes in being more than just a marketing agency; they're your business partner. Their approach starts with understanding your revenue goals and crafting a social strategy that propels you toward growth, not just meeting marketing metrics. They take control of pre-click and post-click optimization, unearthing insights crucial for meaningful business growth. Continuous optimization sprints enhance ad efficiency, while their agile production model ensures constant creative iteration to drive performance.
As a pioneer, Tinuiti was the first U.S. independent agency to receive TikTok's campaign management badge, a Reddit independent agency partner, and an expert across Meta, Pinterest, Snapchat, and LinkedIn. They're equipped to accelerate your brand's growth across the networks your consumers adore. Clients like Honest, Instacart, Elf, and Bonafide have benefited from Tinuiti's expertise. Their headquarters are in NYC.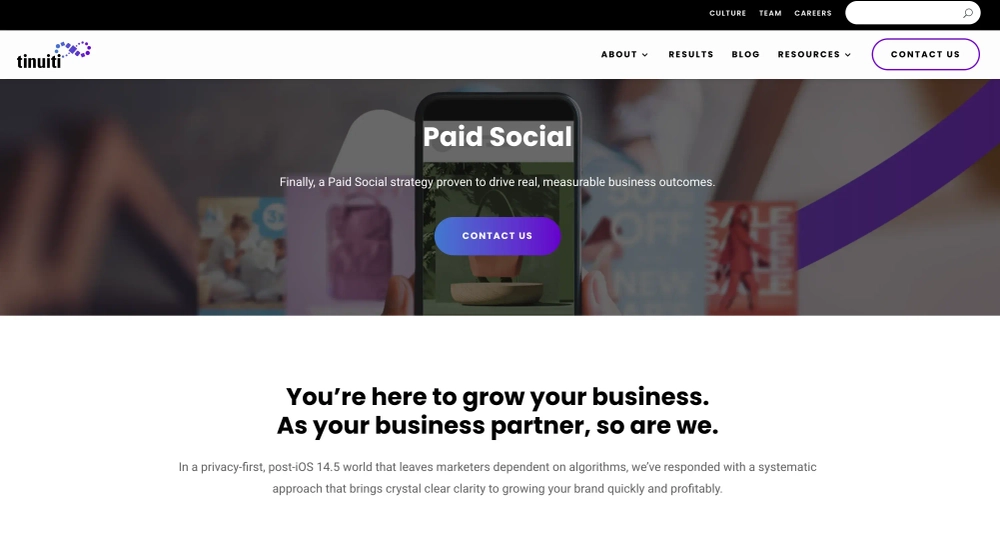 9. Vizion
Vizion Interactive, a full-service U.S.-based digital marketing agency, specializes in SEO Consulting, Paid Media & PPC, Local Listing Management, CRO, Social Media, and Website Redesign. With offices in Dallas, TX, Kansas City, MO, Los Angeles, CA, and Wichita, KS, they understand the vast potential of social media in expanding your reach across target markets.
At Vizion, they demystify paid social media services. Their experts collaborate with your team to craft a multidisciplinary social media advertising strategy, incorporating insights from the digital marketing industry. They don't believe in one-size-fits-all solutions; instead, they develop unique and creative strategies tailored precisely to your business needs.
They've helped clients like SkillPath, Universal, and Lennox thrive in today's competitive market.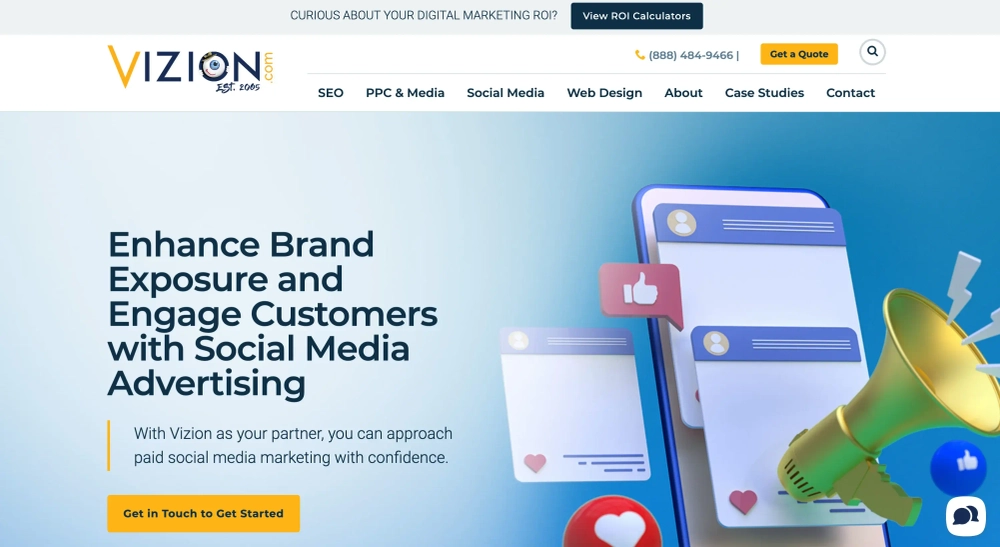 10. iProspect
iProspect, with clients like Dubai Properties, PartsEngine, and Printful, excels in paid social media advertising. Their strategies are geared towards building brand awareness and unlocking fresh opportunities in traffic and conversions.
iProspect harnesses the power of creative content, data measurement, technology, and expertise to deliver enduring results for brands. With global headquarters in Boston, MA, they are a key partner in achieving lasting success in the digital realm.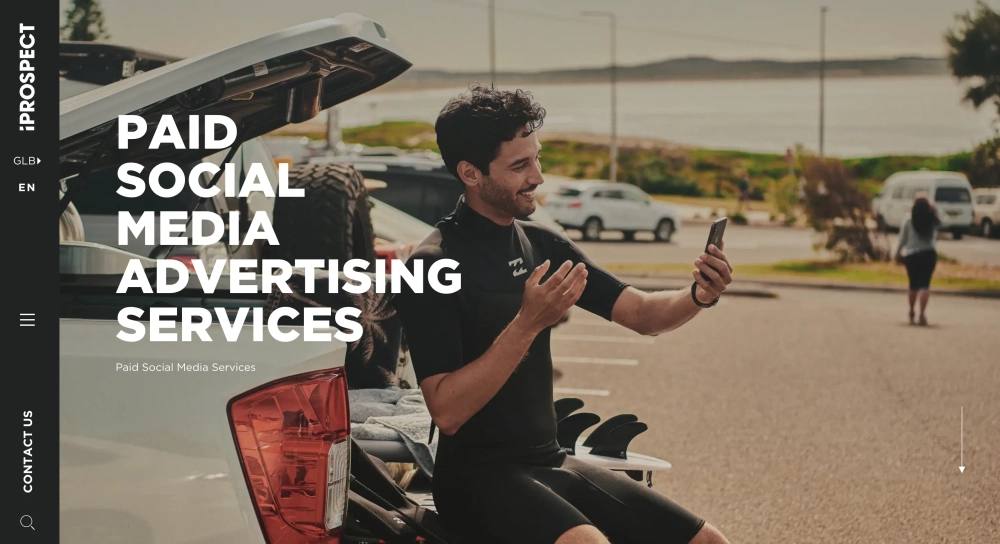 11. LocaliQ
LocaliQ offers a suite of services, including advertising on Facebook, X, Instagram, TikTok, and LinkedIn. With clients such as Heythrop Park, Caramba Brazilian Restaurant, and Hear in Hagley, they know the ropes when it comes to effective social media advertising.
Based in the UK, LocaliQ serves clients in the U.S. and recognizes the multitude of benefits social media advertising brings:

Amplify brand awareness and website traffic.

Enhance visibility through targeted ads.

Access data on engaged leads and competitors' campaigns.

Improve conversions on social platforms and websites.

Elevate engagement on pages and posts.

Unlock lead generation potential across Facebook, Instagram, and LinkedIn.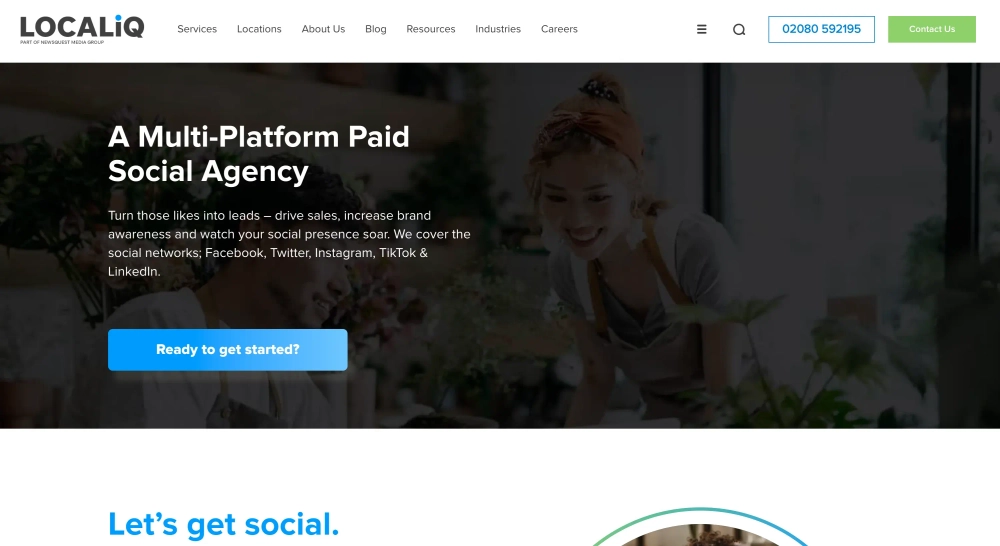 12. Sculpt
Sculpt, a B2B social media marketing agency, boasts a clientele including Cuties, Adobe, Schneider Electric, and Atlassian. Headquartered in Iowa City, IA, their B2B social media expertise extends across diverse sectors:

SaaS

FinTech

Manufacturing

Industry Media

B2B e-commerce

Professional services

Industrial automation
They thrive on navigating the intricacies of enterprise-level challenges. Sculpt helps clients showcase innovation, launch products, and educate markets in various categories. They understand that building trust is key – their content, campaigns, and consulting elevate brand reach, resonance, and recall.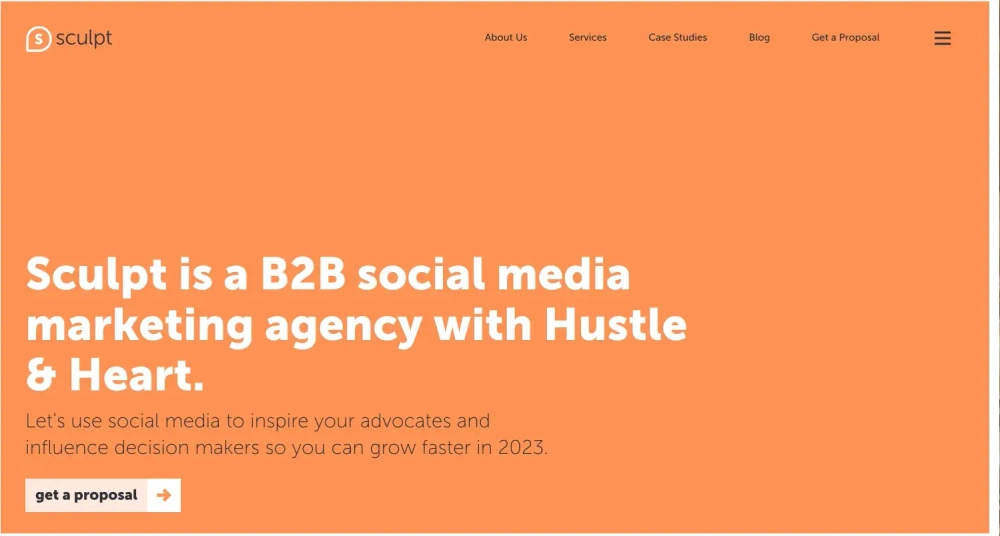 13. Bear North
With headquarters in Superior, WI, and Oxford, MS, Bear North embraces the digital nomad work style. As a paid social agency, they take a data-driven approach to ensure your social media campaigns deliver the desired results. Specializing in Facebook, Instagram, LinkedIn, and TikTok advertising, their expert team creates custom strategies aligned with your business goals.
What sets Bear North apart is its unwavering commitment to results. They firmly believe that data should steer all decisions regarding your social media campaigns. This dedication leads them to continually test and measure what works and what doesn't.
Bear North's services encompass Facebook Social Media Ads, Instagram Social Media Ads, LinkedIn Social Media Ads, TikTok Social Media Ads, X Social Media Ads, Pinterest Social Media Ads, and Snapchat Social Media Ads. Their clientele includes Nicholas Design Build, Supérieure Cane Processing, and Invisibly.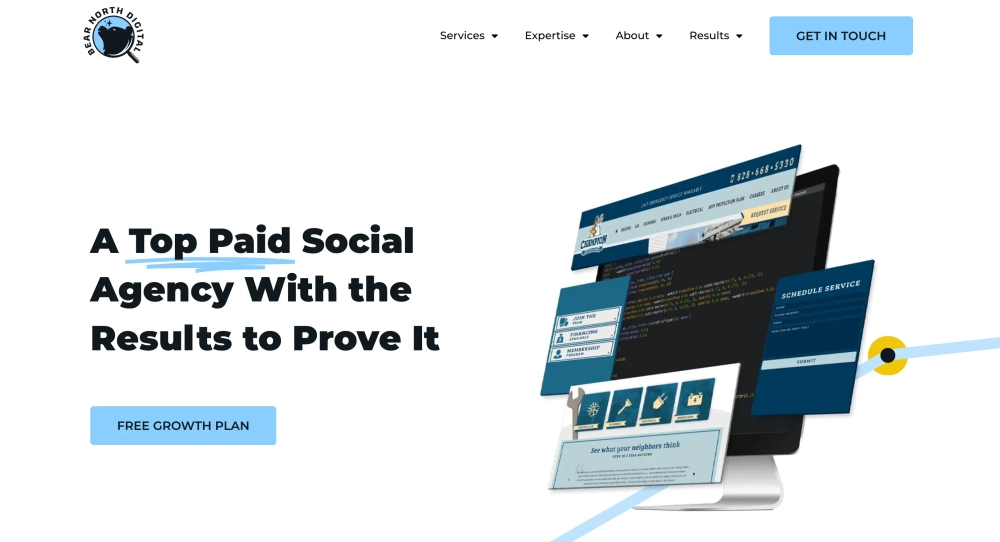 14. Tier 11
Tier 11 utilizes a comprehensive customer acquisition methodology known as Customer Acquisition Amplification (CaAMP). CaAMP is their proven framework driving efforts to:

Scale businesses effectively

Reduce the cost per acquisition (CAC)

Boost year-over-year profits
The process begins with a Strategic Growth Plan (SGP), an exhaustive evaluation of the Customer Acquisition Path. Using their proprietary CaAMP framework, they pinpoint constraints impeding business growth and craft a customized action plan to turn weaknesses into strengths over the next 30, 60, and 90 days.
Tier 11 offers the convenience of one expert team managing platforms like Facebook, Instagram, Google, TikTok, YouTube, Pinterest, and Snapchat. Notable clients including Organifi, SmileTrain, Lawn Doctor, and The Diamond Store have entrusted their services. Tier 11's headquarters are situated in Sagamore Beach, MA.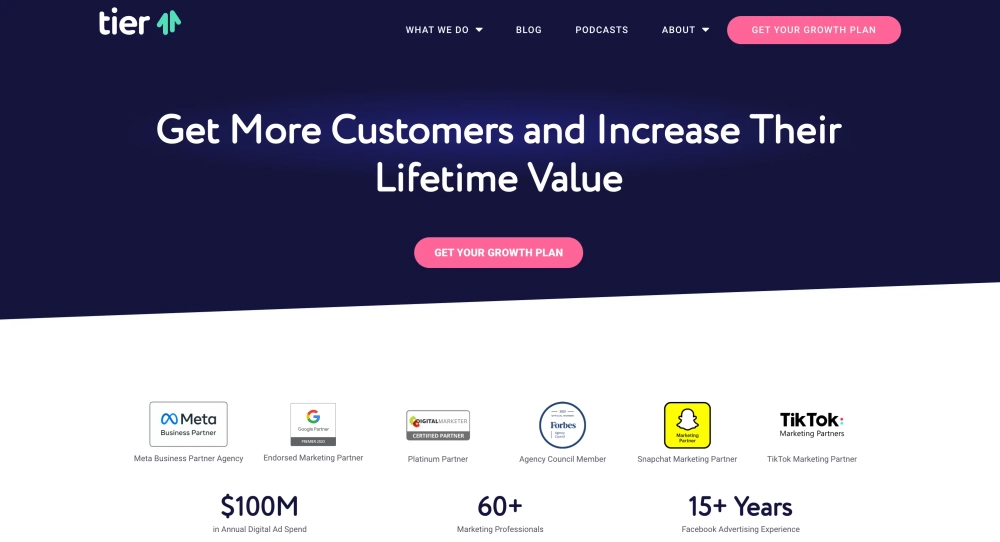 15. Digital Delane
Digital Delane is your go-to expert in Facebook, Instagram, LinkedIn, YouTube, X, Pinterest, Snapchat, and TikTok advertising. Their approach centers on delivering the right message on the right platform at the optimal time of day to boost engagement.
But they don't stop at delivering ads; they optimize campaigns in real-time through a comprehensive testing agenda, evaluating how key messages resonate across platforms.
With clients like Tyson Group, Nevly, Sacred Heart Cathedral, and Red Flag Mania, Digital Delane is headquartered in Los Angeles, CA.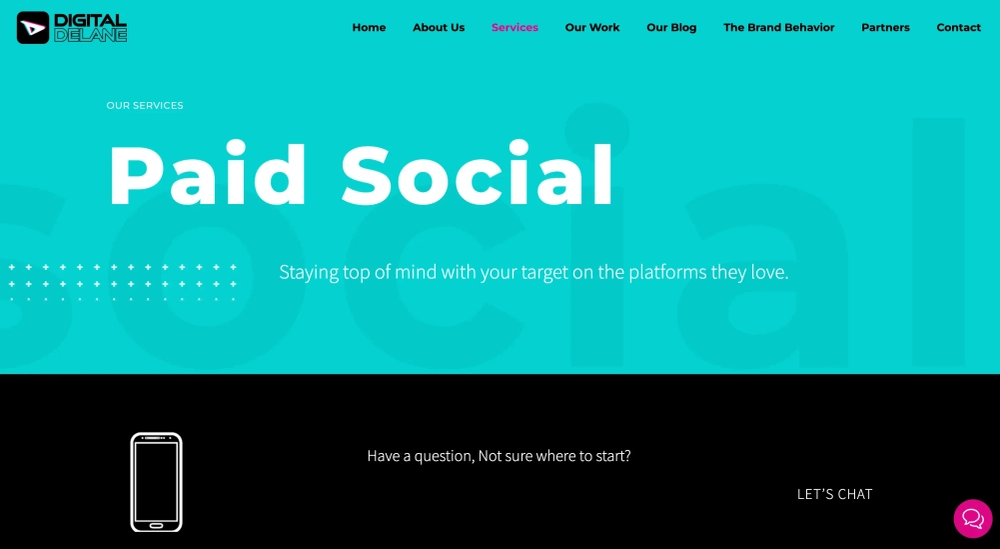 16. Whiteshark Media
Whiteshark Media specializes in enhancing your brand's social media presence across platforms like Facebook, Instagram, and LinkedIn. By engaging with diverse communities, they connect you with audiences matching your demographics and interests.
With years of experience and access to valuable behavior data, Whiteshark Media crafts Instagram, LinkedIn, and Facebook advertising services designed to maximize ad performance. Headquartered in Miami, FL, they're your partner for achieving social media success.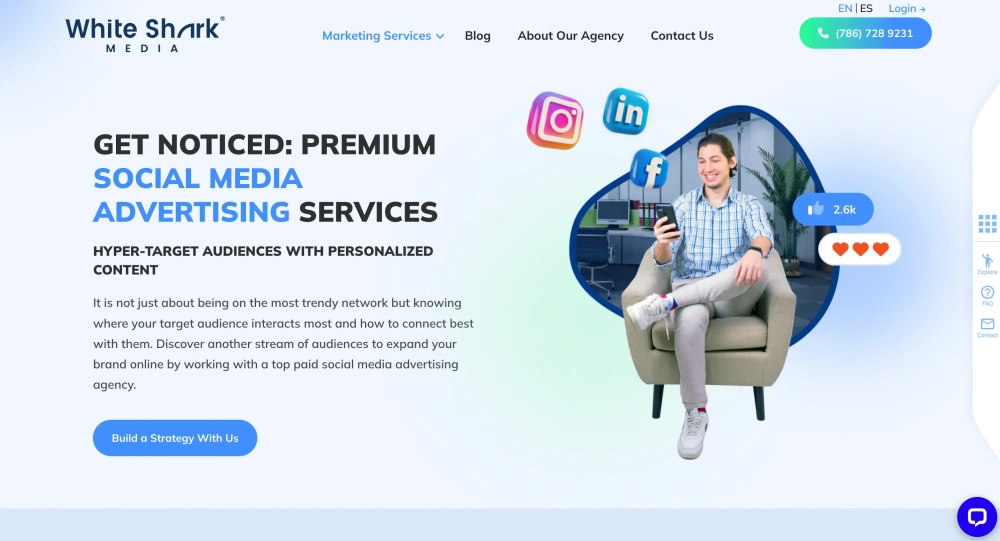 17. Mynt
Mynt Agency comprises a team of marketing and advertising experts committed to achieving and surpassing clients' objectives. With a track record of guiding numerous companies to success, they bring the expertise, energy, and resources needed to conquer competitive landscapes.
Mynt's arsenal of tools and tactics is thoughtfully curated to ignite explosive growth for clients, resulting in expanded reach, a broader customer base, and enhanced brand recognition. They prioritize accountability, transparency, and partnership in their approach.
Clients like Blue Apron, Agape Diamonds, OrangeTheory, and RushMyPassport have placed their trust in Mynt. The agency is headquartered in Saint Charles, IL.