2. Reload Digital
An award-winning eCommerce SEO agency from London, Reload Digital consider themselves experts in Shopify SEO.
Their eCommerce SEO strategy initially starts with a full audit. It then takes your brand through a process of displaying trust signals, developing a strong authority, campaign builds, technical SEO and creating a streamlined user experience.
Their agency purely focuses on working with eCommerce & direct to consumer brands - so you know they have deep expertise and don't claim to be a jack of all trades.
If you look at their portfolio of clients, they've worked with L'Occitane, Wrangler, Ralph & Russo, Saltrock, Philip Kingsley and many more.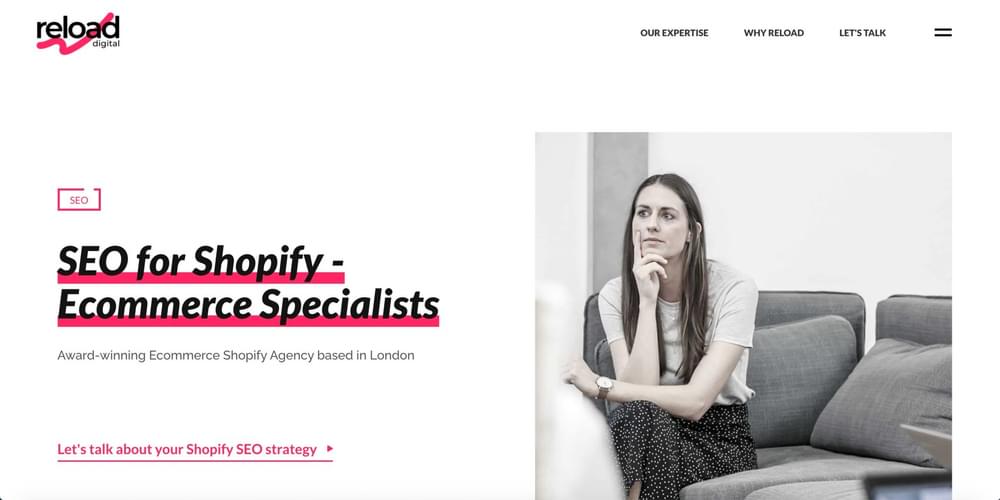 3. Thoughtshift
Thoughtshift are eCommerce SEO experts, especially for large-scale websites with thousands of pages with complex structures.
Their core client is purpose-driven brands, particularly within retail, food, tech and charity.
But how do they help within SEO?
SEO Audit - Technical SEO Audit, Keyword Research, Search Landscape Analysis, Ranking Analysis, Competitor Analysis & Onsite Content Audit.
SEO Strategy - Landing Page Architecture, Metadata Architecture, eCommerce Product Architecture, Structured Data Optimisation.
SEO Consultancy - Onsite SEO Copywriting, Offsite SEO Promotion, Citation Building, International SEO and more.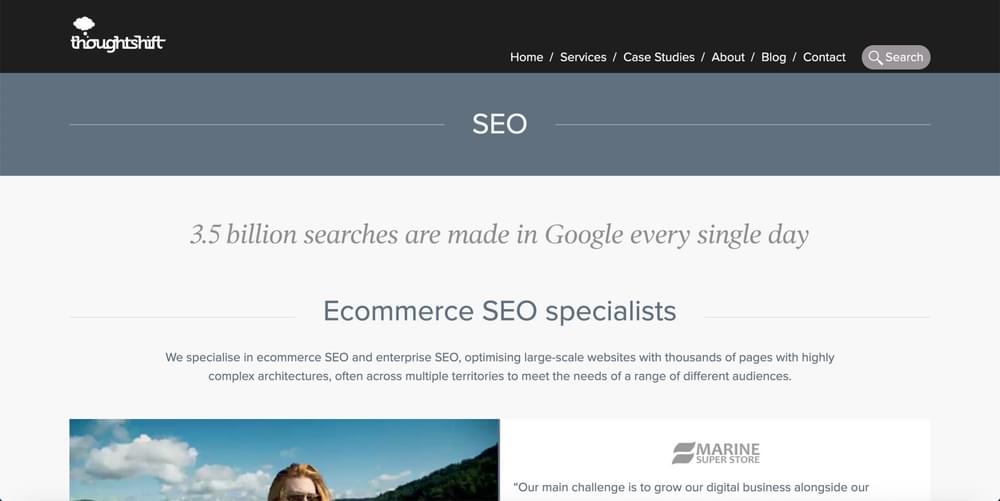 4. Tillison Consulting
If you're struggling to grow organic search traffic for your eCommerce brand, then Tillison Consulting might be the right choice for you.
They predominantly help grow brands on Magento, WooCommerce and Shopify by ranking you above your competitors and achieve higher click through rates from search.
Transparency is a big part of their beliefs. They will be honest about the outcomes you can expect, as well as the budget it'll require to achieve those outcomes.
Clients include eCommerce fashion brand 'Everything 5 Pounds', increasing sales coming from organic search by 179%.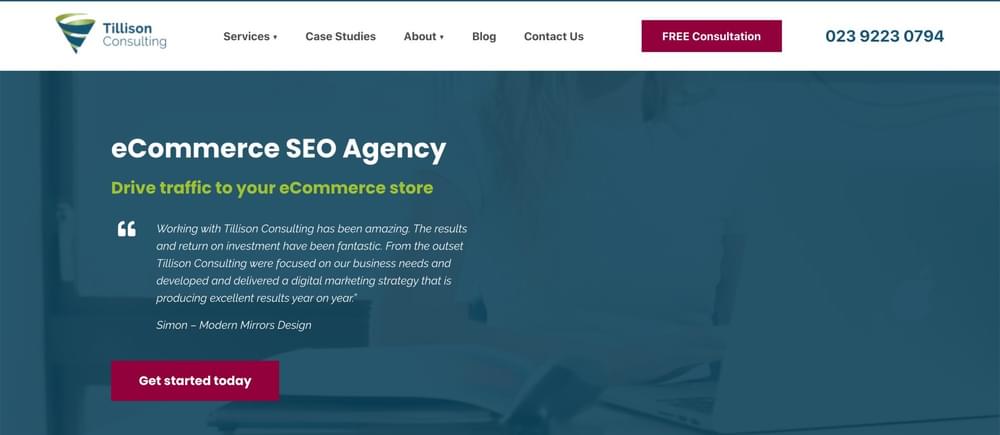 5. PushOn
PushOn are a digital marketing agency focused on scaling eCommerce brands, with offices in Bristol, Manchester and Edinburgh.
Their expertise lies within Magento stores, building organic SEO strategies to drive more sales specifically for brands on Magento.
Quality traffic is what they aim to achieve for their clients, and they do this by building content and pages that'll match users who have a commercial intent to buy something from your online store. As they mention, it's no good trying to get any traffic if they don't intend to buy your products.