2. Love Creative
Love Creative is a Creative Advertising, Packaging Design & Branding agency based in Manchester. Within that, they offer multiple core services such as:
Brand Strategy & Design
Activations
Spaces & Experiences
Identity Design
Packaging Design
Comms
Immersive
They've worked with brands such as Guinness, Brewdog, Adidas, Botanic Lab, Johnnie Walker, and KitKat, amongst others. But they work with small and large businesses so that they could be a fit for all companies looking for a creative branding agency.
3. Chaos Design
Based in London and Guildford, Chaos Design is a Creative Branding Agency focused on helping ambitious leaders who are determined to make their brand different, disruptive & distinctive.
Their expertise in creative lies within branding, brand strategy, internal comms, marketing comms, advertising and digital. They have experience in both B2C and B2B across many different industries.
Chaos by name, but not chaotic by nature. They have a process & methodology that takes each brand through a series of steps to ensure the success of their work.
Investigation - understanding your market and business to get a 360 point of view.
Insight - looking at observations, considerations, recommendations & audits that allow for creative development.
Inspiration - this is where the brainstorming & workshops take place to start bringing ideas to life.
Integration - they'll look at the best distribution methods across their six communication disciplines to see where best the campaign should be integrated.
Implementation - everything then comes to life.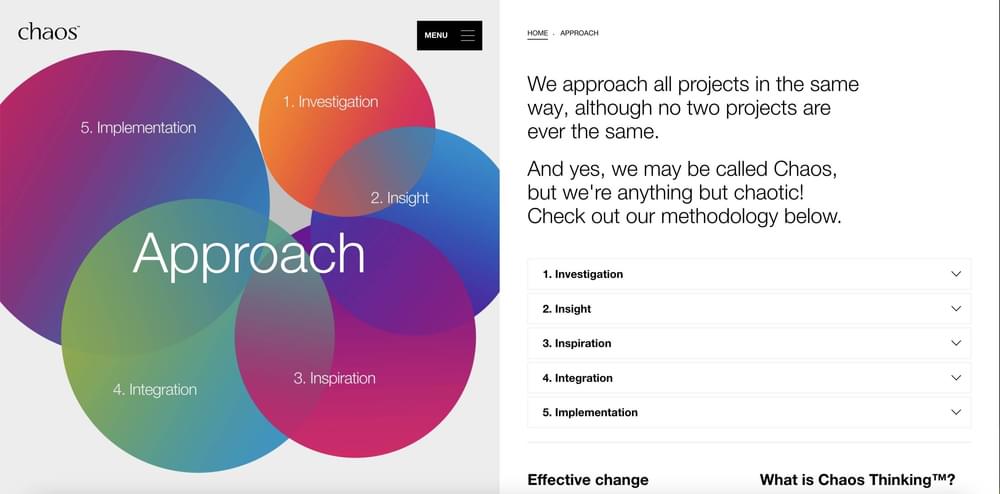 4. Pearlfisher
Pearlfisher is an award-winning Creative Design & Branding agency based in London & New York founded in 1992.
They have recently won awards at the Cannes Lion International Festival of Creativity, The DBA Design Effectiveness Award, Sunday Times Best Companies To Work For, the D&D Awards and many others.
Describing themselves as a 'visionary group of futurists, strategists, designers & realisers', their core focus is within seven areas of human living: Taste, Body, Luxury, Mobility, Leisure, Community and Nature.
Their client portfolio includes the likes of McDonalds, Seedlip, Bang & Olufsen, BYOMA, Wagamama and more.

5. Deep
Deep is a London based design agency that produces effective brand, digital & print communications for brands with a global audience. Their design services help businesses specifically on:
Branding
Websites & eCommerce
Design for Print
Digital Campaigns
Film & Photography
Editorial