1. The Social Shepherd
At The Social Shepherd, we're a results-driven Google Ads agency that helps eCommerce and direct to consumer brands grow faster and convert more sales.
Our paid media team manages all paid search activity for our clients, including Google Shopping, Google Search Ads, Google Display, Bing & Microsoft Advertising.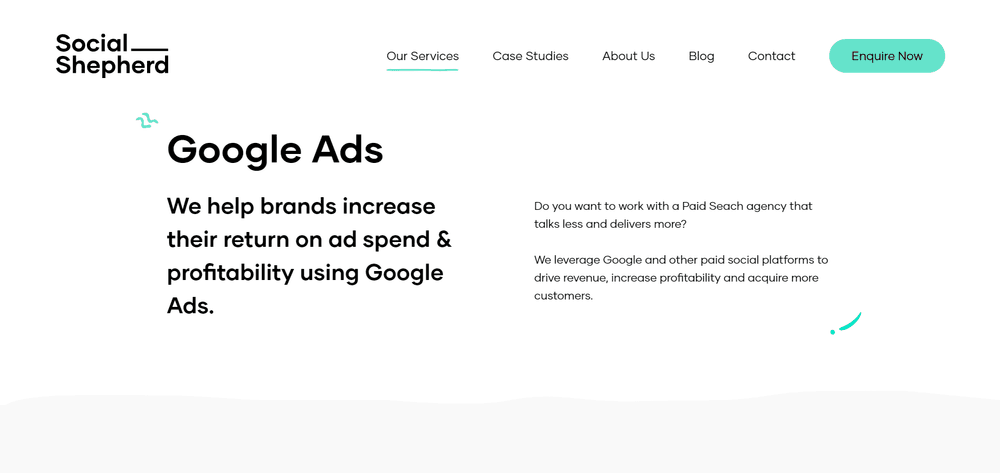 With our experienced Google Ads team, we're always able to find gaps in your existing PPC strategy for your eCommerce brand. This allows us to lower your CPAs and increase your ROAS, as well as help your brand scale across multiple platforms.
We're proud to say we're a Google Partner, which allows us to have better insights and access to advice and best practices.

Our Google Ads agency has a deep knowledge and understatement of different industries, types of clients and strategies they've developed for several campaigns.
For example, optimising big catalogues (100,000+ products) because the smallest tweaks have big impacts on results. With KPI's completely net profit-focused and NCROAS (Net Contribution ROAS) as the main focus.
By adding a couple of custom labels to the product feed, including product-level profit margin and breakage. Being able to increase and decrease bids depending on profit margin, I.e., bidding more on the higher-margin products and less on the lower margin products or products that had sold out in multiple sizes.
Another great way to illustrate the expertise of our Google Ads agency could be working with a sustainable fashion brand to retain their search visibility due to the increasing number of competitors.
Taking control of rising CPCs with a Smart Bidding strategy to target the right user at the right stage of the consumer journey. With an increased ROAS, the keyword list could be expanded, reaching a wider audience and scaling cost-effectively.
Here are some other successful Google Ads campaigns we've done for our clients:

Passenger Clothing: We scaled the brand by 3.5x ROAS in 4 months using Paid Search and Paid Media, as well as won two Paid Media Awards UK in 2022 for 'Best Integrated Paid Media Campaign' & 'Best Use of Facebook/Instagram Ads'.
Corston: We have gained a ROAS of 7.33x over the last three months through Google Ads campaigns.

London Basin Co: Achieving a 9x ROAS.

Snack Surprise: We've scaled spend by 140% and conversion volume by 142% while keeping a consistent CPA in the last six months.
Beebombs: Successfully achieving a 5.2% on ROAS and won 'Best Paid Social Campaign of the Year' at the UK Biddable Media Awards.
Want to see more case studies? Check them out here.
If you're looking to grow your business to the next level, then get in touch with our PPC team now!