Next, let's dive into some Snapchat statistics regarding the platform's usage. This data allows us to see how many active users Snapchat has, how it stacks up against the other popular platforms, and more. Here's what you need to know:
Snapchat Has 363 Million Daily Active Users Worldwide
As of the first quarter of 2022, Snapchat has 363 million daily active users worldwide. This is an increase from the third quarter in 2021, which had 306 million.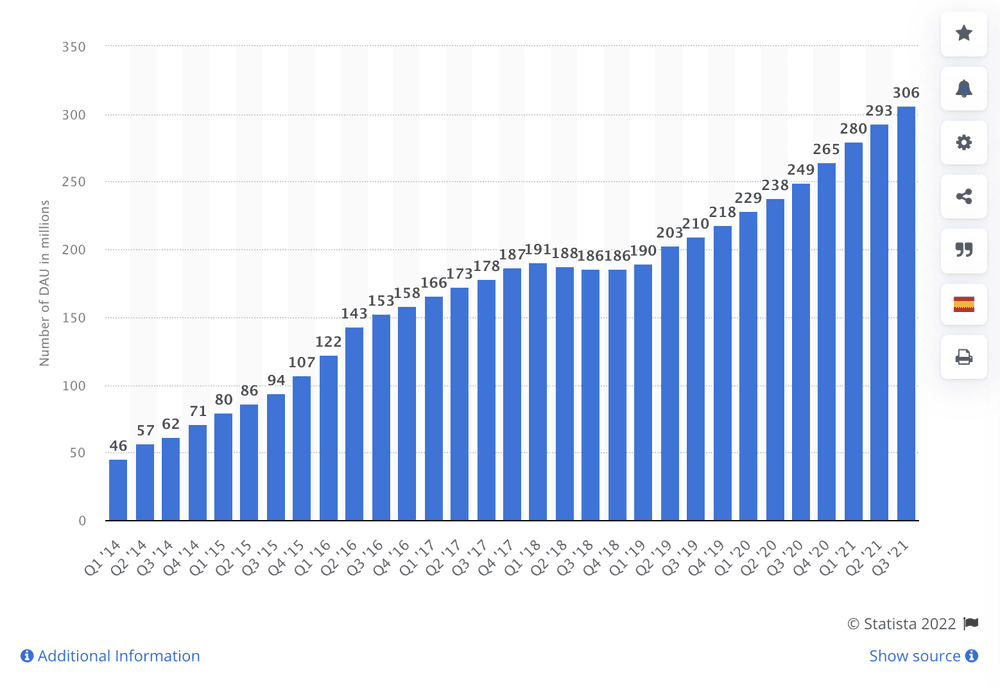 The App Ranks as the 12th Most Popular Social Media Platform Worldwide
In terms of active users, Snapchat ranks 12th in popularity compared to the other top social media platforms. It is, however, ranked higher than platforms like Pinterest and Twitter.
It's Reported That an Average of 5+ Billion Snaps Are Created Daily
According to Snapchat, an average of 5+ billion snaps are created every day. That's a lot of photos and videos being shared with friends and family on a daily basis! Although, it should come as no surprise since people love to use the platform to share snippets of what they do throughout the day.
On Average, Users Spend About 30 Minutes on Snapchat Per Day
Worldwide, internet users spend about 145 minutes per day on social media. But how does that compare to how much time people spend on Snapchat specifically? On average, it's about 30 minutes per day according to Snapchat's research. How does your Snapchat usage compare?
Snapchat Was Rated a 70 for Customer Satisfaction in the United States
In the U.S., there's an index known as the American Customer Satisfaction Index (ACSI). Snapchat was given a customer satisfaction score of 70 by its users. It falls behind companies such as Pinterest, YouTube, Wikipedia, TikTok, and Reddit, all of which had slightly higher scores.