Launched in August 2016 and modelled after the success of Snapchat Stories, Instagram brought Stories to its users as a way to share photos and videos that expire after 24 hours.
It's become a place for users to share snippets of their day, promote business offerings, and so much more. If you're not using Stories, let these Instagram statistics change your mind.
Instagram Stories Has 500 Million Daily Active Users
Proving the value of Instagram Stories, this feature has 500 million daily active users. That number has steadily increased since its launch and shows no signs of slowing down. That's reason enough for marketers to be sharing content there and using it as a way to connect with their audience.
Brand Stories Have an 86% Completion Rate
When posting Stories, you obviously want to ensure people are watching from beginning to end. Luckily, brand Stories have a completion rate of 86%. The key is to make sure you're sharing captivating content that will hold their interest throughout each Story post you share.
58% of People Say They've Become More Interested in a Brand or Product After Seeing it on Stories
For brands questioning whether they should invest their time and energy into Stories, this particular statistic may help you make a decision. 58% of people say they've become more interested in a brand or a product after seeing it posted on Stories, making it an effective way to establish a relationship with your target audience.
50% of People Have Visited a Website to Make a Purchase After Seeing a Product or Service on Stories
Instagram Stories are just one way brands can direct people from Instagram to their website, especially since all users can add links to their Story posts. Data shows that 50% of people have visited a website to make a purchase after first seeing a product or service on Stories.
4 Million Businesses Use Stories Ads Monthly
This feature is also one of the ways in which brands can run ads on the Instagram platform. In fact, approximately 4 million businesses use Stories ads monthly. Other options are to run ads in the main feed or via Reels.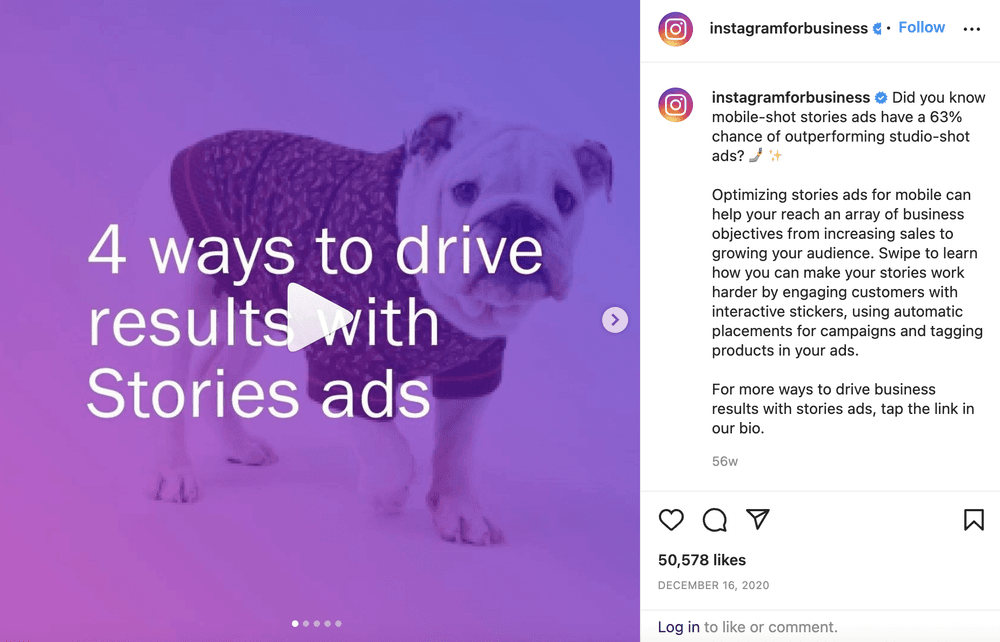 Stories Ads Shot on Mobile Outperform Studio-Shot Ads 63% of the Time
When it comes to ads, quality is definitely key. However, that doesn't mean you need a big budget to develop your ads. Instagram says Stories ads that have been shot on mobile outperform studio-shot ads 63% of the time, so opt to film on your phone instead.