To get started, here are a few eCommerce statistics to keep in mind:
eCommerce Sales Are Projected to Reach $8.1 Trillion by 2026
In 2021, retail eCommerce sales were an estimated $4.9 trillion U.S. dollars worldwide.
Over the next four years, it's predicted this number will grow by 56%, reaching approximately $8.1 trillion by 2026. There are no signs of online shopping slowing down anytime soon.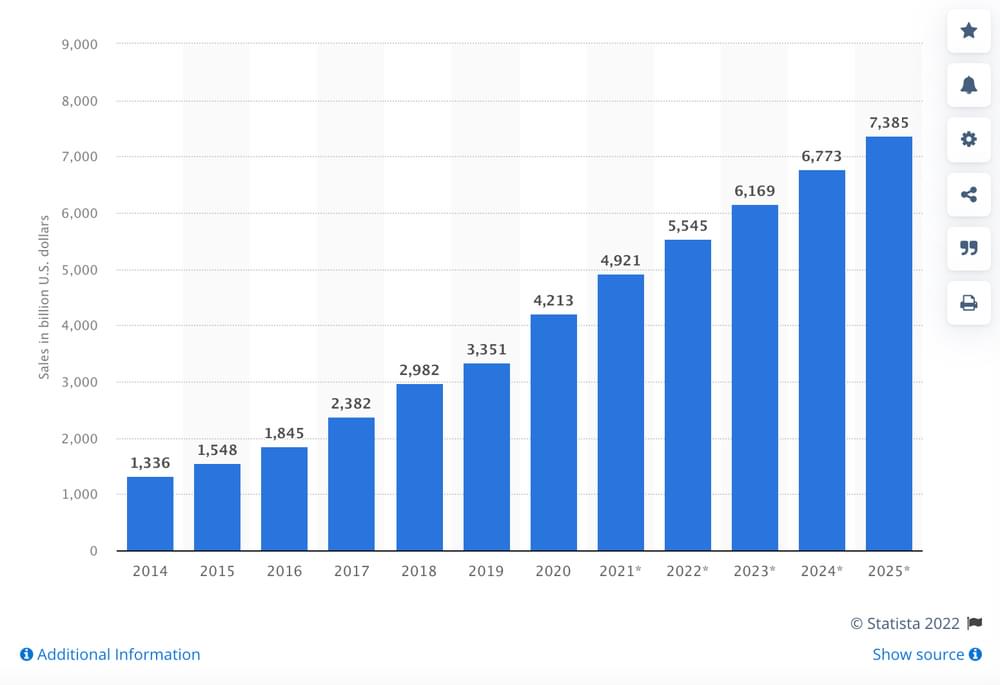 The Average Shopper Makes 19 Online Transactions Per Year
How do your online shopping habits stack up? Data shows that, on average, a consumer makes 19 online transactions per year. However, this obviously varies based on location. For example, consumers in China make an average of 22 online transactions in a single year.
There Are Between 12 and 24 Million Online Stores
While it's hard to determine an exact number, it's estimated that there are anywhere between 12 and 24 million online stores. And with more people starting online businesses, that number is only going to steadily increase over the next few years.
Amazon Saw Almost 3.68 Billion Monthly Visitors in 2022, Making it a Top Online Retailer Worldwide
When compared to online retailers, it appears Amazon is coming out on top. In 2022, the retailer saw almost 3.16 billion monthly visitors on its website.
This number decreased since 2020, during the COVID-19 pandemic, when it reached 3.67 billion monthly visitors due to more people choosing to shop online instead of hitting the stores. The second most popular online retailer was eBay, which saw a monthly average of 589 million visitors.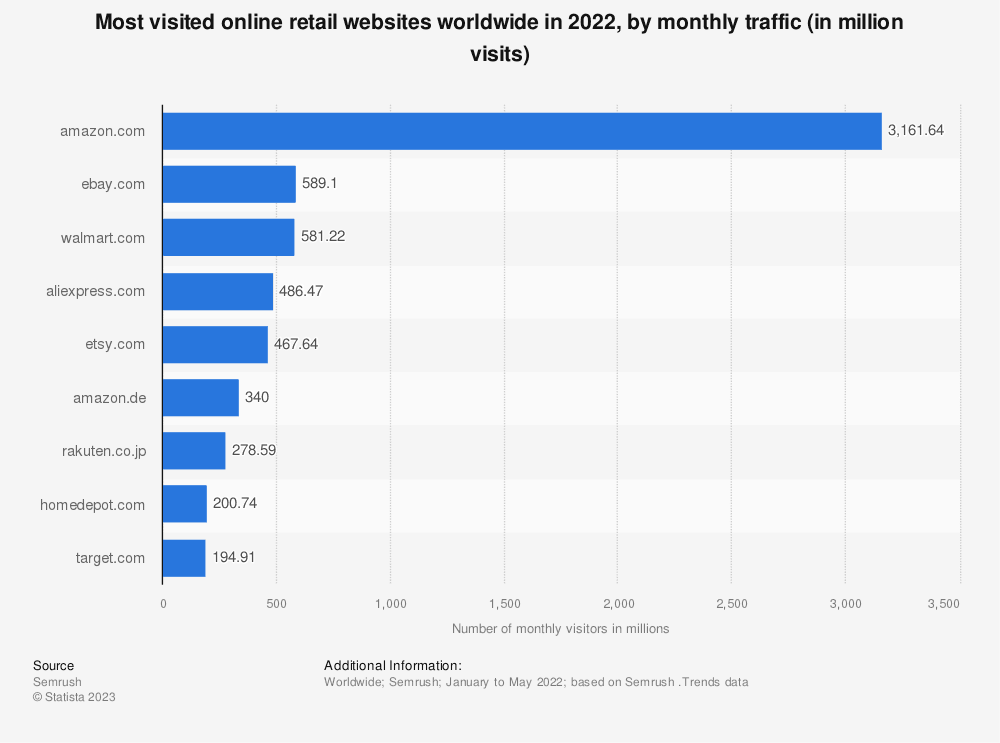 50.8% of People Say Free Shipping is the Top Reason They Shop Online
Have you ever passed on ordering something online because shipping wasn't free or too expensive? You aren't alone.
50.8% of people say free shipping is one of the main reasons they choose to shop online. This, in combination with Amazon's vast product selection, is likely why they see great success.
Here's a full breakdown of why consumers say they shop online:
Free delivery: 50.8%
Coupons/discounts: 38.7%
Reviews from other customers: 31.4%
Easy returns policy: 30.8%
Next-day delivery: 27.7%
Quick/easy online checkout process: 27.6%
Loyalty points: 24.5
Lots of good comments on social media: 21.3%
Knowing the product is environmentally friendly: 17.8%
Ability to spread payments without interest: 17%