How are businesses using AI? Explore how companies and AI work together to increase profits and boost growth.
35% of Businesses Use AI
Another 42% of companies are considering adding AI in the future.
92.1% of Businesses Have Seen Measurable Results from AI
Investing in data and AI comes with valuable rewards, according to 92.1% of businesses in 2022. This number has grown exponentially from 2020 when 70.3% saw measurable results from data and AI. And again, in 2017, only 48.4% of businesses saw quantifiable results.
Three-Quarters of Customers Expect Better Experiences from Companies Using New Technology
AI is impacting how businesses offer customer service. Because of all the new opportunities AI created, customers now have higher expectations. According to 67% of customers, how companies incorporate and use AI and other new technology reflects how that company operates as a whole.
While 75% of customers expect businesses to incorporate new technology, nearly the same percentage also expects companies to update how they use their current technology.
44% of Business Leaders Saw Increased Productivity through AI
Some of the highest-value benefits of AI in business include the following:
Increased productivity
Improved decision-making
Improved customer experience
Innovative products and services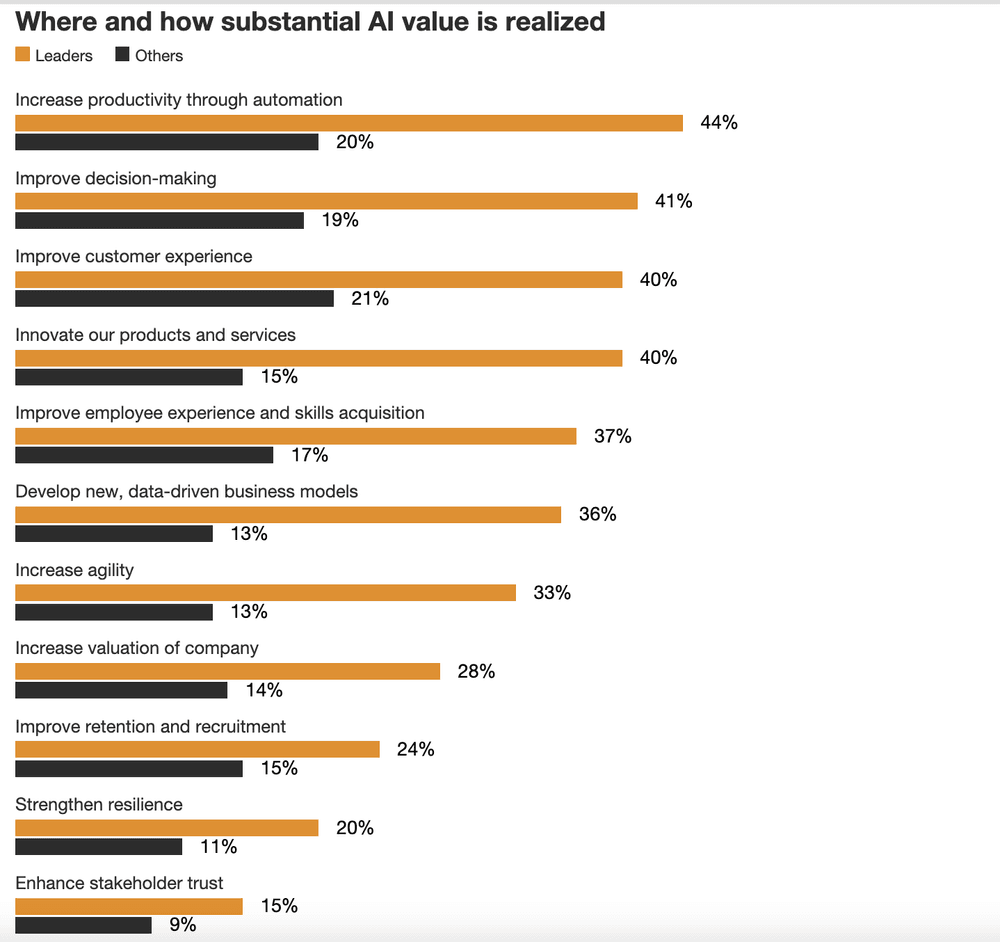 62% of Customers Will Allow AI If It Improves their Experiences
What type of new technology do customers want businesses to use?
An increasing number of customers are open to AI because of its potential to customize and streamline experiences. Additionally, 77% of business buyers are open to AI, showing greater acceptance among business buyers than consumers.
Less Than Half of Customers Trust Companies to Use AI Beneficially
Even though customers are open to AI, they don't trust most companies using AI. For example, about 48% of consumers trust companies to use AI beneficially, compared to 70% of business buyers.
What's influencing this distrust?
Only 32% of consumers believe companies are transparent about their AI use, while 58% of business buyers feel businesses are transparent. So transparency about AI and how it's collecting data and tracking customers to improve their experience is crucial to building that vital trust with customers.