How many people are using BeReal?
While BeReal hasn't reached the total user count of social media giants like Instagram and Facebook, it has topped the download charts in 2022. Check out these usage statistics showing the considerable mark BeReal is making in the social media industry, making it an app worth monitoring.
BeReal Has 73.5 Million Active Monthly Users
In August 2022, BeReal reached 73.5 million active users. Additionally, 20 million of those users access the app daily. That was a significant jump from July when the app had 21 million monthly active users.
BeReal Was the Most Downloaded iPhone App in September 2022
BeReal had 13.89 million downloads in the Apple App store in September 2022. This is nearly double the runner-up, TikTok, which had 7.51 million downloads in the same month.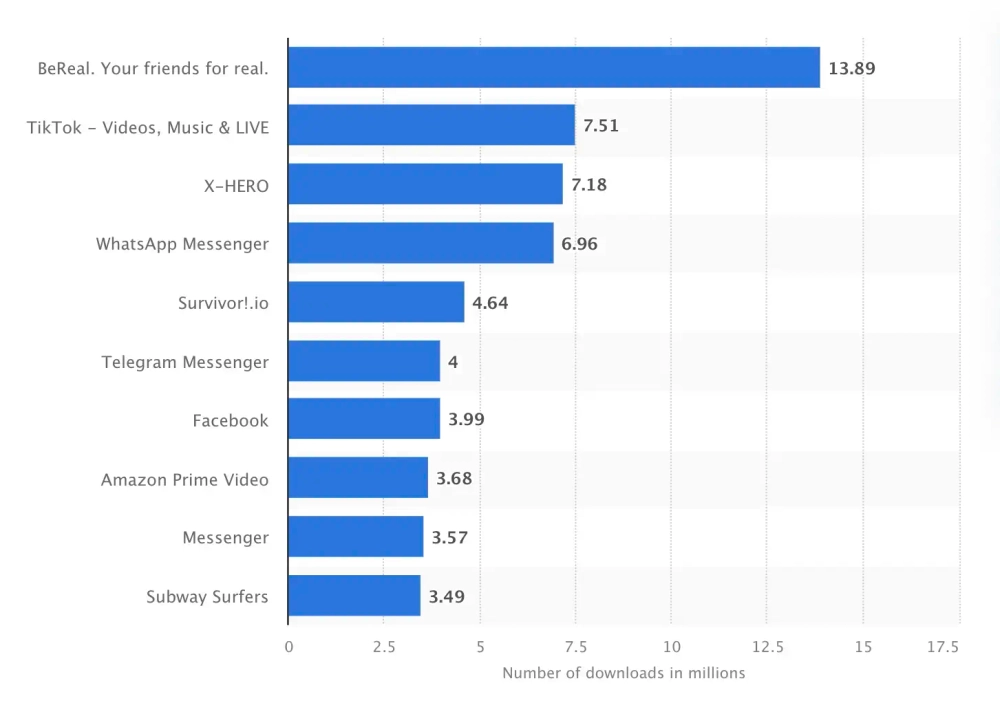 34% Of BeReal Users Say the App Is an Authentic Social Media Platform
The BeReal app sends out notifications to all users simultaneously, prompting them to take a picture of what they're doing. The catch is that the notification can occur anytime, and users have two minutes to snap a photo.
The app accesses the front and back cameras to get a complete picture of the user's surroundings. It also doesn't allow for filters and tells viewers how many retakes you took before posting the photo.
The app brands itself as an authentic look at people's lives without the filters and edits of other social media platforms. This removes what many say makes social media toxic.
Because the app only sends out notifications once a day, it also limits how much time people spend scrolling through it.
This app is drastically different from other platforms since only 9% of social media users post about their daily lives and over half of them say their accounts don't reflect their real lives.
BeReal Has a 4.8-Star Rating on the Apple App Store
In December 2022, BeReal had 4.8 out of 5 stars and 568,675 user ratings in the Apple App Store.
In the Google Play app store, BeReal has a 4.6-star rating out of five stars and 108,000 reviews.