Facebook makes money by offering "placements" for ads on their platform, and advertisers bid for these placements. Facebook charges you for these placements in two ways, either CPC or CPM. CPC (cost per click) is where you pay each time your ad gets clicked. With CPM (cost per mile), you pay for every 1000 views of your ad.
The cost for these can vary depending on what you're selling, the competition and who you're targeting.
These costs can also vary within a Facebook marketing campaign too. That's because of the funnel.
A Facebook marketing funnel is a model that shows your prospects' journey as they go from unaware of you to paying customers via Facebook.
The funnel is divided into three parts:
Top of the Funnel (ToFu)
Middle of the Funnel (MoFu)
Bottom of the Funnel (MoFu)
Imagine that prospects at the top haven't heard of you; adverts here tell them who you are and what you do. As you go further down the funnel, there are fewer prospects, but they're much warmer to you. These prospects are more responsive and likely to buy from you, meaning you can be more direct with your offers in your ads.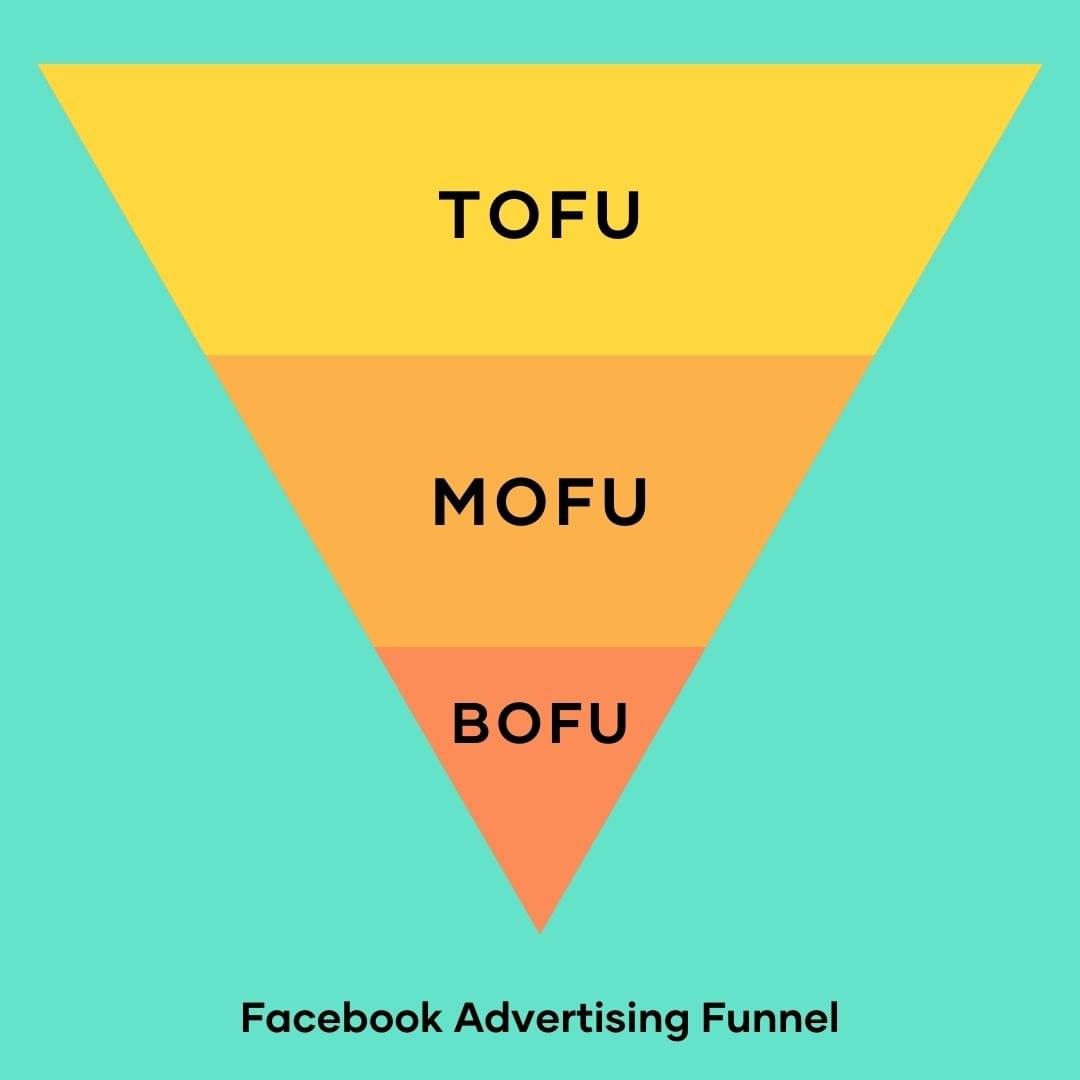 A look into our ad spend numbers
In the image below, you'll see our Facebook ad spend in the first quarter of 2021. The average CPC cost was £0.40, and CPM was £3.57.
However, this a broad look at our ad spend and shows all stages of the funnel. Further down, we'll show you the average costs for each funnel stage and how they differ.
Our Facebook ad spend in the UK between January 1st - 23rd March 2021 across 35 of our client accounts.
ToFu
For this stage, we assume that prospects have never heard of our brand and are completely cold. Our ads here are to drive these cold prospects to the website and improve brand awareness.
You'll notice that the average CPC and CPM costs are lower here. That's because prospects are less likely to buy at this stage, so the ad placements aren't as valuable.
However, these ads are vital as they target a large pool of prospects, sending a number of them further down the funnel where they'll become paying customers. As such, you'll spend the bulk of your ad budget here.
MoFu
Here, we retarget warm prospects. These are low intent website visitors or prospects who have engaged with our Facebook or Instagram content.
Ads here are essentially nurturing those leads and further warming them up to us. We show them why we're unique, emphasise the benefits and let them know why they should buy from us.
As expected, the average costs begin to rise, not by too much, however. The total ad spend falls because we're now targeting a smaller number of people.
BoFu
This is the last stage of the funnel, prospects here are very warm, and as such, the focus of the ads is on conversion and retention. The prospects targeted here are product page visitors and those who have added items to their cart but not yet purchased them.

While the total ad spend here is low, the average CPC and CPM costs are much higher than the other stages. That's because the ads here are much more likely to convert into a sale, making them much more valuable.
Why is there a difference between CPMs and CPC at each stage of the Facebook Ad funnel?
A few factors. Mainly due to the size of the audience at each stage. Naturally, the top of the funnel has the most people. As you go further down the funnel, the audience size decreases, but they're more likely to buy, so advertising to them is more expensive.
Something similar to this:

ToFu + MoFu

BoFu

Broader audience
Lower CPC + CPM
Higher overall ad spend
Boost brand awareness

Narrower audience
Higher CPC + CPM
Lower overall ad spend
Drives conversions

The stage of the funnel that your potential customer is in should determine your campaign objective. Focusing on the wrong goal may lead to your ads costing more than they should. We've found that driving traffic through impressions and reach objectives come with the highest cost.
The importance of each metric changes depending on the funnel. For example, CPC and cost-per-like are important for ToFu or MoFu prospects. While at the bottom of the funnel, cost-per-install is much more important as your ads here emphasise conversion.