The objective is what Facebook's algorithm uses to build audiences.
For example, say you wanted to target women between the ages of 25 - 44 that have an interest in yoga. Inside that audience are more defined groups based on intents and the objective you choose. If you choose a Purchase objective, Facebook will show your ads to people who are more likely to buy your products than if you used a Traffic objective.
"Always go for the objective you're looking for," says Joey Stevens, The Social Shepherd's Senior Paid Media Manager. "If your goal is getting purchases, never get tricked into testing a traffic objective. Sure, you may get more traffic and lower cost-per-click, but your return on ad spend for the campaign will be lower."
There are 11 Facebook ad objectives to choose from. Each can be put into one of three buckets:
Awareness
Consideration
Conversion
It's no accident Facebook has created objectives that fall under these three general categories. Why? Because they're essentially each step of the buyer's journey. Choosing the right objective will increase the chances of increasing your success with ads.
As you're creating your ads, it's important to know what each objective is best for. Here's a quick overview to help with your campaign setup: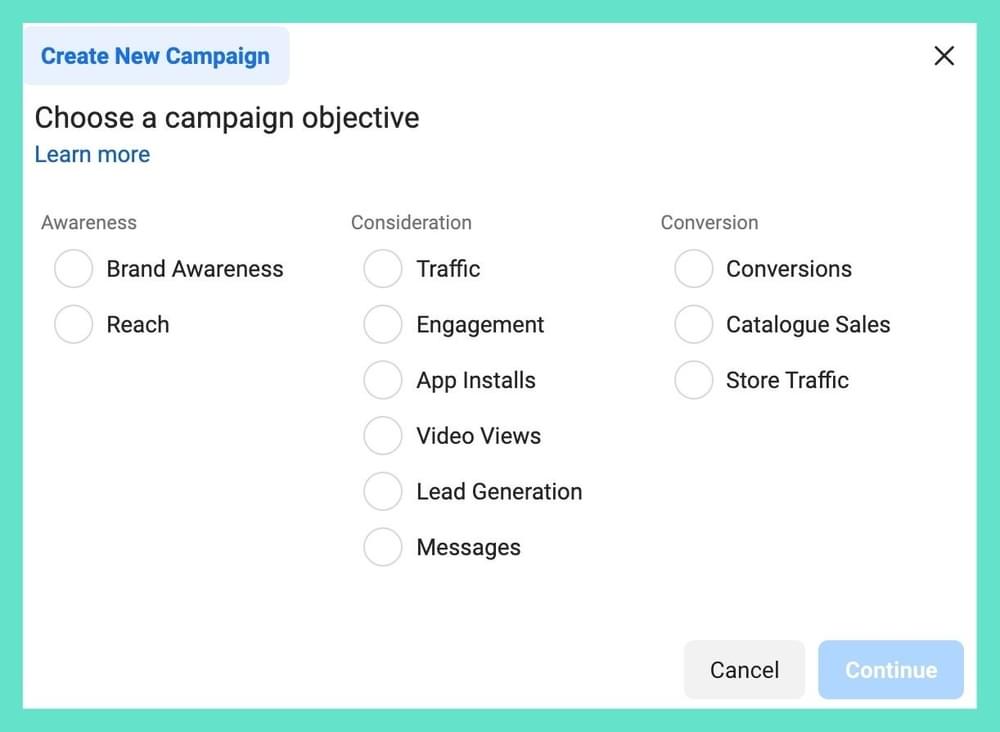 Brand awareness

Need more people to know your business exists? Facebook's Brand Awareness objective helps you do exactly as the name suggests: make more people aware of your brand.
If you're trying to build brand recall or want people to remember a unique brand feature you own, Facebook can make sure your target audience is exposed to your brand awareness ad.
Keep in mind that brand ads aren't specifically designed for clicks or engagement. If you want either of those, you'll want to take a look at the objectives under the Consideration category.
Reach
Facebook shows Reach ads to as many people as possible up to the amount you've set as your ad spend limit. You can choose how often your target audience sees these ads or even the location they should be displayed. These ads can work great for local advertising campaigns.
Traffic
You can think of Traffic as the "choose your destination" objective. Ads created with a traffic objective are optimised for sending traffic to the link of your choice.
With it, you can send traffic to landing pages, an app, a blog post, your homepage, a squeeze page, your eCommerce store, or a special opt-in offer. Under the Traffic objective, link clicks are king. The more you spend on a traffic objective, the more clicks you'll get (though it's not optimised for much else).
Engagement
Likes, shares, comments, and overall interaction. That's what the engagement objective is designed for.
As interaction with your ad increases, so does the amount of people that see it. Engagement is a great ad objective if you're trying to amass Facebook page likes and follows and increase your CTR.
App installs
Need more app downloads? The App installs objective was designed specifically to send people to your app.
Facebook targets the people within your target audience who are most likely to download apps. It knows this by tracking and storing the profile activity and information of your target audience.
Video views
Video content can often be a better way to reach your target audience. Facebook's Video objective will show your video to as many targeted users as possible to increase views.
Lead generation
Lead generation enables you to collect leads. It's a great way to grow your email list, or collect a warm audience for a product launch.
One of the great things about the Lead Generation objective is that users don't have to leave the platform to opt-in to your offer. This makes it as seamless as possible for your audience to participate in your offer.
Messages
With the messages objective, you can interact with your target audience as they contact you through Facebook Messenger. This is a great way to create a more personalised ad experience.
This is a great way to add a more human touch to your business, remind your audience that you care about their personal needs, and become more memorable.
Conversions
The Conversion objective is designed so that your ad entices your buyers into taking a designated action. It's a powerful objective when optimised well, and can be the weapon in your back pocket when scaling revenue or collecting subscribers as potential customers.
Conversions can work well across both prospecting and retargeting audiences, as Facebook's machine learning is so powerful, and understands which pockets of audiences are most likely to convert. Once you install your Meta pixel on your site, Facebook can track the conversion events on your website and if they made a purchase.

Catalogue sales
If you're an eCommerce business, you want to pay attention to the Catalog Sales objective. Facebook uses machine learning to select the products from your catalogue that'll sell the best to your target audience.
Once you connect your catalogue to the Facebook Ads Manager, it can select certain products based on different criteria. Both the Catalog Sales and Conversion objectives are designed for conversions. But the Catalog Sales objective is primed specifically for generating sales.
Store traffic
Businesses with physical locations can take advantage of the Store Traffic objective. It's best for serving ads that get your local target audience in your store. This involves entering your location information, as well as designating the geographic location that you want your traffic generating ads to show.
Choosing the right objective for your new campaign will increase your chances of success. A mismatched objective can sabotage your whole ad strategy from the beginning, so choose wisely.