Regardless of what you're promoting with your Facebook ads, the vast majority of consumers have similar buying experiences.
We see this in action with our agency's full-funnel Facebook Ads funnel.
It allows you to deliver the right creative at the right time, depending on the level of intent they've shown with your brand, or how aware they are of you.
This creates a scaleable campaign structure, as you know you're constantly bringing in new users to your site, and not overlapping audiences.
Let's take a look at how we can scale Facebook ads using this funnel.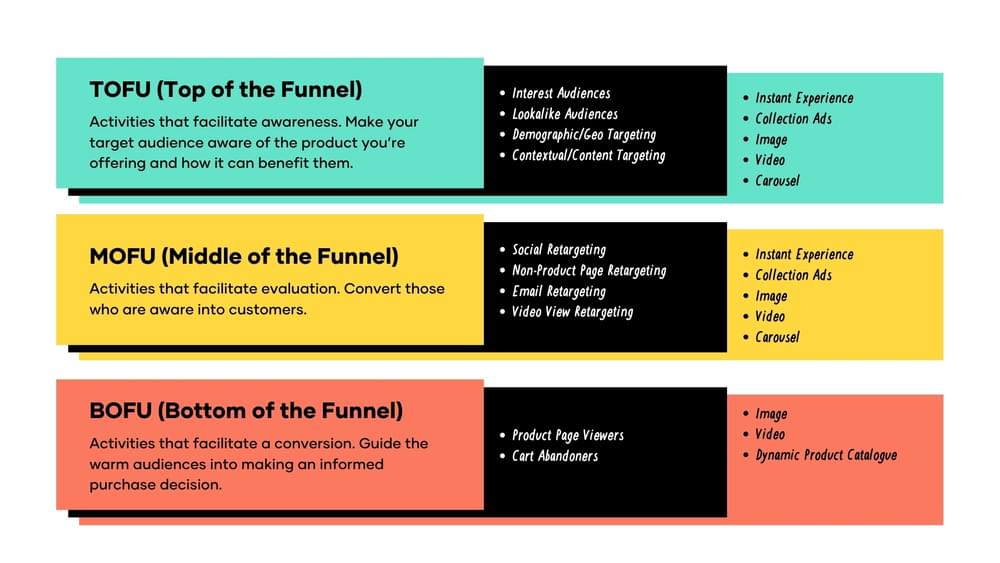 Top of the Funnel (TOFU)
TOFU ads are designed to make your target audience aware of your product, your brand and how it'll help them.
Think of this stage as the discovery phase where you are delivering creatives that make sense for people who have never heard of you before.
But you still want to be optimising towards your objective. If you're an eCommerce brand, for example, you're focusing on purchases. Don't fall into the trap of optimising towards traffic, or engagement.
Throughout the lifetime of these campaigns, you want to be constantly testing with new audiences, creatives and ad copy.
Middle of the Funnel (MOFU)
The middle of the funnel is where you turn prospects into customers. These ads target people who are brand-aware but haven't yet visited any of your product pages. You still should be going after a purchase conversion event here.
Top audiences include:
People who have engaged with your social channels in the past 180 days
People who have watched a video from your TOFU campaigns
Visited your home page, but haven't visited a product page.
But excluding audiences such as:
Visited a product page
Purchased
At this stage, you also want to be mindful of ad fatigue. You don't want to tire out your audiences before targeting them with BOFU ads.
Bottom of the Funnel (BOFU)
The BOFU ad stage is where you can ask warm audiences for the hard sell, directing them to product pages or offering discount codes to tip them over the purchasing ledge.
If we're creating ad sets based on the stage of the funnel, it's crucial to exclude people from ad sets except for the one they're in. (Your TOFU campaigns, for example, should exclude anyone seeing MOFU or BOFU ads).
That way, you keep filling the retargeting audiences up with your designated TOFU campaigns. People automatically move from one ad set to the next when they meet the targeting criteria.