If you're trying to build brand (or product) awareness, video ads are the scroll-stopping solution. With a video ad campaign, you can extend your reach and potentially boost traffic to your website.
It's estimated that more than four billion video views happen on Facebook every day, with users watching more than 100 hours of video content.
The topic of your Facebook video ad depends on your objectives and the content of your advertisement. Whatever your goals are, make sure the videos are high-quality, short, and convey your brand message.
Let's take a look at how brands do that with their Facebook video ads across each stage of the advertising funnel.
4. London Basin Co.
London Basin Co. does an excellent job with its Facebook video ads. The vertical video demands more space in a mobile user's screen—important considering 65% of all Facebook video views happen on mobile.
The video itself shows off a series of eye-catching bathroom basins. The backdrop is all black, so no distractions—all eyes on the product.
It's a simple yet effective video to attract homeowners looking to spice up their bathroom. There's also a "swipe up to shop" feature at the end, so potential customers can learn more about the product without leaving the Facebook app.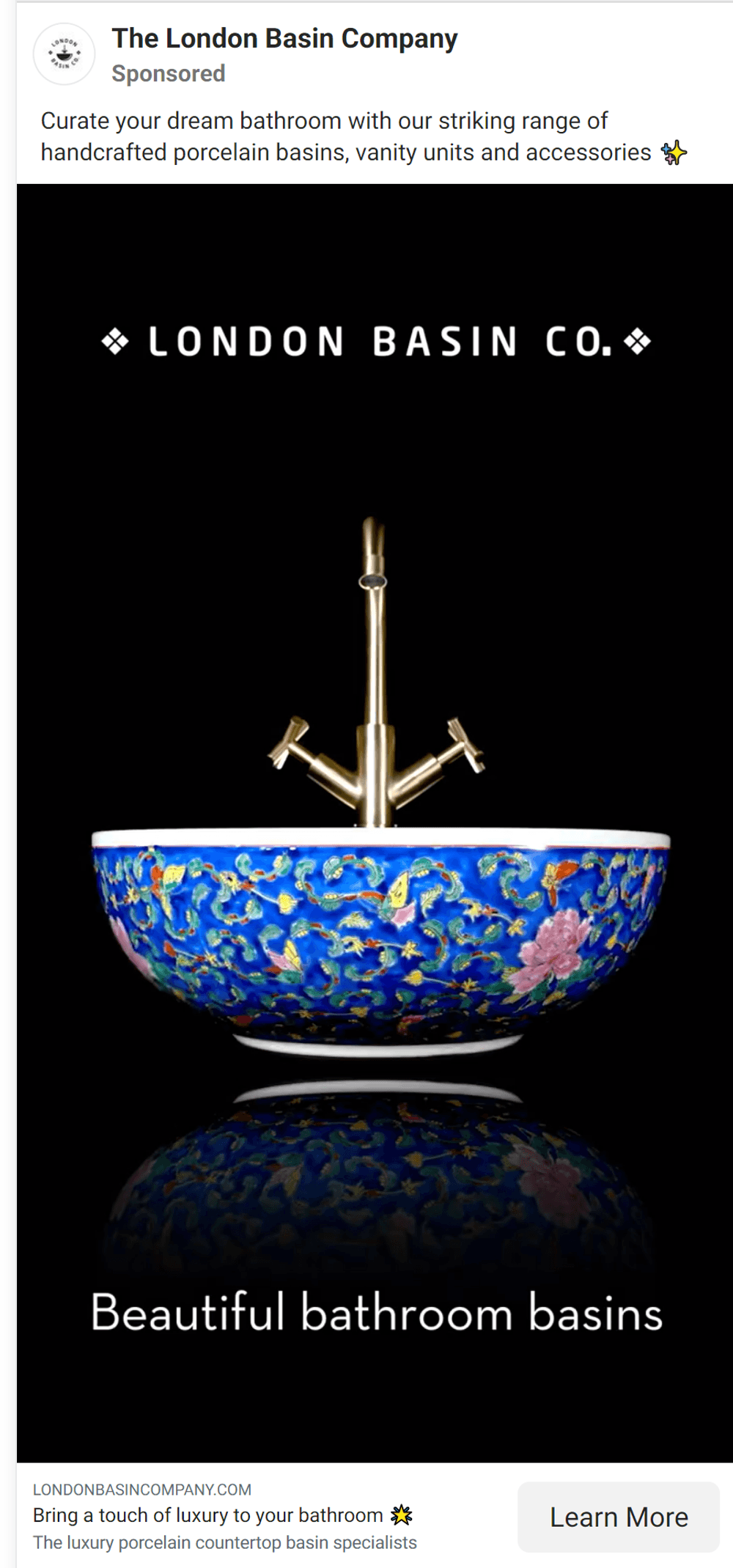 5. Grind
Here's another great example of how eCommerce brands can use vertical videos for their Facebook ads. Yet instead of taking the hard sell approach to its target audience, the retailer opts for an educational video instead.
The best part? The topic of the ad—how to make barista-style coffee at home—directly plays to its target audience's pain point. The person most likely to buy Grind coffee is someone who grabs coffee from a big chain like Starbucks or Costa. By educating people on how to do that at home (for cheaper!), it subtly pushes people towards purchasing its product.

6. Treaty Jewellery

Here's another Facebook video ad example from Treaty Jewellery. In this case, the brand takes a different approach to tell customers about its products; focusing on the brand story instead of the products themselves.
This approach works because 64% of customers find brands more attractive when they actively communicate their purpose.
When someone watches Treaty Jewellery's video in their Facebook feed, the mission they support is clear. Free shipping is a strong pull that incentivises them to make the next step.
In fact, these Facebook ads worked so well that Treaty Jewellery achieved a Return on Ad Spend (ROAS) of 4.3x. The retailer saw a 2,500% increase in average monthly orders off the back of these brand messaging ads.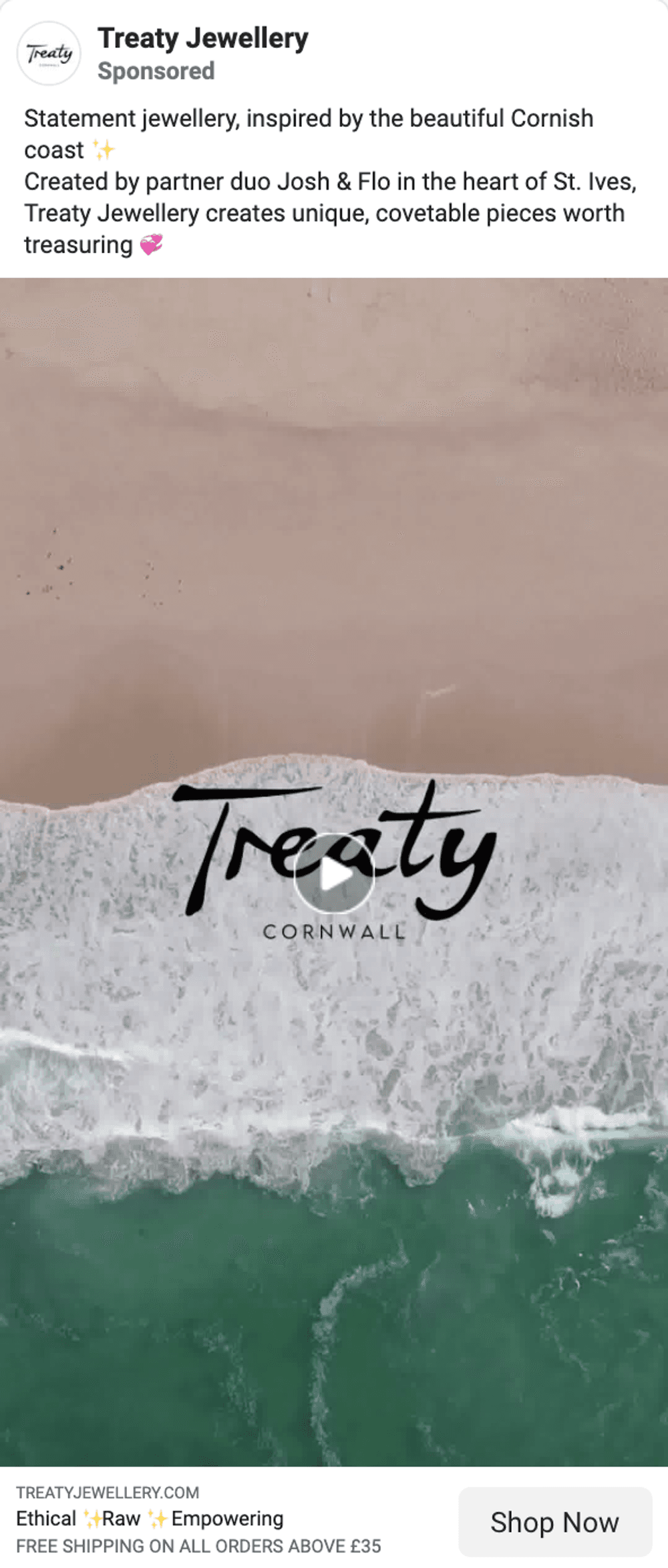 Find Treaty Jewellery's video ads here.
7. Love Leggings
Did you know that 95% of people rely on customer reviews when deciding whether to buy something? A Facebook video ad is the perfect place to put those front and centre; it prevents shoppers from exiting the site in search of a review… and forgetting to come back.
Love Leggings does this with the Facebook ad example below. It shows a customer wearing its products. A 5* and "Excellent" rating gives its target audience the confidence to learn more. If other people love it, surely they will, too.
As a result, Love Leggings saw a 598% YoY increase in revenue from paid social. The average ROAS for the campaign was a whopping 8.2.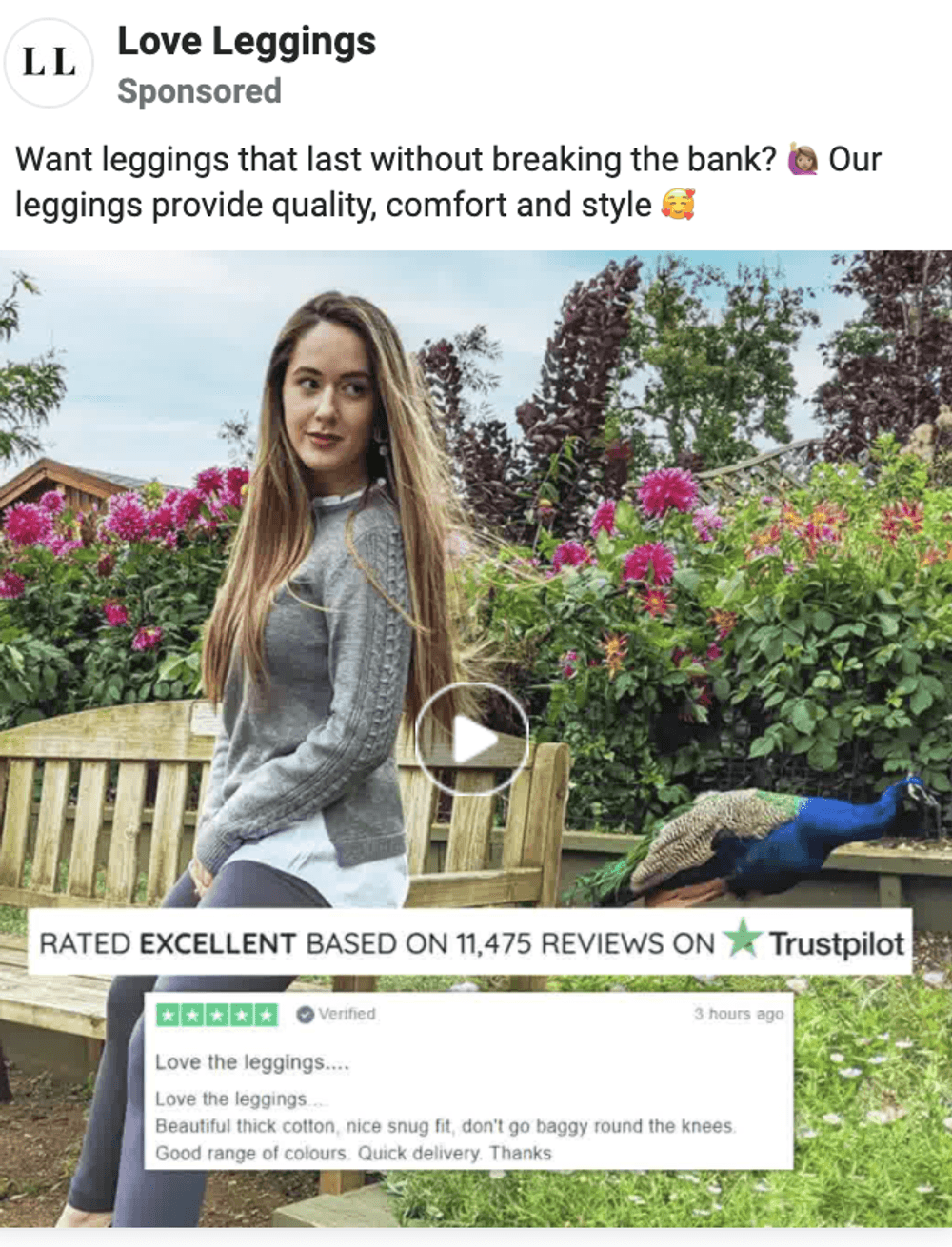 8. Bite Toothpaste Bits
Bite is an example of a brand that does this type of Facebook ad extremely well.
According to Matt Lally, founder of TheGiftYak: "Bite uses two strategies with this short GIF ad. Their hook is in the product itself. It evokes curiosity and intrigue from the user."
"The second strategy is the use of social proof. After you see the product, your eyes shift upward and see the testimonials. Testimonials are great at displaying value. They also expertly include star ratings for those who don't read, but only skim."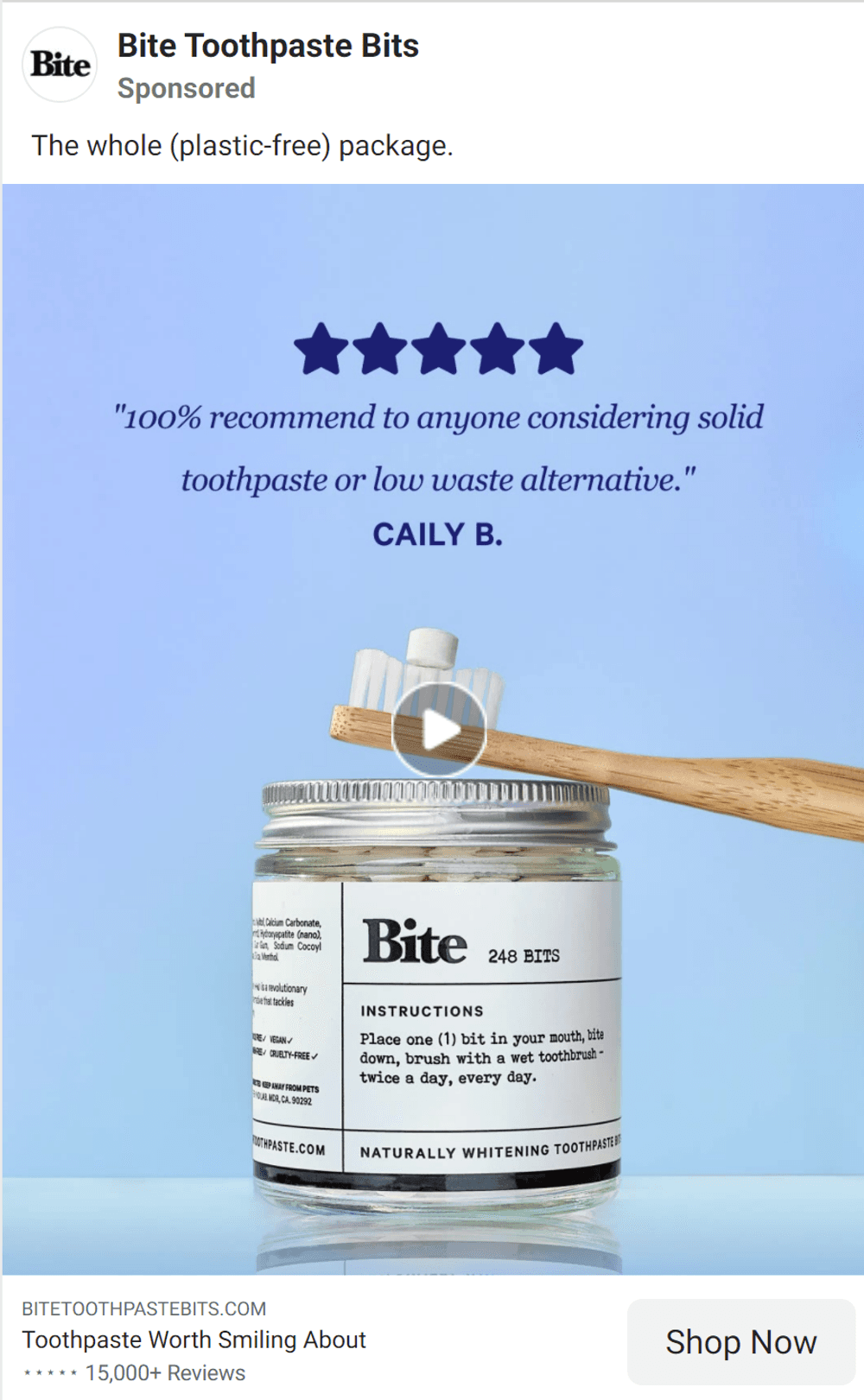 9. Sweet Packs
Facebook video ads and coupon codes are a match made in heaven. For 35% of DTC brand customers, a discount code is the final nudge that convinces them to make a purchase—even if they didn't originally intend on doing so.
This Facebook ad example from Sweet Packs demonstrates exactly how to do that. It uses a short video to display the contents of one of its mystery boxes. A 10% discount on top of its flash sale is enough to convince its target audience to click through.
As a direct result of the Facebook campaigns, Sweet Packs increased subscriptions by 500% and drove 10,000 new customers. It beat its original 2.75x ROAS goal, achieving a 3.2x return on every pound spent.