2. Geekout Newsletter (by Matt Navarra)
Founded in 2018 by social media consultant Matt Navarra, Geekout is a free weekly newsletter packed with the latest news and updates from the world of social media.
Curated from Navarra's own social feeds and insider industry sources, each edition of Geekout provides social media managers and marketers with a comprehensive overview of new platform features, algorithm changes, emerging trends, tools, actionable tips and more.
Topics covered range from updates on platforms like Instagram, Facebook, Twitter, TikTok and LinkedIn to broader industry news, creator economy happenings, new social media management tools, influencer marketing strategies, podcast episodes and more.
The succinct, scannable format makes it easy to digest need-to-know information at a glance. Geekout boasts 30,000 subscribers and has been cited by major publications like The New York Times, The Guardian and TechCrunch as an authoritative source on social media industry news.
For time-strapped marketers looking to stay on top of the fast-moving social media landscape, the Geekout newsletter delivers insider knowledge directly to your inbox each week.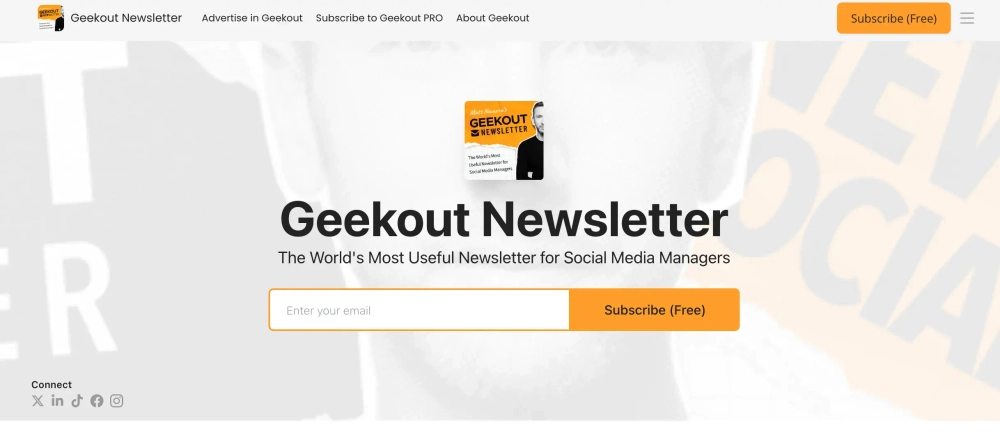 3. Social Media Today

With a finger firmly on the pulse of the social media landscape, Social Media Today delivers daily insights to help marketers and businesses effectively engage their audiences.
The Social Media Today newsletter provides a comprehensive overview of the latest platform updates, emerging trends, strategy tips, real-world examples, and expert perspectives.
Coverage spans all the major networks like Facebook, Instagram, Twitter, TikTok, YouTube, LinkedIn, Reddit, and more. The focus is on actionable intelligence professionals can apply to connect with customers, boost visibility, and stay ahead in the fast-evolving world of social.
With relevant analysis of news and trends, Social Media Today ensures marketers have the tools and knowledge needed to develop winning social strategies. It's essential reading for anyone looking to maximise their presence and engagement on social platforms.
The free daily email newsletter delivers top stories and insights directly to subscribers' inboxes. For in-depth social media coverage, Social Media Today is a go-to resource.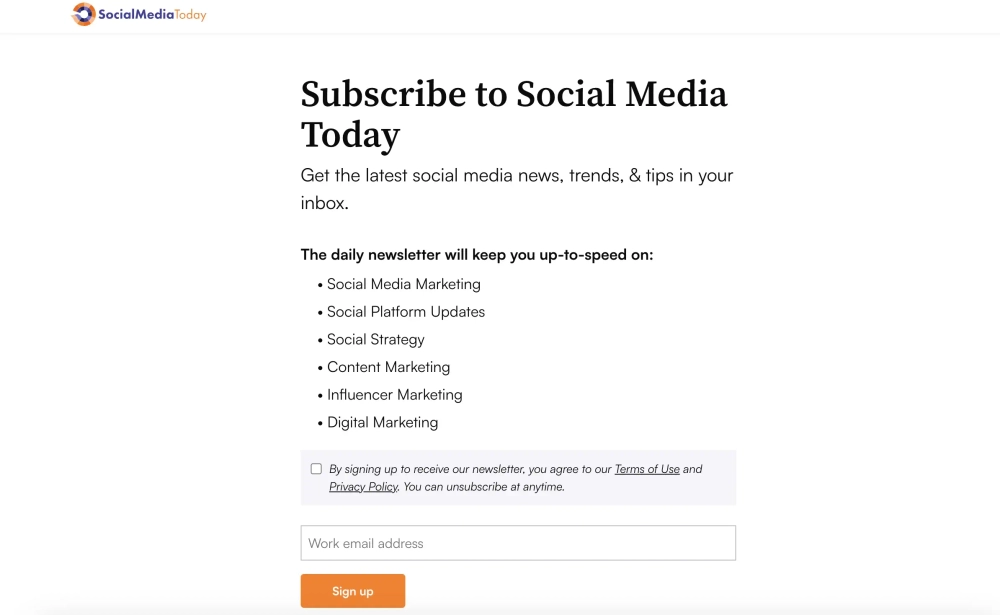 4. We Are Social
The team at We Are Social, one of the world's leading creative social media agencies, shares weekly insights directly from the frontlines of the industry.
With over 1,300 staff across 19 global offices, We Are Social has its finger on the pulse of the latest social media trends, platform updates, innovative campaigns, and strategy tips.
The weekly newsletter compiles need-to-know news, analysis, and perspectives on the evolving social landscape into one convenient email. Recent editions have covered topics like the rise of AI art on social platforms, Instagram's continued push into entertainment, and new ecommerce opportunities on TikTok.

Subscribers gain a competitive edge by staying up-to-date on key developments across the social sphere. For marketers looking to get ahead, We Are Social's weekly download is essential reading.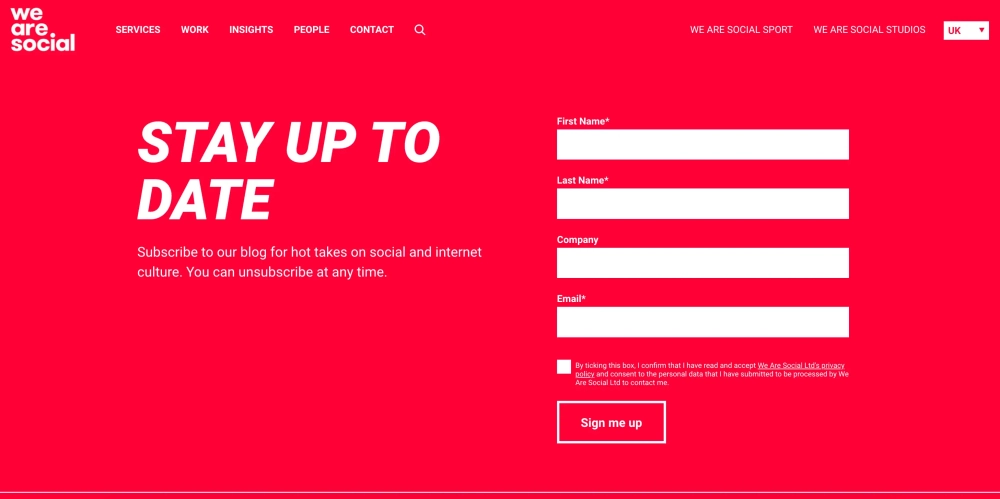 5. The Daily Carnage

The Daily Carnage is a highly-curated daily email from Pittsburgh-based digital agency Carney delivering the freshest news, tools, tips and tactics in the marketing world.
With the tagline "Be the Sharpest Marketer in the Room," each edition compiles the day's best marketing content into an easy-to-digest morning read. Recent editions have covered topics like the different stages of the consumer journey, optimising Google Analytics 4, and effective headline formulas.
The Daily Carnage stands out for its fun, conversational tone and niche focus on digital marketing across platforms like web, mobile and desktop. With open rates over 30%, the newsletter has proven popular in inboxes. It's also been a successful lead generation tool for Carney, attracting new clients interested in the agency's expertise.
For marketers looking to elevate their knowledge and stay on top of industry developments, The Daily Carnage is an essential daily resource. Its personalised recommendations and quick hits of inspiration make subscribers feel more confident and capable.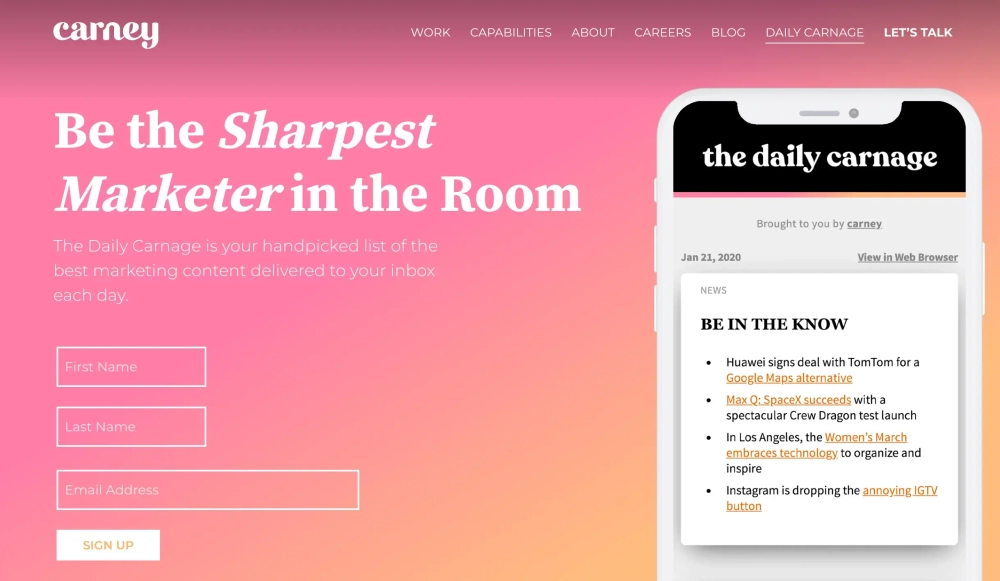 6. Buffer
With the goal of providing actionable social media advice to businesses, Buffer's "Social Media for Business" email newsletter delivers weekly insights to over 45,000 subscribers.
Each edition includes the company's latest blog posts on social media strategy, experiments to try, platform news and tips tailored for an audience of marketers, agencies and small business owners.

The conversational tone and practical, business-focused advice make the Buffer newsletter a helpful resource for time-strapped marketing professionals looking to improve their social media game.
Subscribers gain access to Buffer's ever-growing content library spanning social media marketing, remote work culture, brand building and more. The weekly newsletter ensures they never miss an update while also providing exclusive email-only content.
For brands seeking actionable ways to drive real results on social, Buffer's regular email provides insights directly from the front lines.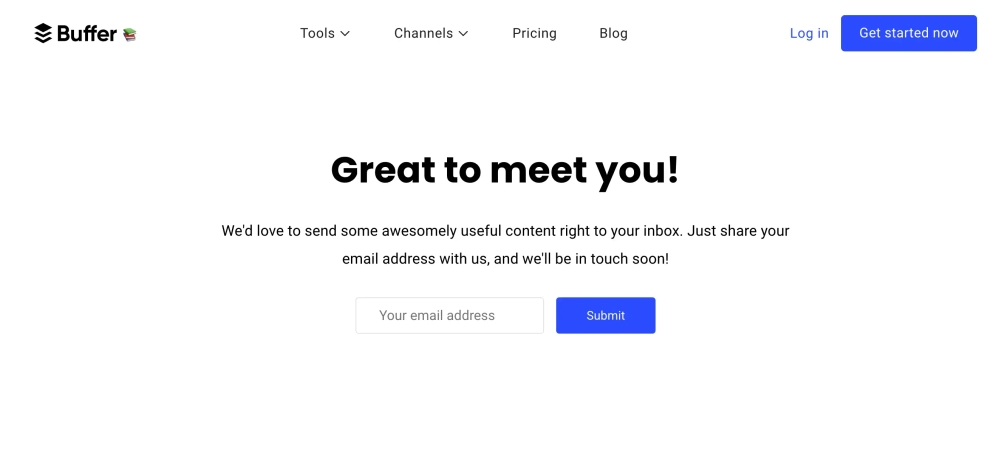 7. Social Media Examiner
With a mission to help marketers navigate the social media jungle, Social Media Examiner provides practical, actionable advice through its popular free email newsletter.
Curated by founder Michael Stelzner and his team, the newsletter delivers original articles on the latest and most effective organic and paid social media marketing strategies.
Topics span platforms like Facebook, Instagram, YouTube, Twitter, LinkedIn, Pinterest and TikTok and broader digital marketing subjects. The succinct, scannable format makes it easy for busy marketers to stay up-to-date.
With over 400,000 newsletter subscribers and 10 million annual site visitors, Social Media Examiner has established itself as a go-to resource for marketers looking to improve their social presence and engagement.
The newsletter shares insights gleaned from producing over hundreds of episodes of the Social Media Marketing podcast and hosting the largest social media conference, Social Media Marketing World.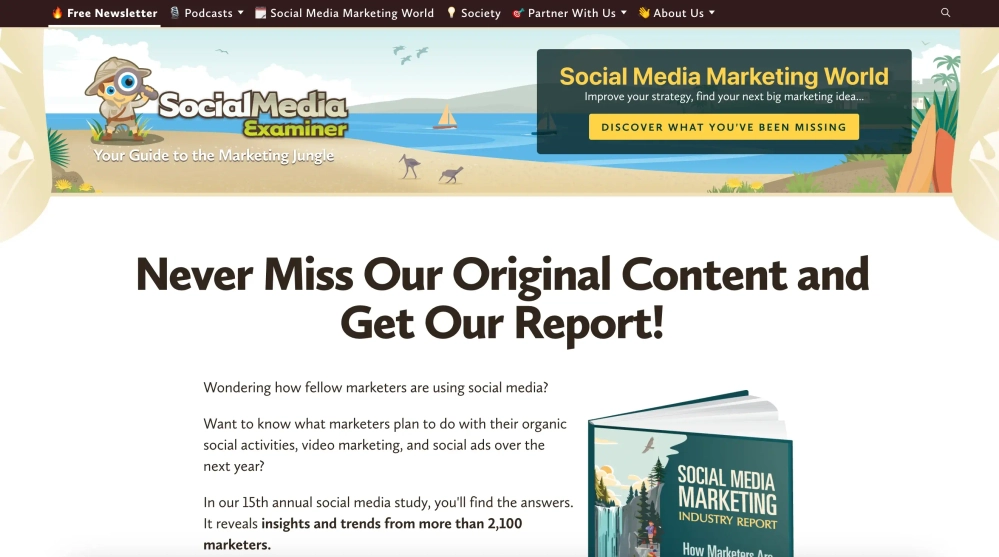 8. Marketing Brew
Launched in 2019 as an offshoot of Morning Brew, Marketing Brew delivers need-to-know news and insights to marketing and advertising professionals.
Published 3 times per week, each email edition provides a roundup of the latest industry updates, trends, strategies, and perspectives. Recent topics have included the rise of short-form video, contextual advertising, successful brand collaborations, and cleaning up digital ad inventory.
With a practical focus on actionable advice, Marketing Brew helps marketers stay on top of developments across social media, streaming, podcasting, TV, measurement, agencies, and more. The conversational tone and sense of humour make it an engaging read.
Reading Marketing Brew is a smart way to discover new ideas and opportunities in the ever-evolving mar-tech landscape. Its broad coverage provides a one-stop overview of the stories and trends shaping the field.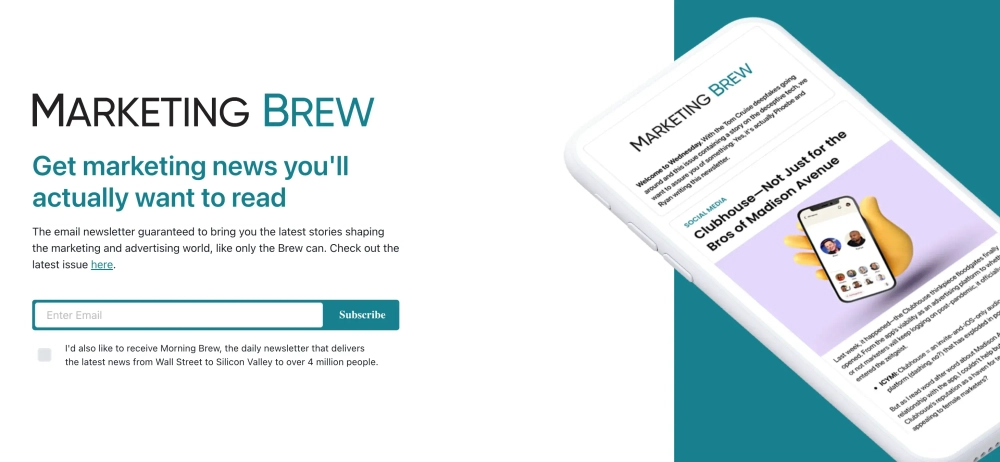 9. TLDR
For busy readers looking to get up to speed quickly on the latest in tech, startups, and programming, TLDR delivers key stories in an easy-to-digest format.
TLDR definitely lives up to its name, but what it lacks in words it makes up for in spades in valuable tech insights. It is a free daily newsletter that summarises the most interesting and important news with brief overviews and links to full articles. Topics span big tech, science, AI, open source, coding, software tools, and more.
With over 1.25 million daily readers, TLDR's simple, scannable format makes absorbing the daily tech headlines effortless in just 5 minutes. Its minimalist style and lack of clutter focus readers on only the most essential information.
TLDR provides a valuable time-saving service. It eliminates the need to pore through lengthy articles or visit multiple websites when short, shareable summaries are all that's needed to stay in the know.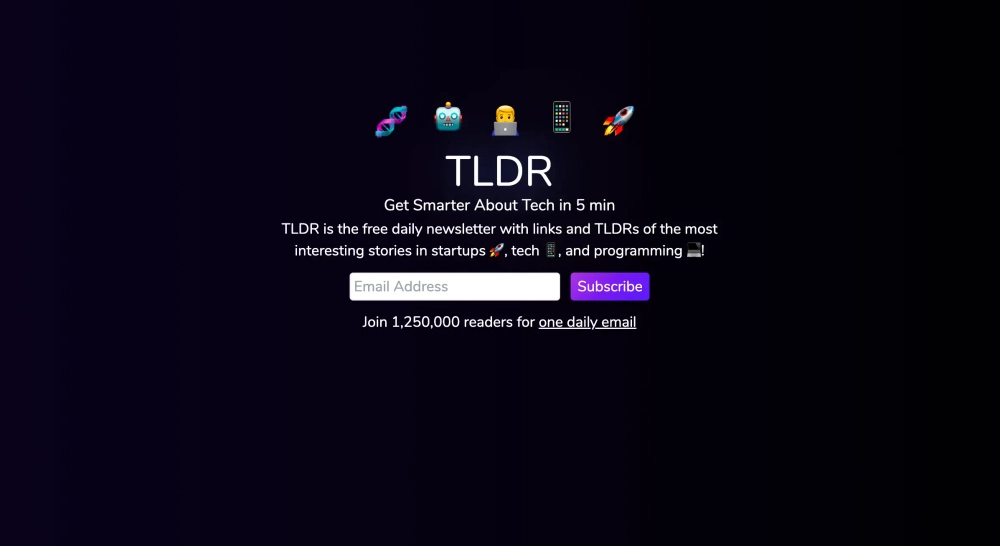 10. Creator Economy by The Information
The Information's Creator Economy newsletter provides an inside look at the rapidly evolving world of online content creators and influencers.
Published 4 times per week and led by tech reporter Kaya Yurieff, each email edition covers the latest news on creator platforms, trends, funding deals, controversies, and innovations shaping the space.
Recent stories have explored AI-generated influencers, the rise of finance influencers, protecting child influencers, turning college students into brand ambassadors, and more. With a journalism-first approach, the newsletter offers a nuanced take on developments across social media, commerce, marketing, policy, and technology.

Subscribers gain valuable intelligence and a competitive edge to navigate the influencer marketing, passion economy, and broader shifts toward independent content creation online.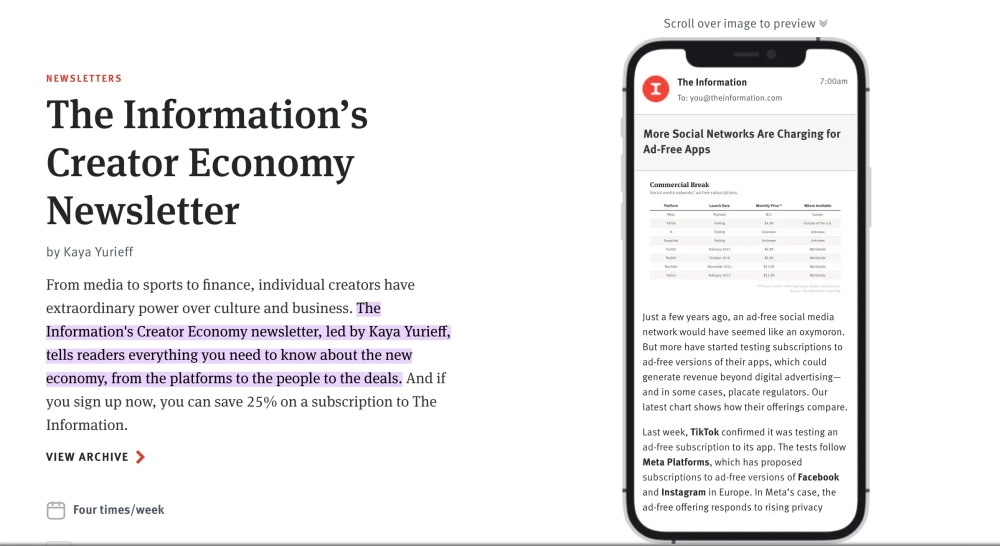 11. Falcon.io
Though now a part of Brandwatch, Falcon.io maintains its own regularly updated newsletter covering the latest in social media marketing.
The Falcon.io covers topics like social media strategy, content creation, community management, social advertising, influencer marketing, and social analytics.

With contributors from diverse backgrounds, the newsletter and blog offer perspectives from agency and in-house marketers, subject matter experts, Falcon.io team members, and guest writers.
The succinct, tactical bulletins aim to educate readers on social media best practices and trends. The Falcon.io's newsletter is a free resource, providing regular, high-quality insights to elevate any brand's social marketing.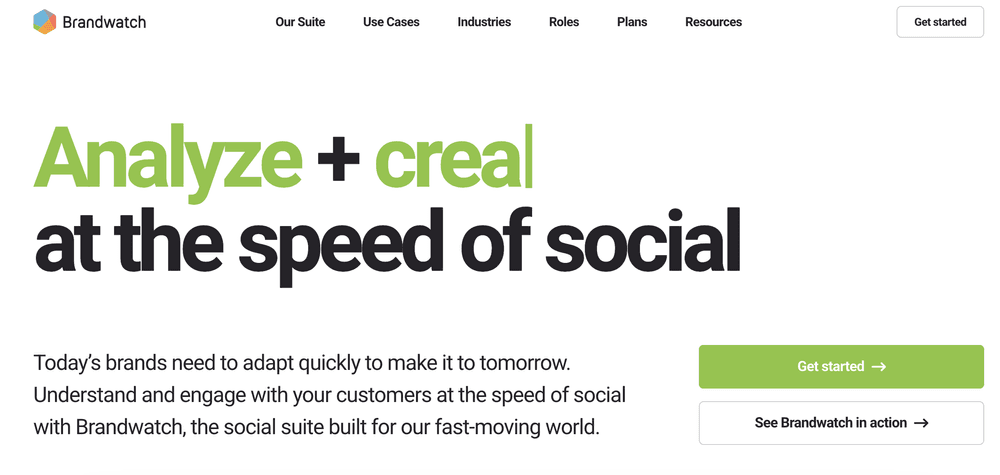 12. Sociality.io
Sociality.io's weekly newsletter provides a succinct overview of the latest social media news, trends, and updates across platforms.
Curated by the Sociality.io team, each edition condenses the most important developments into digestible tidbits under categories like Facebook changes, viral TikTok trends, Instagram updates, and more.
The scannable format makes it easy to quickly get up to speed on need-to-know social media happenings without sifting through lengthy articles or videos.

The newsletter's focus on brevity and relevance delivers maximum value in minimum time for busy professionals managing social campaigns and communities.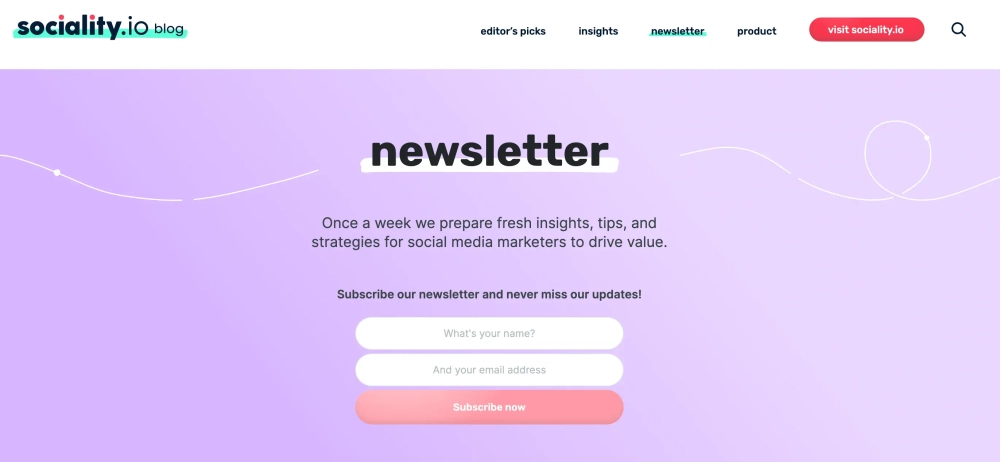 13. Later

With over 1 million subscribers, Later's social media newsletter delivers a weekly dose of the latest trends, platform updates, and marketing tactics.
Each edition breaks down need-to-know news and actionable tips across key platforms like Instagram, TikTok, Facebook, and more.
Recent issues have explored topics like changing Instagram feeds, new TikTok features, top-performing content formats, social commerce strategies, influencer marketing insights, and more.
The concise, scannable newsletter format makes staying up-to-date quick and convenient for busy marketers and social media managers. Subscribers gain access to exclusive resources like marketing templates, benchmark reports, caption ideas, and training.