2. Marketing Brew
For marketers hungry to stay ahead of the curve, Marketing Brew satisfies those cravings with a daily serving of the latest news and insights.
Launched in 2019 by newsletter heavyweight Morning Brew, Marketing Brew has quickly become a must-read for over 4 million subscribers. With its breezy, conversational tone, the newsletter makes absorbing essential industry knowledge entertaining and efficient.
Marketing Brew covers the most important developments across the modern marketing landscape. Recent editions have explored the rise of AI-generated art and content, maximising TikTok for business, the evolution of influencer marketing, driving results with digital out-of-home ads, and leveraging viral social trends.
Written by a witty team and delivered in a digestible format, the newsletter simplifies understanding the ever-evolving marketing space. The broad scope provides an invaluable one-stop overview that helps readers discover fresh ideas and opportunities.
For marketers focused on advancing their skills and careers, subscribing to Marketing Brew offers an essential advantage. Its practical, forward-focused coverage arms professionals with actionable advice for growth.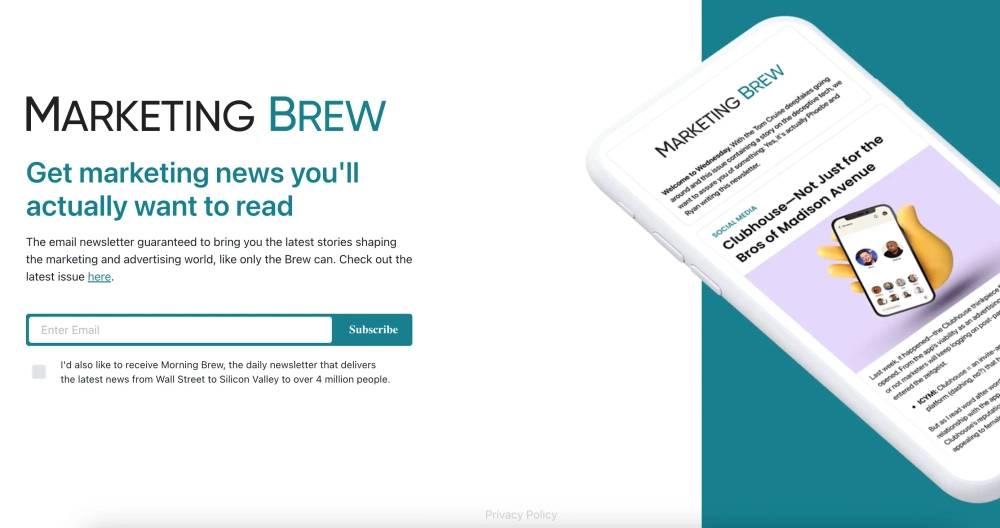 3. Neil Patel
Neil Patel is one of the most influential names in digital marketing today. The Wall Street Journal has dubbed the SEO master a top web influencer, and he's built multi-million-dollar companies like Crazy Egg, Hello Bar and Kissmetrics.
Through his many years exploring online marketing, Patel has developed unique insights and proven tactics unknown to most. He generously shares these learnings in his free weekly newsletter.
Past editions have covered increasing conversion rates, improving SEO, boosting paid ad performance, leveraging influencers, and more. With an experienced perspective informed by extensive data, Patel provides actionable tips marketers can apply for measurable results.
His newsletter sets itself apart by offering fresh strategies beyond surface-level advice. For marketers looking to get an edge on competitors, subscribing to Patel's exclusive insights is an easy way to stay ahead.
Written in Patel's straightforward, conversational style, his newsletter makes absorbing critical marketing knowledge entertaining. It's a must-read resource for professionals aiming to maximise their skills and become better online marketers.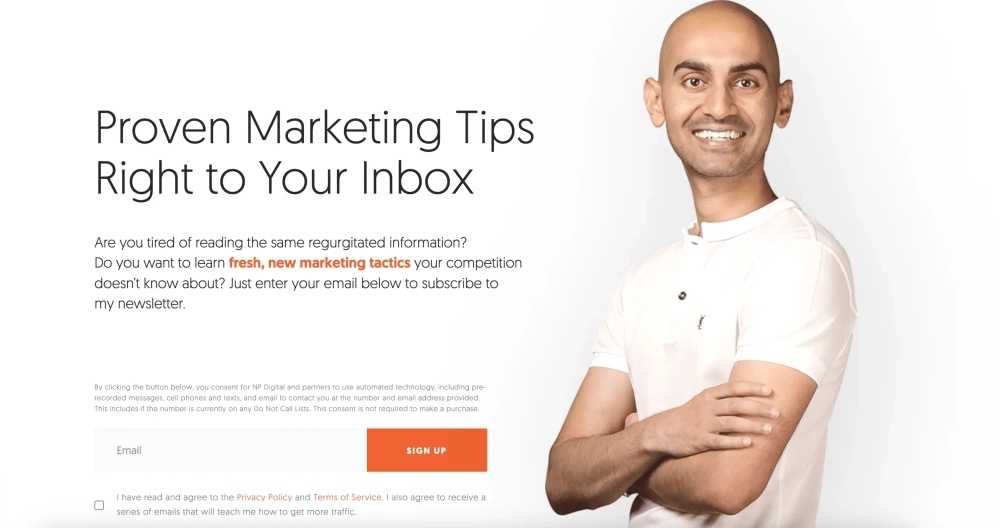 4. Tl;dr Marketing (by Saijo George)
For busy marketing professionals seeking to absorb the latest trends and tactics quickly, TLDR Marketing delivers. This free daily email newsletter summarises need-to-know digital marketing updates into easily digestible titbits.
Curated by Saijo George, each edition of TLDR Marketing provides brief overviews and links to articles covering SEO, paid media, social media, general news, and more. The succinct, scannable format makes staying current effortless in just 5 minutes.
With over 1 million subscribers, TLDR Marketing's minimalist style and lack of clutter focus readers only on the most essential, shareable digital marketing knowledge. The customised email also lets subscribers select specific topics of interest.
For marketers constantly on the move, TLDR Marketing eliminates the need to pore through lengthy blog posts. Instead, readers get a valuable time-saving service that keeps them intelligently informed on topics that matter most. The tight focus on all facets of digital marketing also sets TLDR apart, making it a must-read resource for professionals aiming to start their days smart.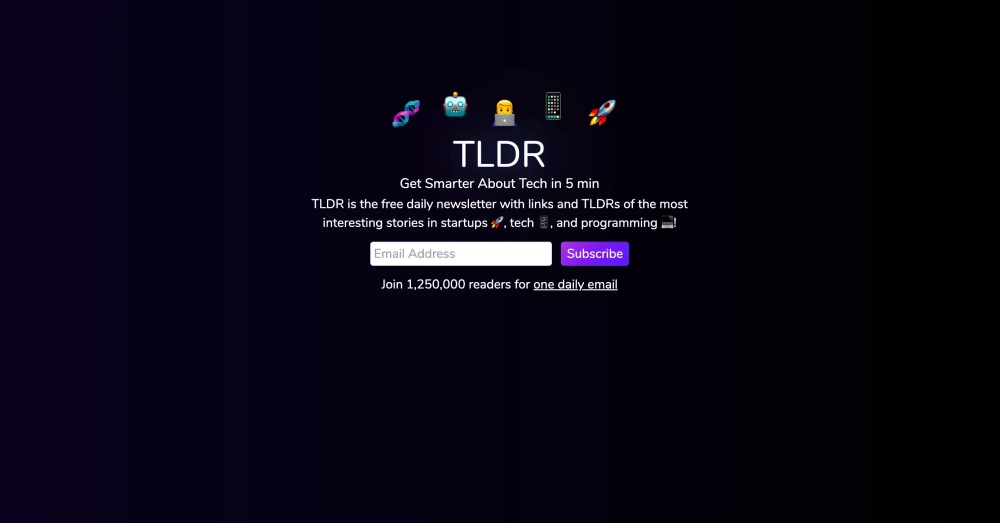 5. The Mention Memo
Issued twice monthly, the Mention Memo is an entertaining briefing that provides colourful commentary, social media marketing tips, free downloads, and cheeky humour.
Each edition explores a trending topic with quirky visuals and gif-laden analysis. Recent themes have covered influencer marketing tips, leveraging TikTok for business, and optimising paid social campaigns. Readers also get handpicked roundups of The Mention Memo's most popular blog posts on digital PR, brand monitoring, and thought leadership.
While many newsletters stick to staid formats, The Mention Memo sets itself apart with its lighthearted tone and practical, actionable advice served with a side of puns. The exclusive tools and templates help readers implement tactics for real results.
Professionals looking to inject more fun into their social media marketing education can subscribe for the latest strategies, trends, and resources delivered engagingly. For marketers seeking colour beyond the black-and-white, The Mention Memo hits the mark.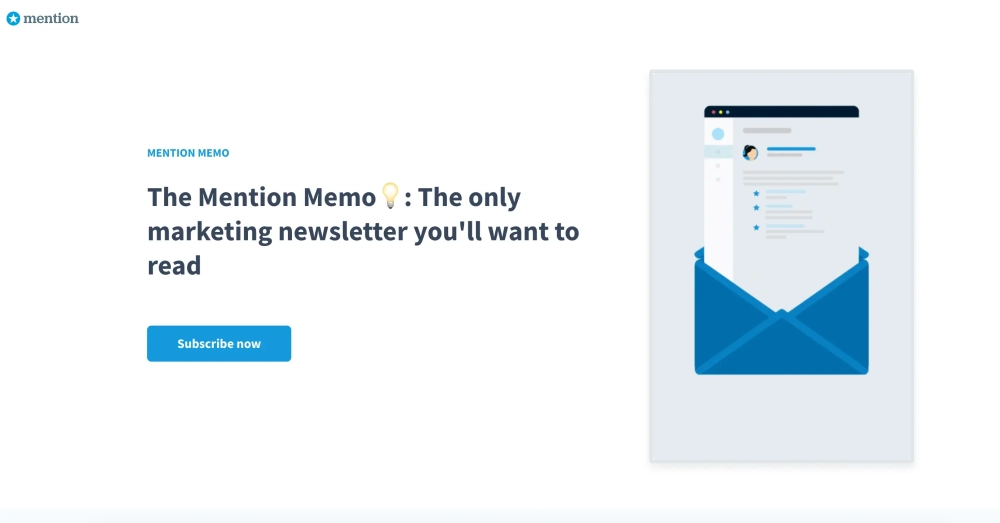 6. Growthnotes (by inBeat)
For e-commerce marketers seeking actionable advice and insights, Growthnotes is the one to subscribe to. This weekly newsletter provides an essential read of marketing news tailored to online businesses.
Curated by the team at inBeat, each edition of Growthnotes covers need-to-know topics like optimisation tips, e-commerce trends, proven growth strategies, and more. With over 70,000 subscribers, the newsletter shares practical tactics informed by real-world examples and data.
Recent editions have explored subjects like influencer marketing best practices, leveraging TikTok for e-commerce, the rise of live shopping, and optimising on-site content. Growthnotes stands out for its focused, example-driven advice readers can apply immediately for measurable impact.
While many newsletters share links to other articles, Growthnotes offers exclusive analysis and strategic recommendations based on inBeat's expertise. Readers get insider knowledge rather than just recaps of publicly available content. For digital marketers aiming to improve continually, subscribing to Growthnotes provides an invaluable edge.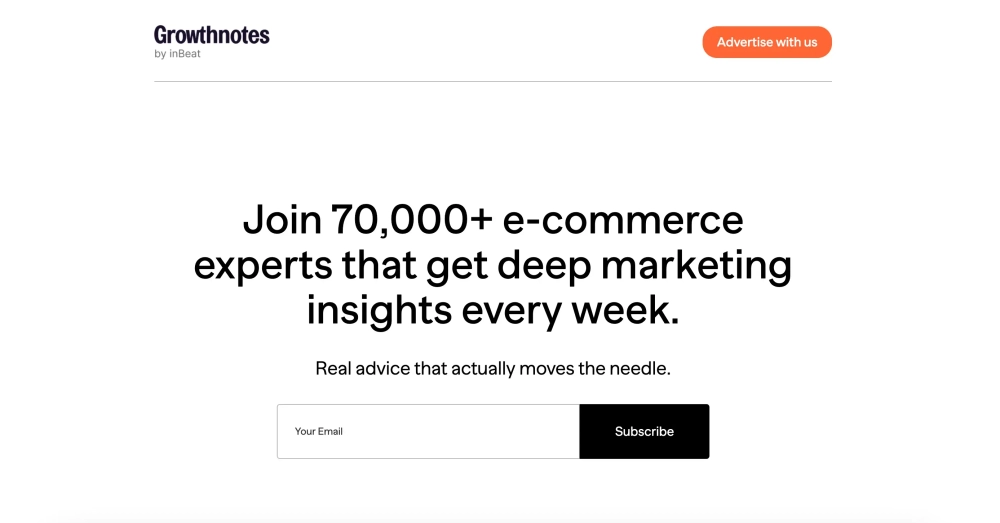 7. Geekout (by Matt Navarra)
Geekout is a popular newsletter that curates the latest platform news, features, trends, tools, and expert techniques in one convenient email.
Created by social media consultant Matt Navarra, each edition of Geekout provides a concise yet thorough roundup of everything happening across the social space. Navarra draws on his 20+ years working with major brands to offer insider analysis no other source can match.
Navarra does the work for readers by compiling web and social feed updates. For busy community managers, Geekout provides a time-saving one-stop overview.
With over 50,000 subscribers, the newsletter has become essential reading for social media pros and an invaluable advantage for those aiming to maximise their strategy.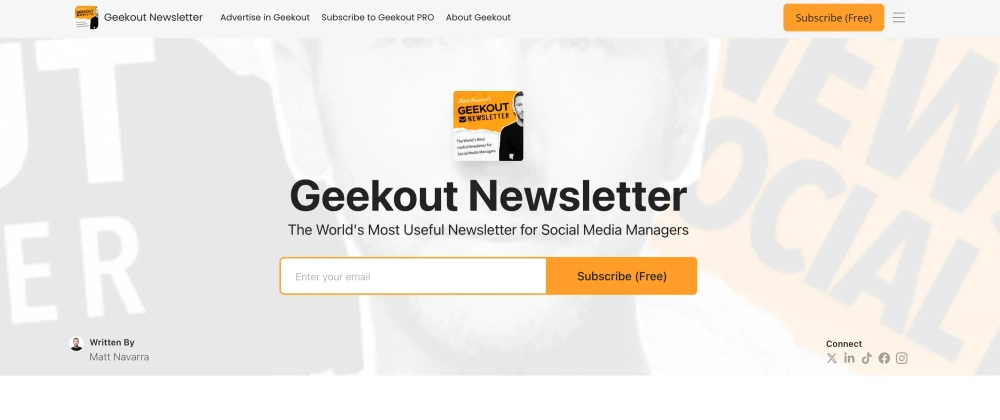 8. The Hustle (by HubSpot)
The Hustle is the perfect newsletter for professionals seeking a quick yet comprehensive overview of the latest business and tech news. Acquired by HubSpot in 2021, this free daily email newsletter summarises need-to-know updates into 5-minute reads.
This newsletter covers trending topics, emerging brands, notable deals, industry movers and shakers, and more. Recent editions have explored NFT ventures, the rise of robot chefs, Peloton's turbulent trajectory, and the beginnings of fast-food empires.
Besides the popular email, The Hustle provides audio and video content via podcasts and YouTube. For professionals aiming to absorb business knowledge quickly, subscribing delivers an essential advantage. Over 2.5 million readers start their days smarter with The Hustle.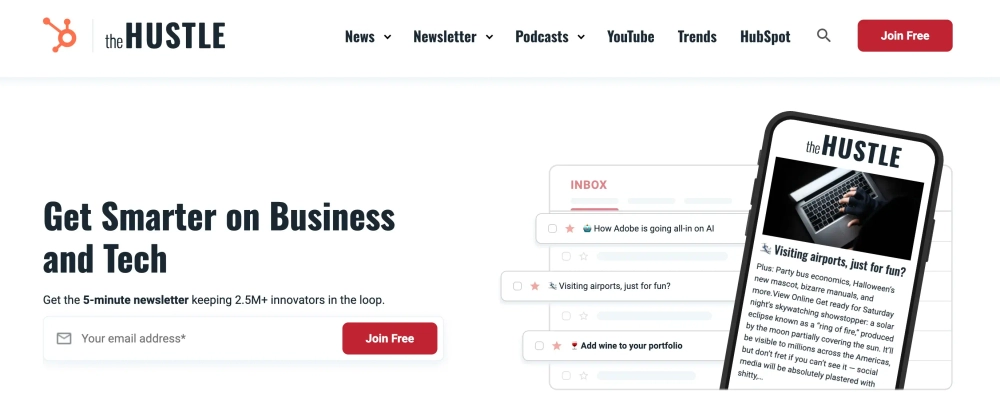 9. The Daily Carnage
For marketers seeking a daily dose of fresh industry news and ideas, The Daily Carnage is the one. This free newsletter from digital agency Carney provides readers with exclusive, handpicked marketing content in their inboxes each morning.
Each edition of The Daily Carnage covers the latest trends, tools, strategies, and more across social media, email marketing, branding, content creation, and analytics. The diverse mix of brief writeups, polls, videos, infographics, and podcast clips makes absorbing critical knowledge effortless and engaging.
While many newsletters only publish weekly or monthly, the daily cadence ensures professionals never miss essential updates between editions. The condensed summaries and commentary also cater perfectly to busy marketers pressed for time.
For anyone striving to stay ahead of the curve and maximise their skills, a subscription to The Daily Carnage is essential reading. The curated insights will ensure you're the most innovative marketer in the room.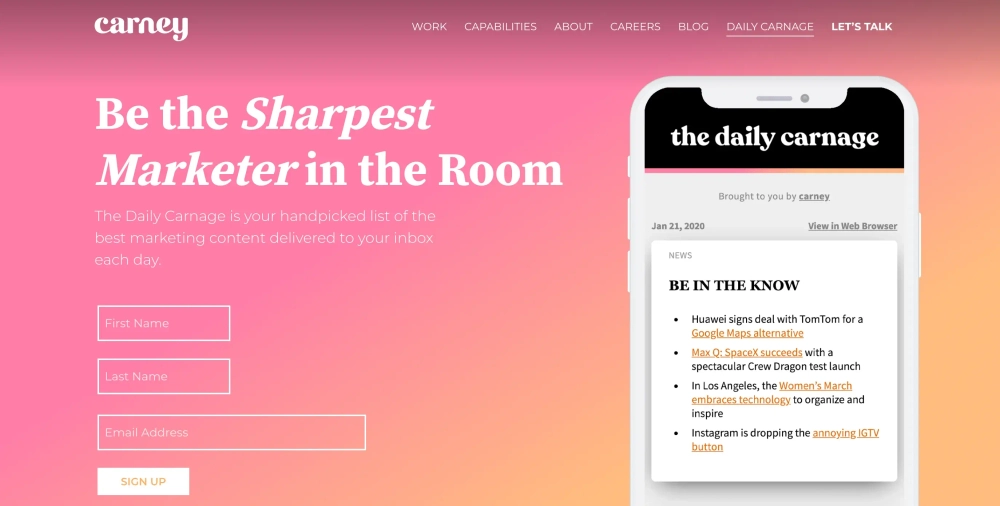 10. Everyone Hates Marketers (by Louis Grenier)
For marketers seeking no-nonsense advice on standing out, Everyone Hates Marketers delivers. Published weekly, this free newsletter provides contrarian perspectives on marketing fundamentals from the host of the popular podcast, Louis Grenier.
Everyone Hates Marketers explores practical concepts like distinctive branding, excellence through restraint, and smarter communication without the typical BS fluff. Grenier draws on interviews with 160+ experts and his decade of experience working with major brands like Hotjar and Dropbox.
The newsletter stands out for its focus on actionable methods to cut through the noise without sleazy tactics or gimmicks.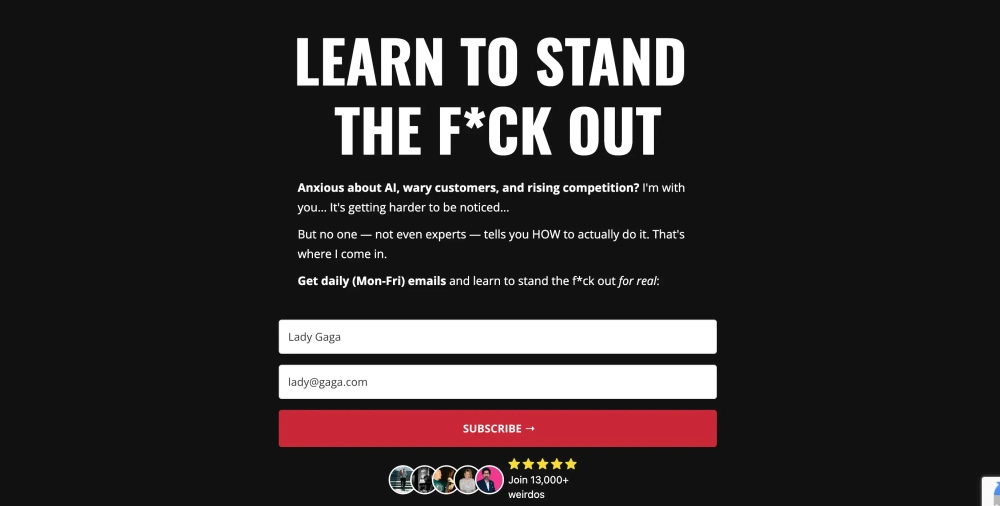 11. The CMO Journal (by Simran Krishnan)
Published weekly, The CMO Journal provides an in-depth perspective on startup marketing and strategy.
Curated by former corporate marketing lead Sairam Krishnan, each edition explores a specific trend, concept, or idea relevant to growth-focused professionals. Krishnan draws on his extensive experience to provide a nuanced analysis of positioning, PR, content marketing, networking, and more.
Recent editions have covered subjects such as combating imposter syndrome, choosing mentors, standing out with content, and learning from others' wisdom. Krishnan's candid insights and case studies from renowned brands provide valuable takeaways readers can apply.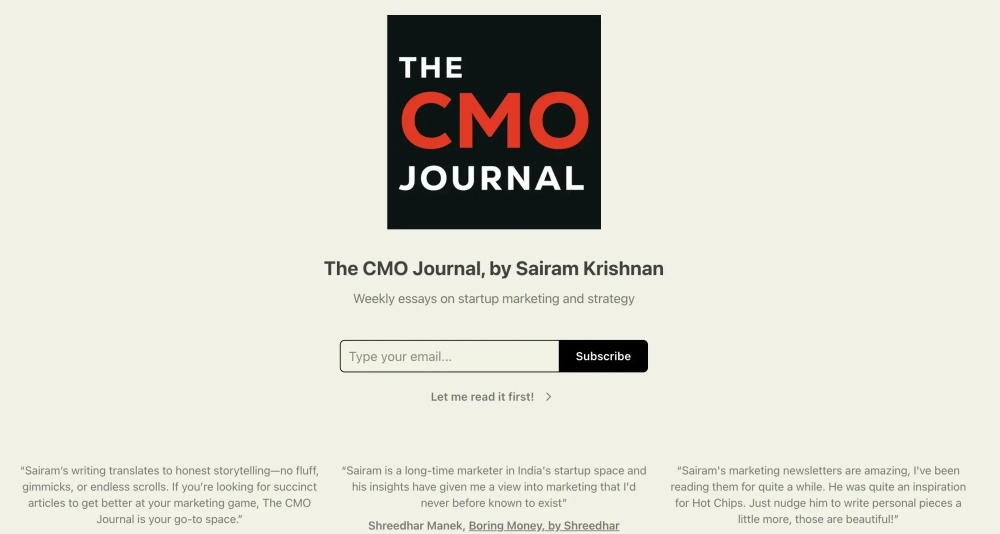 12. Detailed (by Glen Allsop)
For SEO professionals seeking exclusive insights, Detailed is a newsletter that's published twice monthly. It provides insider tips and analysis from SEO prodigy and digital marketing expert Glen Allsopp.
Each edition explores advanced tactics and emerging trends impacting search engine optimisation. Allsopp draws from over 15 years of advising major brands to uncover lesser-known strategies readers won't find elsewhere.
For agencies and brands striving for a competitive SEO edge, subscribing to Detailed provides invaluable access to secrets that move the needle. Allsopp's exclusive insights help drive growth for subscribers willing to think outside the box.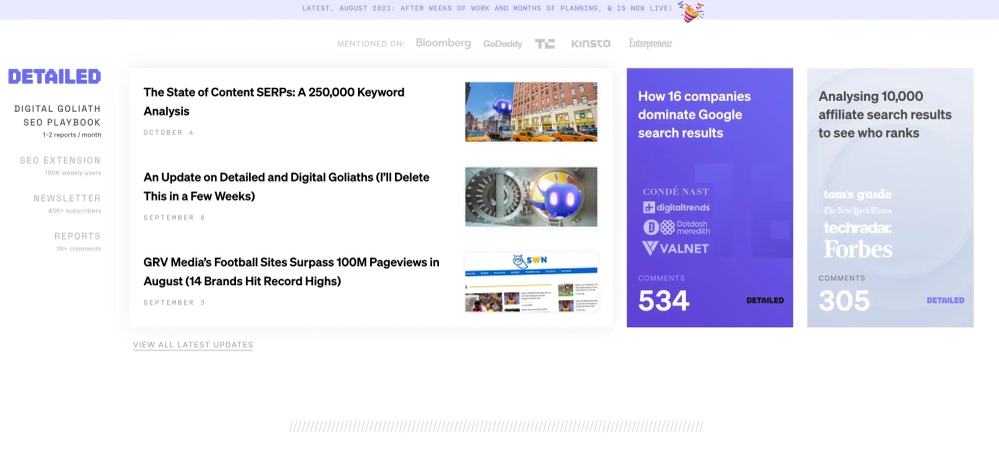 13. BackLinko (by Brian Dean)
Published weekly, Backlinko is a popular briefing that provides proven tips and emerging trends from respected search optimisation expert Brian Dean.
Recent editions have covered subjects like ranking YouTube videos, optimising for featured snippets, identifying toxic links, leveraging online press releases, and more. Dean's direct, actionable advice helps readers get real results.
While many newsletters rehash basic SEO information, Backlinko offers professionals an inside track on the latest developments and opportunities. Dean's relentless testing and innovation ensure subscribers stay ahead of the curve.
With over 170,000 subscribers, the newsletter has become essential reading for agencies and brands seeking a competitive edge. Dean's exclusive insights and "how-to" guidance make complex SEO concepts approachable and effective.