Planning a new product launch? Or maybe you want to drive more awareness and traffic?
The internet is the go-to destination for consumers looking for products like yours. But they're not just using Google to find new products. They're visiting social media channels to search for recommendations from friends and influencers.
eCommerce brands that know this are using shopping videos to attract and convert viewers. Unlike traditional product videos, they're sometimes disguised as a regular video with clickable pop-up text linking to the clothes or household items in the video.
Social media platforms like Instagram and Facebook are introducing their own types of shoppable video content, especially when it comes to their advertising platform.
Brands can create a Shop on both platforms that pull inventory from their eCommerce website. Social media users can see an organic post with that item tagged, view more information, and purchase the item from the Shop—all without leaving the platform.
See the example below, of an Instagram story video we did for Vivense, adding in animation to the text and curved line.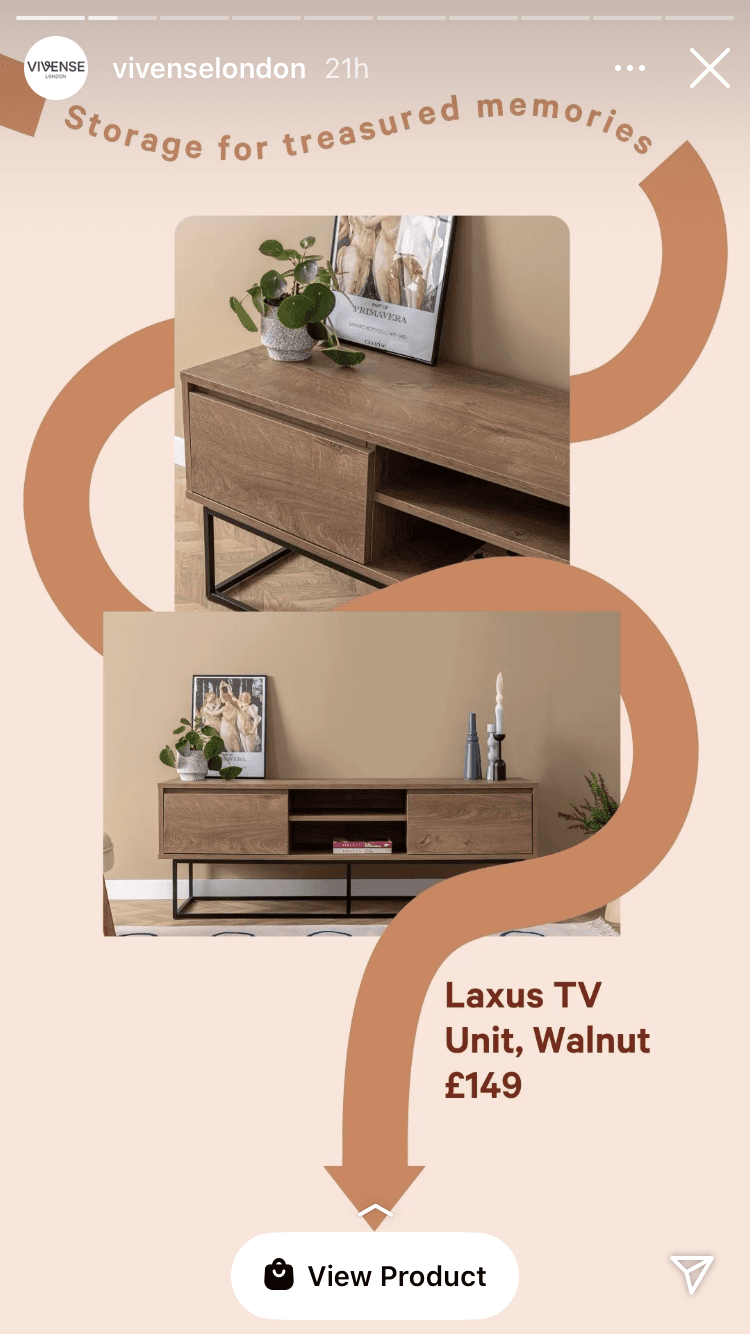 "After watching your video ad, people won't have to go out and manually hunt for the goods. They can now just click on the product in the video to be redirected to the landing page right away. In 2021, video marketing will be a powerful technique for increasing sales, and you should give it a try.
These are video advertisements that contain connections to products within the video's universe. Many of these can be found on Instagram Stories and Snapchat, but the approach is growing more advanced.
It's a safe bet that you'll soon be able to buy things or get links to them by interacting with objects in videos. If you hover your mouse over a chair on the screen, you may be able to learn more about that model and where to buy it. The same could be said for a smartphone being reviewed in a YouTube video." — Brian Dean, founder of Exploding Topics
It's estimated that 40% of marketers are already using shoppable videos. To get the best results, don't treat them like ads. Take the same approach you do with other content you create. Touch on topics your audience cares about and offer value.
Also, make it noticeable that the video is interactive. Add shoppable links within the first 30 seconds and use the hashtag #shoppablepost. Simply telling your audience at the start of the video can do the trick.
Regardless of what you're promoting in your shoppable video, just don't overload the video with links. It'll detract from the viewer's experience.