No one type of video will guarantee engagement, views, or conversions. That's why it's always best to experiment to determine what your audience responds to.
Unsure where to start? Here's a list of different video types to try.
1. "The Spot" Videos
You see them all the time. They show up in the middle of movies, shows, football games, and other television programs. This type of video is short—around 15- to 30-seconds long—and is known as a "spot" video.
(The name is fitting: They take up a small spot in a video broadcast.)
In the past, these commercial breaks were mainly found on television. Today, you also see them on YouTube, Hulu, and other streaming services.
What remains the same is their purpose: to promote products, services, or causes. You can do the same by creating a spot video and finding placements on YouTube channels or other social platforms.
These ads are short and sweet, so you'll have to make them enticing from the start. You only have a few seconds to capture viewers' attention before they leave (or click the dreaded "skip" button).
If you decide to use spot video ads, consider using social media channels. These are easier and cheaper than breaking into TV and streaming services.
Now comes the all-important question: does this type of marketing video actually work?
Numbers show 30-second video ads perform well. Back in 2018, only 55% of marketers used them. Then in 2019, it increased to 66%. The next most popular length is 15 seconds, so shorter is better.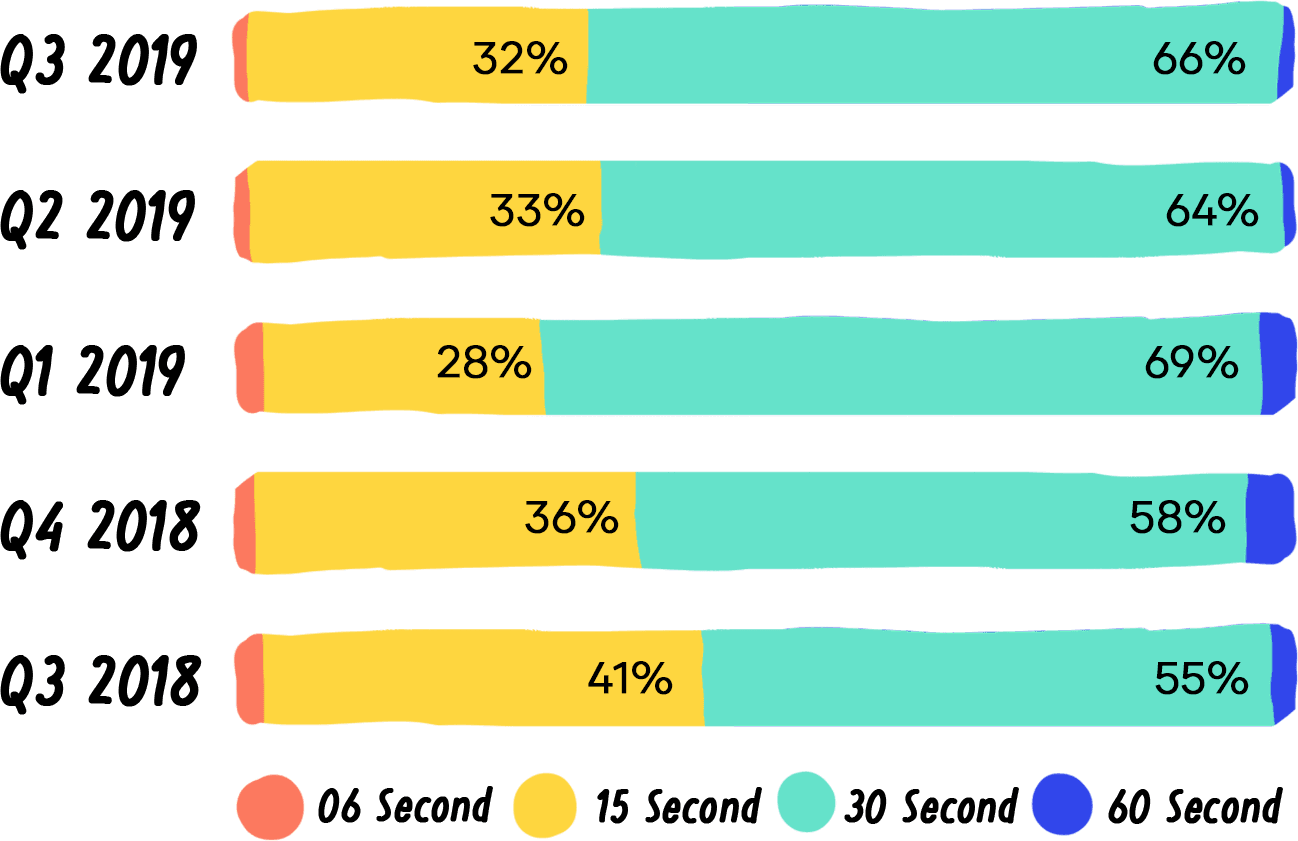 2. Explainer Videos
People explore the internet to find sources of information. Sometimes it's to make a purchasing decision; other times to learn about a problem they're having.
If you want to reach these groups, you have to create content that answers their questions and provides a solution.
Blog posts are great at this. But everyone has different learning styles. Some people prefer to watch rather than read. By offering a video format alongside written content, you can appeal to these target customers and potentially earn their business.
An explainer video is perfect if you have a product or service that's easily (or often) misunderstood. Maybe you have a kids playground slide that customers struggle to set up. Perhaps you're promoting a new product and want to show how it's applied.
Regardless of what you're showing, eCommerce brands can use a video to explain the functions, features, steps, and benefits.
Data shows that 96% of people who watch explainers learn about a product or service before buying. Not bad for a video needing little to no creativity.
To make the most out of this type of video content, focus on making the content simple and easy to understand. Answer common questions and demonstrate how everything works. That way, viewers are ready to make a decision—or at least be one step closer to it.
3. Product Demo Videos
Explainer videos provide an overview of your product or service. It's a more detailed breakdown of your solution—AKA, an excellent way to toot the horn of your product without being too salesy.
This type of video is great at showing off features and benefits without making promises about results.
Product videos are ideal for people in the middle or bottom of the sales funnel. The goal is to provide valuable insights about the product and how it resolves the target customers' issues. This way, they can make an informed buying decision.
There are various ways you can present your product demo. For example, you can do an unboxing of the product, showing what comes in the order. Then demonstrate how to set it up yourself.
The idea is to make your product feel simple so it's not confusing or intimidating. List everything out, but don't over-explain. Short videos tend to perform better. Cover the essentials, then provide a link or contact information for users to get additional info.
4. Viral Video
When you think of viral videos, what comes to mind? Is it a cute cat montage? Another trending dance on TikTok?
Viral videos are the holy grail of marketing. But not many can achieve virality with their video content… Or so it seems.
You have to ask: What does it mean to go viral? Is it garnering millions of views in several days? Sure, that definitely meets the requirements. But there are different levels to virality. What's considered viral for one campaign may not be for another.
For example, a Kardashian Instagram video isn't viral unless it's getting billions of views. However, a small business reaching tens of thousands on Facebook would be deemed viral. Virality depends on the market and the industry.
But you don't want to rely too much on vanity metrics (views and likes). Let's say your goal is to get more conversions. If your video is trending on social media but isn't getting leads, then it's a low-performer.
When designing campaigns for a viral effect, focus on delivering what your audience wants. If your content is high-value, folks won't mind sharing it like crazy.
5. Behind the Scenes Access
People enjoy learning about the brands they support. This is what makes behind-the-scenes videos popular.
Think of the wildly popular MTV series "Cribs" or any YouTube video labelled "A day in the life of...".
Humans have a deep desire to connect with the influencers in their lives. They want to understand the people behind the (personal or business) logo. This is why brand storytelling is such a big deal today.
In the past, businesses felt corporate, cold, and unempathetic. The customer felt like just another dollar to acquire. Now that companies are humanising their brands, consumers are gravitating towards them.
Authenticity, empathy, and morality are critical to winning over the 21st-century consumer. So in your behind-the-scenes videos, don't just focus on how your office operates. Show them the people behind the product or service, including the founders and CEO.
This is the perfect time to make a personal connection and potentially earn viewers' trust.
"Customers aren't just interested in seeing the product or service-related postings and adverts. They want to see behind the scenes and meet the people that run your company. This entails creating videos that include your employees and demonstrate how you run your business. The goal is to make your brand more human." — Darshan Somashekar, Founder and CEO of Solitaired
6. Customer Testimonial
There's nothing like reading a peer review on a product or service. In fact, you likely use the word of fellow shoppers to make your own purchasing decisions.
It's the way of today's buyers. And why wouldn't it be? We have vast information (thanks Google) and access to millions of people (thanks social media). Not using these resources to learn about solutions would be insane.
This is why you'll find 95% of people saying positive and negative reviews) persuade their buying decisions. Roughly 40% believe video testimonials are more effective because they:
Are more authentic than a business sales pitch
Visualise how a product or service works
Demonstrate how a product or service can impact their life
Showcase a real person and help the viewer understand their story
With customer reviews, prospects can quickly identify whether a brand is worth purchasing from.
Leverage this behaviour by publishing case studies on your website. But not just any testimonial—a video testimonial. For some customers, it's 10x better than a written review because it captures the emotion behind the story.
Video shows the frustration, anger, happiness, excitement, and content of your customers. Odds are, your prospects are going through the same emotions and want to achieve the same outcomes. So, add them to your home page, email marketing campaigns, PPC ads, and social media posts.
7. Short Films
Directing a short film doesn't sound like a marketer's job, but it's another form of brand storytelling that builds credibility, trust, and leads.
The purpose of a short film is to offer deeper insight into your business. The length can be anywhere between 10 and 25 minutes. You don't want to go too long because people are busy and have less time to dedicate to watching a brand video.
The topic and format of your short film can vary. For instance, it can be a documentary of the founders and their struggle to start the business. Or showcase how your company's employees are giving back to the community.
Here's that phrase again—brand storytelling. It should be at the core of your short film to set your business and product apart from competitors.
But don't make it just about your business or product. It's a mini-movie designed to build a connection with your audience. Find a way to add value or inspire action.
8. Influencer Endorsements
Being endorsed by an influencer solidifies your brand as a trusted entity. However, you can't get endorsed by just any influencer. You should find one within your industry and niche, so their audience is similar to yours.
More importantly: Just because they have thousands of followers, it doesn't mean an influencer's audience is engaged.
Engagement rate is important because you want your influencer posts to receive a fair number of views, likes, shares, comments—and most importantly, clicks.
You'll find some smaller influencers with a more active community than a larger one. And their recommendations are more well-received, which means higher conversions for you. These are the golden nuggets you want to target.
9. Live Video
The internet made it easier and faster to connect with your audience. Email was the first to change the game—then later instant messenger. But there's nothing more real and immediate than real-time videos.
One report shows 30% of video marketers are live streaming on Facebook. Just 14% are using Instagram and YouTube, making less competition on those channels.
But how should you use these channels to gain a competitive edge? There are several ways to use live video, including:
Webinars
Q&As with the audience
Expert interviews
Live demonstrations of a product or service
Behind the scene videos of an event
It works best if you notify your audience days or weeks in advance. If you don't have a large enough audience, consider running a paid promotion using social media ads and boosted posts for a higher attendance rate.
Also, be wary of the length—you don't want your live videos to be too long to where your audience loses interest. On Instagram Live, the max length is 60 minutes. Try to keep it beneath an hour, depending on the topic and format.
"The ideal length is determined by the video's content. A quick tip could be a simple, one-minute video, while a customer recommendation may last three minutes and a tutorial can last five.
According to a study, most marketing videos should be no more than two minutes, but the optimum length varies depending on where they are posted. The ideal video duration for Facebook, for example, is two to five minutes. It takes between 30 seconds to two minutes on LinkedIn, and only 30 seconds on Twitter." — Tommy Gallagher, Founder of Top Mobile Banks
10. Animated Videos
Animated videos are perfect for product demos, ads, and explainer videos. You can also try brand storytelling, turning your employees into comical cartoons. Animations are eye-catching, even to those with short attention spans.
But to keep it, you'll have to quickly pique their interest or risk losing them to another distraction on their feed.
What's appealing about animated videos is it empowers your creativity. You can develop a world, characters, and stories in a way you never could in the real world.
Don't worry—you don't need drawing or animation skills to pull this off. Nor do you need to know how to write a script. There are services available from video production agencies to create animated videos from scratch.
11. Social Media Videos
We already discussed how to use live videos for social media. Now, it's time to venture into pre-recorded video content.
Sharing recordings of webinars, explainer videos, and even podcasts can potentially generate buzz and engagement. In fact, you can repurpose some of your other content into videos and share them across your networks.
How do you do this? Here are several ideas:
Change a blog post into a video presentation
Create snippets of video recorded podcasts
Turn podcasts into audiograms with an appealing background and closed captions
Plan a live event and invite guest speakers your audience follows
Transform a blog post into a video script and create a talking head or animated video
The opportunities go as far as your creativity takes you.
12. User-Generated Content (UGC) Videos
Not all of the content you're producing has to be created in-house. In fact, your potential customers are great sources of video content. (And in most cases, they're already creating it for you.)
Look through your social media mentions, and you'll likely find a plethora of video content—such as reviews, tutorials, or testimonials—from existing customers.
"User-generated content is one of the greybeards of this year and the near future. Brands have been trying to humanise their marketing strategies all year, and user-generated content achieves that easier than other marketing channels.
For instance, our YouTube-based user-generated content generates more than triple the amount of engagement and traffic that other video types generate. To think of it, investing in channels to attract more user-generated content will be a defining feature of video marketing in the future." — Alina Clark, Growth Manager and co-founder of CocoDoc